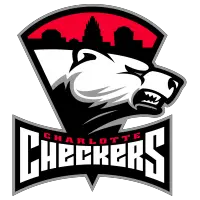 Checkers Routed by Texas
January 17, 2014 - American Hockey League (AHL) - Charlotte Checkers News Release



A contest between two division rivals on three-game winning streaks ended up not being much of a contest at all.
The Texas Stars defeated the Checkers by a 7-1 score in front of a sellout crowd at Time Warner Cable Arena on Friday in the first of a two-game set that continues with a rematch at noon Saturday. It actually marked the second-most-lopsided Checkers defeat on home ice this season, with the Hershey Bears skating away 8-1 winners on Nov. 14.
Aaron Palushaj scored Charlotte's lone goal to give him five points in his last three games and 19 in his last 14. Starting goaltender Mike Murphy stopped 16 of 22 shots before giving way to John Muse, who stopped four of five, late in the second period.
The Checkers held a 14-6 shots advantage after a scoreless 10 minutes, but things went downhill as soon as Mike Hedden scored the first goal of the game by joining a two-on-one rush as he exited the penalty box. Before the first period had ended, it was 3-0 on strikes by Colton Sceviour and Travis Morin, two All-Stars who entered the game tied for the league lead in goals.
"I loved the start of our game," said coach Jeff Daniels. "I thought we came out and had a lot of good looks and a couple of good chances and (Cristopher) Nilstorp made some good saves. Then we gave up the one, then the two, and then we showed them too much respect. We stopped moving, and when you stop skating against a team like that, it's bad news."
After Texas scored early in the second period to make it 4-0, Palushaj gave his team a glimmer of hope when he got in behind the Texas defense, caught a Greg Nemisz pass in his skates and moved it to his stick for a sharp-angle shot that produced his 11th goal of the year. However, three more Texas goals before the period was over made it only a question of whether or not the game would make appearances in the Checkers' all-time record book for goals allowed and largest loss margin, something it fell short of after the teams skated to a scoreless third.
Texas' sixth goal chased Murphy, who wasn't as his best but also did not receive much help from his defense. Muse promptly gave up a goal on the first shot he faced but only had to stop four shots in the third as the Stars pulled Nilstorp for backup Josh Robinson, presumably so he could rest for tomorrow's game.
"We just got down on ourselves," said Palushaj of the team's mentality after allowing the first two goals. "After that, I don't think the game was good at all for us."
"They're going to score on every chance they've got," said captain Brett Sutter. "That's the way they are and that's the way they've been for the last couple of years."
With a goal and four assists, Morin's five-point night tied the most prolific seen in the AHL this season and extended his league-leading point total to 55 in just 34 games. Sceviour had two goals and an assist, Chris Mueller had two goals and Curtis McKenzie had four assists - totals that brought all four players within the AHL's top seven in terms of total points.
The Stars improved to 25-10-5 on the season against the Checkers' 17-19-1, extending their division lead and putting them within two points of the league's top mark.
"We gave them too much respect, and you can't play that way against that team," said Daniels. "They're too good, but we've got to understand that we're a good team too, and we've got to show it tomorrow."
The Checkers allowed three goals on six chances to Texas' league-leading power play, which now sits at 30.1 percent.
"A couple of penalties hurt us," said Palushaj. "Obviously you can tell how good their power play is, and we've got to stay out of the box. We shot ourselves in the foot there."
"When it's 4-1, all of the sudden frustration creeps into your game," said Daniels. "It's no different than turning the puck over at the blue line. You can't take penalties against that team because you can't give them opportunities."
The quick turnaround from a 7 p.m. start to a 12 p.m. start the next day would normally not be anticipated, but if there was ever a reason to look forward to such scheduling, this is it.
"We all want to show that we've got a lot better than that," said Palushaj. "I wish we could play the game right now. The quicker we (can) get back on the ice and show that was the fluky game."
"Guys are frustrated now and we'll take an hour or two to think about this game and after that it's got to go behind us," said Sutter. "We know things we can do better and we know what we did wrong. We need to make sure we come mad tomorrow and make sure we're ready to go. It's the same team right away, so we've got to come a little pissed off tomorrow."
• Discuss this story on the American Hockey League message board...


American Hockey League Stories from January 17, 2014
The opinions expressed in this release are those of the organization issuing it, and do not necessarily reflect the thoughts or opinions of OurSports Central or its staff.