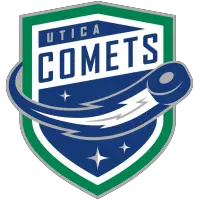 Comet Tales: Keith Kinkaid
January 17, 2014 - American Hockey League (AHL) - Utica Comets News Release



Having a work address of 25 Lafayette Street in Newark New Jersey; Prudential Center - that's Albany Devils' goalie Keith Kinkaid's immediate objective.
One week prior to making a second visit to The AUD, the first being the Comets season home opener back on October 23, Kinkaid had the night off.  Scott Wedgewood had his turn guarding the twine for New Jersey's AHL affiliate, in a meeting with the Springfield Falcons.  In Western New England, at the Mass Mutual Center, the Devils would win this Northeast Division matchup 3-0.
For Kinkaid, now in his third season playing for the Devils organization in New York's Capital District, the next day's game with Manchester couldn't come soon enough.  When a goalie is on a roll as he this season, second in the league among goalies with a 2.07 GAA, including four shutouts, they want to keep busy.  The 13-6-1 record earned by the former Union College netminder is impressive.
For Kinkaid, his hockey roots began living in Farmingville,NY, a four-square mile hometown in Long Island's Suffolk County, of 15,000 residents.  One county removed from the Nassau Coliseum, Kinkaid tells of growing up an Islanders fan, but idolizing New Jersey's Brodeur.  "Marty was it (idol) for me," Kinkaid recalls.  "I'd go to games at the Coliseum and root that the Rangers would lose when they came in."
Since signing an entry level contract with New Jersey in April 2011, after his sophomore season with the Dutchmen, it continues to be a learning experience that Kinkaid anxiously has embraced.  "He (Brodeur) is such a down to earth guy who has helped me out a lot.  Same goes for Cory. Last season, Hedberg (Devils goalie Johan) was great,too, in my transition within the organization."
Having collected 45 points, one week before returning to play the Comets at The AUD, the turn around with Albany from a season ago can be traced directly to Kinkaid's stellar play.  But, as most successful athletes will do, Kinkaid brushes off being a focal point and deflects to his team's make up for being in the hunt of a Northeast Division title.
"We have a lot more youth this year,and team speed.  The energy they bring is sticking to everyone on the team.  Others, they are a little more experienced.  And for me, I want to prove to the organization that I'm ready (for New Jersey)," says Kinkaid, who played his college game in Schenectady (NY), just 18 miles from Albany's Times-Union Center. " Sure I was upset when they (Devils) traded for Cory, but I'm still fighting for the top spot."
The confidence evident in Kinkaid's performances this season hasen't gone unnoticed outside of the Capital District.  Downstate, in New York City, one of hockey's true media heavyweights echoes Kinkaid's sentiments.  Stan Fischler, "The Hockey Maven", author of more than 100 books on the sport and a longtime fixture on MSG Network's hockey telecasts, is on board that Kinkaid is the real deal.
"What impresses me most is his steady, relentless development. He (Kinkaid) was overlooked as a kid playing goal on Long Island, to being overlooked at Union, until Lou (Devils President/GM Lou Lamoriello) took a chance on him," Fischler tells Comet Tales.  "He's gotten better and better, and probably would have been with the Devils (NJ) this year had it not been for the Cory Schneider deal and Brodeur's refusal to get old."
The abilities of Kinkaid caught the attention of many outside of the AHL, at first, when writing in his Sunday newspaper sports column in The Daily Freeman (Kingston, NY), Fischler said that Albany's finest in net is -"the best goalie not in the NHL".
Kinkaid has done his part in living up to such high praise.  In the AHL's Eastern Conference, the A-Devils are in the middle of a tight race, with only one point separating fourth through sixth place.
Not limiting  the winnings in Albany to one player, Kinkaid offers several reasons for this season's success.  Team speed, disrupting play in the Devils' own zone, and backchecking well, as far as Keith is concerned, are what has been making his job easier.  "I'm putting in my work here (Albany), to get back up there.  Patience is a virtue," Kinkaid promises.
"Getting back up there" for Kinkaid is Newark, NJ, and the NHL. Last March 5 (2013), during the second period of what would be a 5-2 loss to Tampa Bay in Prudential Center, Kinkaid made a relief appearance of Johan Hedberg.  Getting a taste of playing in the world's greatest hockey league can be intoxicating.  "That day was pretty special.  My parents were there to share that moment with me.  When I was there, I said to myself that I could do this," Kinkaid explains, who while playing for the Dutchmen was a teammate of current Comet Jeremy Welsh.
At this point of his budding career, Kinkaid,24, continues to build a case for a full-time position, at the next level of his game.  Already having seen pucks shot at him in over 100 AHL contests, consistency remains a top objective for the kid from Long Island that grew-up with a Martin Brodeur poster taped on his bedroom wall.
Kinkaid tells of looking forward to returning to Utica, for what he says offers a "great atmosphere for a hockey game".  Looking back, 20 AHL seasons ago, another young Devils farmhand had the same aspirations of making it big in the NHL, while wearing a Utica jersey.  Could this be Devils Deja vu at The AUD, all over again?
• Discuss this story on the American Hockey League message board...


American Hockey League Stories from January 17, 2014
The opinions expressed in this release are those of the organization issuing it, and do not necessarily reflect the thoughts or opinions of OurSports Central or its staff.
Other Recent Utica Comets Stories