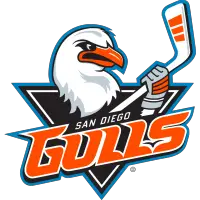 San Diego Unsuccessful at Coachella Valley
February 4, 2023 - American Hockey League (AHL) - San Diego Gulls News Release



The San Diego Gulls fell 2-1 to the Coachella Valley Firebirds tonight at Acrisure Arena, bringing their overall record to 12-33-0-0 and 7-16-0-0 on the road.
Hunter Drew scored the Gulls' second power-play goal in two games (2-for-9) at 10:08 of the first frame, earning his first tally on the man advantage and fifth goal of the season.
Michael Del Zotto posted his 19th assist of the season on the goal, earning a helper in two consecutive games and 1-5=6 points in his last five contests. Del Zotto's 4-11=15 points in 17 games since joining San Diego on Dec. 19 rank him fourth in points among American Hockey League blueliners and mark the most earned by a Gulls defenseman over the span.
In addition, the Gulls' defense accounts for 32.1% of the team's offense (27-of-84 points) over the last 14 games, with 3-10=13 of those points (48.1%) coming from Del Zotto.
Glenn Gawdin also recorded an assist in the effort.
Lukas Dostal stopped 36-of-38 shots in the loss.
The Gulls went perfect on the penalty kill tonight, stopping 5-of-5 of Coachella Valley's chances on the man advantage - including 1:11 of 5-on-3 play - and 7-of-8 of their opponent's power-play opportunities over their last two games. San Diego improved its penalty kill on the road to an 83.3 % success rate, second in the AHL's Pacific Division, fifth in the Western Conference and tied for seventh in the league. Overall, the Gulls rank fourth in the Pacific Division, eighth in the Western Conference and 12th in the AHL with an 81.5% kill rate.
The Gulls will close out their weekend series with the Coachella Valley Firebirds tomorrow, Feb. 4, at Acrisure Arena (5 p.m. PST).
POSTGAME QUOTES
SAN DIEGO GULLS
Forward Hunter Drew
On the loss to Coachella Valley
That one hurts, to be honest. You saw it on the bench when they scored, you see it in the room now, it sucks. Like you said, they're a good team, and to have the year we're having, to be that close and let it slip away stings a little bit.
On how the Gulls found success despite the loss
I think it was just playing our game. We didn't think about, 'Oh, this is who we're playing, this is who they got.' We just played the way we're supposed to play. Obviously, it's hard when you play that well and lose, but if we played that well all year, I think we'd be in a different situation for sure.
On how to find more offense
I think for us it starts in the d(efensive) zone. I think box outs - you see on that goal, the game winner today - you just have to pick up sticks. It's something that you do in hockey every year. You always get scored on at least once in your life, one that's tough, just by not boxing out. If we tighten up the d(efensive) zone, tighten up in front of our net, I think we'll be fine.
On the importance of physicality in San Diego's success
I think we gotta be physical. I think teams think just because of where we are in the standings, they're just gonna push us around, and that's not going to happen, and it can't happen. I mean, it did early in the year a lot, and that's kind of what set us back a little bit, I think. When you get a taste of a game like that, how good it feels to be that close, I think we'll come out and be real physical tomorrow and shove it down their throats.
Head coach Roy Sommer
On the loss to Coachella Valley
Well, we battled, I'm not going to lie to you. Hard fought; physical, you know, right to the end. You know, 1:30 left, guy is kind of standing all alone and the d(efenseman) is kind of whacking him instead of getting under his stick and puts it in. You know, both goaltenders played well. It was a hard fought, physical game. I thought we deserved better than that. Disappointing, to say the least.
On the team's focus
Everyone was in it, man. I mean, we overplayed a lot of guys going for the win. You know, two lines played a lot of minutes. Three defensemen played a lot of minutes because (Gulls defenseman Nikolas) Brouillard took a selfish penalty and put us down, and there's a time and a place but we just keep shooting ourselves in the foot with stupidity. And that one hurt, because we only have two lefties to begin with, and you lose one there, and a guy who plays minutes. That just bumps up everyone's minutes. And then not only hurts you tonight, but tomorrow night, that's gonna be a factor there because they played so much.
On Lukas Dostal's performance
He was outstanding, gave us a chance. I mean, 1-1. To be honest with you, their goalie made some saves too. I thought some guys really stepped up. I thought Hunter Drew, probably one of his better games all year. He was on pucks, he made plays. The defense was pretty stiff. I thought the first five minutes they took it to us a little bit but once we got our feet underneath us, it was a pretty even period in the first. And then we get that power-play goal, and it's kind of back-and-forth all night.
On finding more offense in tomorrow's rematch
I think the power play has to be a really big part of it. We're not scoring a lot 5-on-5, so we gotta get something there and have some other guys step up on, you know, the bottom two lines hasn't been producing a lot either. It would be nice to get something from them. You know, you look at the goal they scored tonight, the game winner, it was a guy on their fourth line.
• Discuss this story on the American Hockey League message board...


American Hockey League Stories from February 4, 2023
The opinions expressed in this release are those of the organization issuing it, and do not necessarily reflect the thoughts or opinions of OurSports Central or its staff.