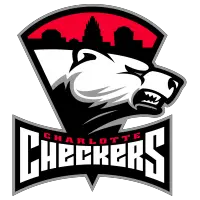 Checkers Complete Clutch Comeback over Crunch
December 13, 2019 - American Hockey League (AHL) - Charlotte Checkers News Release



CHARLOTTE, NC - The Checkers took their momentum from the road and pulled off an impressive comeback win over the Syracuse Crunch.
Despite finding themselves down by a pair after 20 minutes of play, the Checkers refused to roll over, as Dave Gust put the home team on the board and narrowed the deficit heading into the final frame.
Charlotte's surging power play was called upon in the third when it was handed a two-man advantage midway through the frame. Posted up on the right circle, Chase Priskie crushed a one-time feed from down low and beat Syracuse netminder Spencer Martin to draw the score even.
The Checkers continued to pour on the pressure until Morgan Geekie collected a feed in nearly the identical spot and blasted a shot that found the back of the net, erasing the two-goal deficit and completing Charlotte's comeback.
The Checkers snuffed out Syracuse's last-minute rally attempt as they had all night, holding the Crunch to just 18 shots across the entirety of regulation.
Quotes
Coach Ryan Warsofsky on the comeback
I think we just stuck with it. We've done that lately even though we haven't got the results maybe. We just stuck with how we have to play. Again a slow start and it's not what you want to have to battle back, but it shows what this team can do when we play the right way.
Warsofsky on scoring on the two-man advantage to tie the game
It's huge. You have to score on those. We talked about how we didn't score on one of those a couple of games ago and we lost the game. I know the percentage is pretty high that if you don't score on a five-on-three you're going to lose the game. I thought it was a big goal by Priskie.
Warsofsky on Morgan Geekie
It's been huge. You saw early in the season when he was kind of carrying our offense, and then he hit a little bit of a speed bump but he stayed mentally tough to grind through it. We're working with him on certain areas of his game that need to improve to not just play at this level but play at the next level on a consistent basis, and he's done a good job of that.
Warsofsky on keeping momentum moving forward
That mindset that we had in the second and third period has to be in our DNA and it has to be in our DNA for 60 minutes. It's hard really hard work to mentally and physically be focused for it and move your feet and put the effort into it, but if we want to go places in our season, that's how we have to play. I think guys are starting to figure that out.
Morgan Geekie on coming back in this game
I think we just got back to the way we were playing last game. You could tell in the game against Rochester that we figured some things out and beat a good team over there. We started a little slow but it was good to get our feet moving again in the second and third and set the pace.
Chase Priskie on the team gaining momentum
I think the biggest thing of winning on the road was just being able to identify how we need to play on the team and what gives us success. In the first period we weren't great, but we got back to our root values and I think it gave us success in the second and third period. It was just a matter of time until we were able to find the back of the net.
Priskie on the comeback
I think honestly it's just sticking with it. You can't go into every game and score the first goal, however you can choose to respond and just continue to come in waves. Attack in one shift, attack the second shift and after a while you've been dominating for 5, 10 or 15 minutes. That's the attitude we need to bring. We need to be hard to play against every shift and we need to play fast. That's how we'll have success.
Notes
This is the Checkers' second win streak of the season. They also won two in a row on Oct. 19-25, with one of those games coming against Syracuse ... The team has also won three of four ... This was the Checkers' first win of the season when allowing the first goal. They are now 1-8-2 in those games ... The Checkers are 3-0 against Syracuse this season, having out-scored the Crunch by a combined 15-6 margin ... Gust's goal was his second of the season and first since opening night on Oct. 5 ... Jake Bean has six points (1g, 5a) in his last six games ... This was Geekie's third multi-point game of the season and first since his only other three-point night on Oct. 19 at Syracuse ... Geekie's 16th point of the season passed Bean for the team lead ... Forwards Stelio Mattheos and Kerby Rychel missed the game due to injury ... Forward Cedric Lacroix and defensemen Derek Sheppard and Oliwer Kaski, the latter of whom had not yet arrived after joining the team via trade yesterday, were healthy extras.
Up Next
The Checkers face off against the Crunch one last time tomorrow night at 6 p.m.
• Discuss this story on the American Hockey League message board...


American Hockey League Stories from December 13, 2019
The opinions expressed in this release are those of the organization issuing it, and do not necessarily reflect the thoughts or opinions of OurSports Central or its staff.
Other Recent Charlotte Checkers Stories