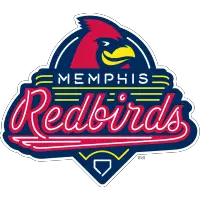 Game Notes: Memphis Redbirds (81-54) at Round Rock Express (62-73)
August 30, 2018 - Pacific Coast League (PCL) - Memphis Redbirds News Release



Memphis Redbirds (81-54) At Round Rock Express (62-73)
Thursday, August 30 - 7:05 p.m. (CT) - Dell Diamond (8,722) - Round Rock, Texas
Game #136 - Road Game #66 (41-24)
RHP Kevin Herget (9-10, 4.35 ERA) vs. RHP Chris Tillman (0-1, 12.60 ERA)
THE GAME
TODAY'S GAME: The Memphis Redbirds and Round Rock Express will play the finale of a three-game set tonight at 7:05 p.m. in Round Rock. It is the final game the two will play against one another this season. With their walk-off win Saturday night, the Redbirds secured their second-consecutive American Southern Division title. It is the second time in franchise history they have won back-to-back division titles, the other time being in 2009 and 2010. Memphis is coming off a 3-1 series win over the Nashville Sounds, and Round Rock is coming off a 2-2 series split with the New Orleans Baby Cakes. Awards have been flying in for the Redbirds this week. Earlier today, pitcher Dakota Hudson was named PCL Pitcher of the Year. Earlier this week, manager Stubby Clapp won the Pacific Coast League Manager of the Year award for the second-consecutive season, and Hudson and outfielder Tyler O'Neill were named to the All-Pacific Coast League Team. Yesterday, Adolis Garcia was recalled by the Cardinals, and Ramon Urias was transferred to Memphis in a corresponding move from Springfield. Today's game will be broadcast on www.memphisredbirds.com with Steve Selby on the call.
ON THE HILL: Right-hander Kevin Herget will take the mound in the series-finale for the Redbirds. Coming into tonight's contest, Herget is 9-10 with a 4.35 ERA in 27 appearances and 21 starts this season. In his first season as a consistent starter, Herget has been a steadying force in the Memphis rotation amid an abundance of roster moves. The righty has thrown a career-high 134.1 innings, has struck out a career-high 118 batters, and has set his career marks in both wins and losses. Herget has also shown phenomenal control this season, walking just 33 batters. He has the lowest walks per nine innings pitched ratio in the league at 1.81. He has started against Round Rock once this season, allowing three runs in 6.1 innings to take the loss.
The Express will send right-hander Chris Tillman to the mound to battle Herget and the Redbirds. Tillman has made three starts with the Express this season, and has no appearances against Memphis. In three starts, he is 0-1 with a 12.60 ERA in just five innings of work. He has allowed nine total hits, eight runs, and seven earned runs.
HISTORY WITH ROUND ROCK: Memphis and Round Rock have played every season dating back to 2005 when Round Rock joined the PCL. Round Rock was affiliated with Houston until 2011 before becoming the affiliate of the Rangers. This will be the final series the two teams will play against one another this season. Memphis narrowly leads the series at 8-7 with one game remaining. Memphis started the season going 4-1 at Round Rock. So far in the season-series, Memphis is outperforming Round Rock both on the mound and at the plate. They are outhitting Round Rock with an average of .275 compared to their .268, and have a 3.28 ERA compared to their 4.57 mark.
BIRD BITES
AROZARENA: Went 1-for-4 with three runs scored in last night's win; has hits in eight of last 13 games
BARON: Has hit safely in 16 of his last 19 games since June; had a season-long eight-game hitting streak in that stretch
EDMAN: In his first game back with Memphis Tuesday night, snapped his eight-game hitting streak with 'Birds
KELLY: Has just four hits in his last 11 games, going 4-for-34 (.118) in that span; career-high 47 walks this season
MEJIA: Has hits in just three of his last 11 games; is hitting .161 (5-for-31) in that 11-game stretch
RAVELO: Recently snapped 16-game hitting streak, going hitless in three-straight; now has hits in three-straight
SCHROCK: Went 2-for-4 with an RBI last night; hitting just .229 (11-for-48) this month
SOSA: Now has back-to-back games with home runs for the first time in his Triple-A career; 5 HR with Memphis
THOMAS: Scored the winning run in Saturday night's game to secure the walk-off win and the division title for Memphis
TOVAR: Last night, went 3-for-4 in the win and hit his first home run since May 30; it was his fifth of the year
URIAS: Has recorded at least one hit in 11 of his last 12 games with Memphis; riding eight-game hitting streak
WILLIAMS: Drove in all three runs Memphis scored from 8/19-8/22 on a solo home run and two-run home run
BY THE NUMBERS
1 pitcher in franchise history has been named the PCL Pitcher of the Year; Dakota Hudson earned the honor this morning
BY THE NUMBERS
490 calendar days since Memphis was not in first place (April 27, 2017); they have played 255 regular-season games since then
BY THE NUMBERS
1 manager in franchise history has won Manager of the Year honors; Stubby Clapp has won it in consecutive seasons, becoming the 3rd PCL manager on record to win the award consecutively
ON THIS DATE
In 2004, third baseman Kevin Witt set the Redbirds' single-season record with his 36th home run in a game against Iowa.
THE SEASON
ABOUT THE LAST ONE: The Memphis Redbirds won last night's game, slugging their way over the Round Rock Express by a score of 8-4.
Memphis starter Chris Ellis continued his recent dominance on the mound, throwing five shutout innings. He allowed just two hits and one walk, while striking out three batters to earn his sixth win of the season.
Memphis hit three home runs in the game, all coming from the bottom half of the lineup. Lane Thomas, Wilfredo Tovar, and Edmundo Sosa all went deep for the Redbirds last night.
Three Memphis pitchers combined to throw the final four innings. Tyler Webb threw two scoreless, John Brebbia allowed one earned run, and three unearned runs scored off Edward Mujica in the ninth.
ELLIS LIGHTS-OUT, AGAIN: Last night, Memphis starter Chris Ellis continued his recent dominance at the mound, earning the win over Round Rock. The righty was lights-out in five innings of work. He allowed just two hits and one walk, while striking out three in the scoreless appearance. With the win, he moved to 6-4 with a 3.86 ERA with Memphis this season. After struggling in back-to-back outings on August 1 and August 6, he has been phenomenal in four appearances. Between his two starts at the beginning of the month, he was 0-2 with a 12.60 ERA in just 10.0 innings. He lasted just five innings in both games, allowing 14 earned runs on 16 hits, three walks, and four home runs, while striking out just 10 batters. Opponents were hitting .356 (16-for-45) off him in that stretch. In the middle of the month, he switched to relief to piggy-back Tyler Lyons in his quest to get stretched out for a starting role. He earned the win in both of those appearances, combining to throw 7.2 innings, allowing just three hits and no walks, while striking out 11. Including last night's start, Ellis has made two starts and two relief appearances. In his last four outings, he has combined to throw 16.2 scoreless innings, striking out 22 batters, is holding opponents to a .158 (9-for-57) average, and is 3-0. Between Memphis and Springfield this season, he is 10-4 with a 3.99 ERA.
TOVAR SNAPS HOMERLESS STREAK: Last night, Wilfredo Tovar not only made his third appearance in the outfield this season, but he also had a phenomenal night at the plate. The usual middle infielder went 3-for-4 at the dish, scoring once, and driving in two with his fifth home run of the season. For Tovar, it was his first three-hit game since May 9 at Oklahoma City. It was his first home run since May 30 at New Orleans. He now has five long balls on the season. The five home runs in the second-best mark of his career. He hit six last season with Memphis. He also has 43 RBI this season, the second-best mark of his career. Tovar has been phenomenal since August began, and in particular, since he came off the Disabled List. He spent a week on the Disabled List early in the month and is hitting .372 (16-for-43) in his 12 games since then. He has collected hits in 10 of those 12 games and multiple hits in five of them. He is hitting .339 (20-for-59) in 17 games this month.
SOSA GOES DEEP IN BACK-TO-BACK: Last night, infielder Edmundo Sosa went deep in his second-consecutive game. His home run was a solo shot in the third inning and the second of three home runs Memphis hit in the game. He finished the night 1-for-2 with two runs, a home run, two RBI, one walk, and one sacrifice fly. In Tuesday's loss, he provided the offense in the game. The Redbirds had just two hits until the seventh inning of the game. Wilfredo Tovar and Randy Arozarena both walked with one out in the inning before Sosa came to the plate. He launched a 2-2 pitch to left field to cut the deficit to two runs. It was Sosa's fourth home run with Memphis this season. With the home run last night, Sosa has now hit safely in nine of his last 11 games with an at-bat. In those 11 games, he is hitting .308 (12-for-39) with five doubles, two home runs, and nine RBI. In 118 games between Memphis and Springfield this season, Sosa is hitting .271 (118-for-436) with 63 runs scored, 30 doubles, one triple, 12 home runs, and 59 RBI.
FINALLY SOME HOMERS: Last night, the Redbirds hit three home runs in the win over Round Rock. Wilfredo Tovar and Lane Thomas both hit two-run home runs, while Edmundo Sosa added a solo shot. It was just the fourth time this month the Redbirds had hit multiple home runs in a game, and the first time they had hit three in a game. The 'Birds slugged a season-high 36 home runs in their red-hot July, but until last night, they had hit just 15 in the first 26 games of this month. Memphis now has 18 home runs in 27 games this month. Despite their lack of power over the last month, Memphis has hit 85 total home runs on the road this season. That puts this year's team in sole possession of third place in that category of the record books. The record for most home runs hit on the road in a season in Redbird history is 90 in 2004. Memphis has hit 138 total home runs this season, and 84 of those home runs are either with a different level in the organization, or have been traded out of the organization. Tyler O'Neill (26), Adolis Garcia (22), Patrick Wisdom (15), Yairo Munoz (3), and Paul DeJong (1) are all with St. Louis, and Oscar Mercado (8) and Luke Voit (9) have been traded.
STRUGGLES WITH THE DIVISION: Despite having a strong overall record of 81-54, and winning their division, Memphis has struggled mightily against its own division this season. Memphis has had to rely on their dominance over other divisions to get the job done. The 'Birds are 5-7 against Nashville, 7-9 against New Orleans, and 8-7 against Round Rock. Memphis has five games remaining this season. They lost the season series with New Orleans, and have one more against Round Rock, and four more against Nashville. While the 'Birds batters hold similar lines against divisional and non-divisional opponents, the biggest difference is pitching. Memphis is hitting .274 (859-for-3136) against opponents in other divisions, and are hitting a slightly lower .261 (370-for-1420) against the division. However, Memphis pitchers are posting a 3.76 ERA (157ER, 376.0IP) against the division, while posting a 3.42 ERA (308ER, 811.2IP) against everyone else.
BACK-TO-BACK FOR CLAPP: Earlier this week, Redbirds manager Stubby Clapp was named the Pacific Coast League Manager of the Year for the second consecutive season. Last season, he led the Redbirds to a franchise-record 91-50 in his first season at the helm of the 'Birds. They won the PCL Championship, winning 97 total games between the regular-season and playoffs. He became the first manager in Memphis history to win the award last season. This season, Memphis is 80-53 with seven games remaining. After winning Saturday night, the Redbirds clinched their second-consecutive division title for the first time since 2009-2010. Clapp is just the third PCL manager on record to win the award in consecutive seasons, joining Dan Rohn of Tacoma (2004, 2005) and Jim Lefebvre of Phoenix (1985, 1986). With the ninth win of the season this year, he became the fastest manager in both Memphis history, and the 116-year history of the PCL to reach 100 wins. He is 171-103 in two seasons with Memphis, a .624 winning percentage, best in franchise history. He also sits fifth in wins among Redbirds' managers.
BACK-TO-BACK DIVISION CHAMPS: Saturday night, the Redbirds walked off in the bottom of the ninth inning to complete the comeback and secure their second-consecutive American Southern Division title. The Redbirds have now won their division in consecutive seasons for the second time in franchise history. They also won in 2009 and 2010. They went on to win the PCL Championship in 2009 before being beat out of the playoffs in the second round in 2010. The Redbirds have made the playoffs in 2000, 2009, 2010, 2014, 2017, and now 2018. They were crowned PCL Champs in 2000, 2009, and 2017. The PCL Playoffs begin on September 5. The first two games of his year's opening round will be played in the home ballpark of the American Northern Division Champions. Game three and any necessary games after that will be played in Memphis.
MORE HONORS FOR THE 'BIRDS: This morning, pitcher Dakota Hudson was named the Pacific Coast League Pitcher of the Year. He is the first player in Memphis history to earn the award. Earlier this week, outfielder Tyler O'Neill and Hudson were named to the All-Pacific Coast League Team. In 19 starts with Memphis this season, Hudson was 13-3 with a 2.50 ERA in 111.2 innings. He was promoted to St. Louis in late July and in 13 relief appearances, he is 4-1 with a 3.14 ERA in 14.1 innings. O'Neill was hitting .311 (74-for-238) with Memphis, posting an on-base percentage of .385, a slugging percentage of .693, and an OPS of 1.078. O'Neill hit 26 home runs with Memphis, posting six multi-home run games. With St. Louis, the outfielder is hitting .282 (24-for-85) with six home runs. It is the first time in franchise history that Memphis has had two players named to the All-PCL team in the same season. Before Patrick Wisdom earned the honor last season, no Memphis player had been named to the team since 2013.
These honors are some of the many the Redbirds have won this season. Adolis Garcia was named the PCL Player of the Month for July. Garcia was also named PCL Player of the Week for the week of July 23-29. Garcia and pitcher Daniel Poncedeleon were named the Cardinals Minor League Player and Pitcher of the Month for July earlier this week, as well. It was the fourth time a Redbird has won a Weekly PCL Honor this season. Garcia joins pitchers Daniel Poncedeleon and Austin Gomber to earn the honor. Poncedeleon earned the honor early in July, and Gomber earned the award once in April and once in May. Earlier this season, Poncedeleon, Dakota Hudson, and Patrick Wisdom were all named PCL All-Stars, while Hudson and outfielder Randy Arozarena participated in the MLB Futures Game. Hudson was also named the Cardinals Minor League Pitcher of the Month for June, the second Memphis pitcher to earn that accolade this season after Gomber earned it in April. Infielder/outfielder Rangel Ravelo was also named the Cardinals Minor League Player of the Month for June. The Redbirds have had a player or pitcher earn the Cardinals Minor League monthly honors every month, except one dating back to the beginning of the 2017 season.
• Discuss this story on the Pacific Coast League message board...


Pacific Coast League Stories from August 30, 2018
The opinions expressed in this release are those of the organization issuing it, and do not necessarily reflect the thoughts or opinions of OurSports Central or its staff.
Other Recent Memphis Redbirds Stories