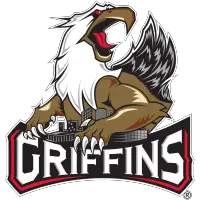 Griffins Continue Busy Stretch against Chicago, Iowa
March 21, 2023 - American Hockey League (AHL) - Grand Rapids Griffins News Release



This Week's Games
GRIFFINS vs. Chicago Wolves // Wed., March 22 // 7 p.m. // Van Andel Arena
Listen: WOOD 106.9 FM/1300 AM at 6:45 p.m.
Watch: AHLTV
Season Series: 4-2-1-0 Overall, 1-1-1-0 Home. Eighth of 10 meetings overall, fourth of five at Van Andel Arena
All-Time Series: 95-83-2-8-3 Overall, 45-38-2-6-2 Home
NHL Affiliation: Carolina Hurricanes
Noteworthy: Chicago's power play sits at 17.7% through 59 games, which is tied with the Griffins for 25th in the league. However, the Wolves' penalty kill ranks second on the circuit at 84.9%.
Promotion: Winning Wednesday presented by El Bandido Yankee Tequila Company
GRIFFINS at Iowa Wild // Fri., March 24 // 8 p.m. EDT // Wells Fargo Arena
GRIFFINS at Iowa Wild // Sat., March 25 // 1 p.m. EDT // Wells Fargo Arena
Listen: WOOD 106.9 FM/1300 AM at 6:45 p.m. EDT on Friday and 12:45 p.m. EDT on Saturday
Watch: AHLTV on Friday and Saturday
Season Series: 2-4-1-1 Overall, 1-1-0-1 Road. Ninth and 10th of 10 meetings overall, fourth and fifth of five at Wells Fargo Arena
All-Time Series: 42-22-5-3 Overall, 21-12-1-1 Road
NHL Affiliation: Minnesota Wild
Noteworthy: The Griffins are 10 points behind the Wild for the fifth and final playoff spot in the Central Division, with one game in hand. Iowa has been on a hot streak, winning seven of its last 10 games.
Last Week's Results
Thu., March 16 // GRIFFINS 4 at Cleveland 3 (OT) // 25-27-4-3 (57 pts., 0.483, 6th Central)
Sat., March 18 // GRIFFINS 1 at Milwaukee 2 // 25-28-4-3 (57 pts., 0.475, T6th Central)
Sun., March 19 // GRIFFINS 1 vs. Milwaukee 3 // 25-29-4-3 (57 pts., 0.467, 7th Central)
Last Week's Notes
Thursday at Cleveland (4-3 OTW) - Dominik Shine scored the game-winner in overtime to propel the Griffins to a 4-3 win against the Monsters at Rocket Mortgage FieldHouse and extend Grand Rapids' point streak to four games (3-0-0-1). Shine's heroics placed the Griffins within eight points of a playoff spot with a game in hand against the Iowa Wild. The goal was his 50th as a pro as well as the 100th point of his professional career. Danny O'Regan continued his blistering stretch of play with his point streak reaching four games (2-3-5). In his last 13 outings, the veteran forward has 15 points and only two appearances without adding a point to the ledger (6-9-15). Taro Hirose continues to move up the all-time assist leaderboard for Grand Rapids with one in the win and nine apples in as many outings. Hirose is currently seventh on the list with 119 assists and is only three helpers away from tying Nathan Paetsch for sixth. Recap | Highlights
Saturday at Milwaukee (1-2 L) - Devin Cooley stifled the Griffins with a number of stellar saves to secure a 2-1 win for the Admirals at Panther Arena. Cooley made several impressive saves and 27 total in the contest, including gloving down Jasper Weatherby's shot with 13 seconds left while the Griffins had a 6-on-4 chance. Pontus Andreasson was the lone Griffin to light the lamp, scoring his 10th goal of the season. Matt Luff added his 17th assist of the year on Andreasson's goal while Brian Lashoff recorded his third helper. Recap | Highlights
Sunday vs. Milwaukee (1-3 L) - The Griffins dropped their second-consecutive contest of the weekend to the Admirals in a 3-1 loss at Van Andel Arena. Matt Luff and Danny O'Regan combined for the lone score for Grand Rapids in the first period. Luff and O'Regan have been the catalysts of the team in their last 15 outings, with Luff recording 12 points (5-7-12) and O'Regan posting 16 (6-10-16) in that span. John Lethemon drew his second start for the Griffins, nabbing 22 saves on 24 shots. In his two starts, Lethemon has a 2.95 GAA and 0.908 save percentage. The sellout crowd of 10,834 was the Griffins' fourth capacity crowd this season and the first non-Friday/Saturday sellout since Dec. 31, 2019 (Tuesday). Recap | Highlights
Win Some, Lose Some: After enduring a season-high four-game winless streak from March 1-7, the Griffins battled back and enjoyed a four-game point streak (3-0-0-1) from March 10-16. However, Grand Rapids dropped two straight this past weekend but still has points in five of its last eight games (3-3-1-1). The Griffins are seventh in the Central Division and are 10 points out of a playoff spot with 11 games remaining. Grand Rapids has points in 17 of its last 28 contests (12-11-3-2, 0.518). Since the new year, the Griffins have lost in regulation just 12 times through 32 games (14-12-3-3, 0.531).
Thank You, Fans: On Sunday, the Griffins hosted a sellout crowd of 10,834 at Van Andel Arena, which included 221 dogs for the Jake Engel Memorial Dog Game. The capacity crowd was the fourth sellout of the season and the first non-Friday/Saturday sellout since Dec. 31, 2019 (Tuesday). Grand Rapids also sold out a Sunday game for the first time since March 31, 2019. The Griffins rank fifth in the AHL in average attendance at 7,479 this season.
Matty Ice: Matt Luff has been a welcome addition to the roster since returning from injury on Jan. 28. Since his return, Luff has 17 points in 23 games (5-12-17) and enjoyed a five-game point streak (2-4-6) from March 4-12, which was one game shy of tying his career high. Through 28 games with the Griffins, the Windsor, Ontario, native has 25 points (8-17-25) and six penalty minutes. Luff also appeared in seven games with Detroit this season, scoring one goal. He was recalled by the Red Wings on Tuesday.
Danny Boy: Danny O'Regan is starting to find a rhythm with the Griffins after joining the team on Dec. 19. After exploding for three points (2-1-3) in his Griffins debut, O'Regan had just three points in his next 12 games from Dec. 28-Feb. 15. However, the German-born forward enjoyed a five-game point streak (2-5-7) from Feb. 24-March 4 and now has six points (2-4-6) in his last six outings. O'Regan also has 16 points in his last 15 games (6-10-16).
• Discuss this story on the American Hockey League message board...


American Hockey League Stories from March 21, 2023
The opinions expressed in this release are those of the organization issuing it, and do not necessarily reflect the thoughts or opinions of OurSports Central or its staff.