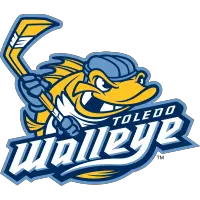 Winter Brewfest at Hensville
December 9, 2019 - ECHL (ECHL) - Toledo Walleye News Release



Grab your friends and pretzel necklaces. Winter Brewfest, the coolest outdoor event of the season, is back for its sixth year at Fifth Third Field AND this year we are ringing in the holiday cheer!
Lexus of Toledo, IBEW Local 245, and 104.7 WIOT are proud to bring you this premiere outdoor event on Saturday, December 14, 2019. Winter Brewfest will showcase pours from more than 50 breweries from around the country.
Fifth Third Field's unique setting adds an element of fun for beer beginners and enthusiasts to sample the liquid offerings from the more than 250 craft beers and ciders. Rounding out the Winter Brewfest experience is music, food and a souvenir sample cup.
Winter Brewfest VIP tickets are $60, general admission tickets are $35 in advance and $45 the day of the event. General admission designated driver tickets are available for $25 and include an all-you-can-eat buffet in the Lexus Birdcage Club. NOTE: VIP tickets are limited and WILL sellout in advance of the event.
TICKETS
VIP TICKET: $60 - BUY TICKETS!
What you get:
EARLY ENTRY: 4 p.m.
20 taste tickets, each good for a 3-ounce beer sample
VIP beer sampling in the Lexus Birdcage Club and The Roost from 4 to 7 p.m.
Access to exclusive, limited and rare craft beer in the VIP area.
Access to the more than 250 craft beers on the concourse.
All-you-can-eat buffet
Live music in multiple VIP spaces
All-Access pass to the VIP spaces, general admission areas and on field tasting opportunities
GENERAL ADMISSION: $35 advance / $45 event day - BUY TICKETS!
What you get:
15 taste tickets, each good for a 3-ounce beer sample
Winter Brewfest souvenir sample cup
Access to on-field tasting stations
Food and additional taste tickets will be available for purchase on main concourse
Make sure to join the Winter Brewfest Facebook event page to stay up-to-date with new information including brewery and beer releases.
PARTICIPATING BREWERIES
21st Amendment Brewing
Fireside Chat
Abita Brewing Co.
Christmas, Hop 99, Hop On, Purple Haze, Strawberry
Alesmith Brewing Co.
Honey Devil, Luped In, Nut Brown, Speedway Stout, Sublime Mexican Lager
Avery Brewing
Ellie's Brown, Liliko'l Brown, Sweater Party Christmas Ale, White Rascal
Bell's Brewing Co.
Bright White, Christmas, Official, Oh Captain My Captain, Too A Locamotive in Winter
Blake's Hard Cider Co.
Flannel Mouth, Grizzly Pear, Rose, Triple Jam
Boston Beer
Angry Orchard Unfiltered, Dogfish Head 60 Minutes, Dogfish Head SeaQuench, Dogfish Head Slightly Mighty, Sam Adams Winter Lager
Breckenridge Brewing
Agave Wheat, Avalanche, Christmas Ale, Holidae, Oatmeal Stout, Vanilla Porter
BrewDog
Choco Libre, Elvis Juice, Lost Lager, Punk
Brooklyn Brewing
Lager
Catawba Island Brewing Co.
Cookie Cutter Christmas Ale, Lake Erie Love, Seiche Scottish Ale, Walleye-PA
Champion Brewing Co.
Missile IPA, Santa's Cookies, Shower Beer, Water Boys, Wheeze The Juice
Cigar City Brewing
After Sesh, Cubano Espresso, Florida Cracker, Guaybera, Jai Alai, Maduro Brown Ale
Columbus Brewing Co.
Bodhi, Citra Noel, Go Cart Ghost, IPA
Crafted Artisan Meadery
Bananas Foster Forever, Dragon Heart, Stranger Bings, Strawberry BFF
Deschutes
Fresh Squeezed, Jubeale, Lil Squeezy, Obsidian Stout
Double Wing Brewing
Bless Em, Bourbon Barrel Imperial Stout, Butter Pecan Porter, Winter Warmet
Drop Tine Winery & Tap House
Chill Factor Polar Express
Duck Rabbit Brewery
Amber Ale, Brown Ale, Hoppy Bunny, Milk Stout, Rabbit Duck
Earnest Brew Works
Big Oatis, Holiday Spicewood, Peanut Butter Crunchy Hippie, The Spice is Right
Elysian Brewing Co.
Space Dust
Epic Brewing
Big Bad Baptist, Big Bad Baptist Peanut Butter, Chasing Ghost, Rhino, Tart and Juicy
Fat Heads
Bumble Berry, Head Hunter, Holly Jolly, Strange Magic
Flatrock Brewery
Jul Holiday Mead, Pritchard Lane Rum Barrel Aged Christmas Ale, Pushkin Russian Imperial Stout
Flying Dog Brewery
Hidden Pickle, Kujo, Me Llamo Mole, Saltty Bitch, Truth
Frankenmuth
Christmastown, Hef
Funkwerks Brewery & Taproom
Raspberry Provincial, Tropic King
Funky Turtle Brewing
Great Lakes Wild Ale, Sweet Dreams
Golden Road
Aqua Fresca Variety, Mango Cart, Melon Cart, Pineapple Cart, Point the Way IPA
Goose Island Brewing
Dry Hopped 312, Halia, Madam Rose, Matilda, Next Coast IPA
Great Black Swamp
Nutty Frog Stout, Orange Blast Ale, Snowdrift Ale
Great Lakes
Blackout Stout, Christmas Ale, IPA, Ohio City Stout
Greenbush Brewing Co.
Anger, Oro De Tontos, Party Wolf, Star Chicken Shotgun, Sunspot
Hard Hops
3 Piece, Cherry Bomb, Granny Smith, Minter Wonderland
Harpoon Brewery
Dunkin Coffee Porter, UFO Big Squeeze, UFO Winter Blonde
Hi-Wire Brewing
Bed of Nails, Hop Circus Lemon Drop, Lager, Pink Drink, Strongman
Inside the 5 Brewing
Kona Brewing Co.
Big Wave, Hanalei, Hibisbus Brut IPA, Kanaha, Longboard
Lagunitas
Brown Shugga, Daytime, Hop Stoopid, IPA, Super Cluster
Latitude 42
South Pacific Porter
Lexington Brewing and Distilling
Bourbon Barrel Ale, Coffee Cream Ale, Vanilla Porter, Winter Olden Stout
MadTree Brewing
Happy Amber, Lift, Psychopathy, Thundersnow
Market Garden Brewery
Chinook Strike IPA, Citramax, Festivus Christmas Ale, Nano OG Lager, Prosperity Wheat
Masthead Brewing Co.
Falling Fruit, IPA, Single Origin Coffee Stout, Sleigh All Day
Maumee Bay
2018 BA Eclipse, Blitzen, Chocolate Graham Mallow, Dark Benevolance, Double Shot Eclipse, Dreamon Demon, Glasshopper, Kolsch, MacQueen's Cider, Pondhopper, Rollercoaster, Uber Blitzen
Moeller Brew Barn
Blackberry Prairie Wheat, Dirt Track Kolcsh, Honeywagon IPA, Pink Ribbon Girls Shandy, Salted Caramel Pale Ale, Wally Post Red
New Belgium Brewing
La Folie, Transatantique Kriek, VooDoo Ranger Hop Avenger, VooDoo Ranger Juicy Haze
New Holland
Cabin Fever, Dragon's Milk, Dragon's Milk White, Poet, Tangering Space Machine
North High
Cover Crop, Filthy McNasty, Rise, Truth on the Juice, Wired
O'Fallon Brewery
Wheach Peach
Odd 13 Brewing
Admiral Abyss, Codename Superfan, Jetman Jimmy, Noob
Odd Side Ales
Citra Dank Juice, Double Fruitsicle, Nightmas Leaveth, Tangerine Dank Juice
Old Nation Brewing Co.
Boss Tweed, Electron Brown, M-43, Vienna Lager
Oskar Blues Brewing Co.
Can-O-Bliss Citrus, Dale's Pale Ale, Death By Coconut, One-Y Lager
Patron Saints Brewing
Saint Benedict, Saint Christopher, Saint Nick
Perrin Brewing Co.
98 Problems IPA, Black Ale, Passion Fruit Gose
Platform Brewing Co.
Bucket of Gloves, Holiday Doughnut, Kettle Sour, New Cleveland, Speed Merchant, Tropical Seltzer, Worry No More
Quenched & Tempered Brewery
Cocoa McOatface, One-Legged Brewer
Rheingeist
Calfe, Dad, Kappa Flounder, Press Tart
Saugatuck
BA Cafe Brown, BA Neopolitian, Blueberry Maple Stout, Neopolitian Milk Stout, Peanut Butter Porter
Sierra Nevada Brewing
Celebration IPA, Hazy Little Things, Pale Ale, Sierraveza
Sixpoint Brewery
Crisp Pils, Hootie Hazy IPA, Resin IPA, Sparkler IPA
Southern Tier Brewing Co.
2XMAS Christmas Ale, 2XStout, Lake Shore Fog, Muse Rose Ale, Nu Juice IPA, Swipe Light Lager
Sweetwater Brewing
420 Pale Ale, Between the Brambles, Chocolate Stout, G13, Mango Kush
Terrapin
Hoppin' Bubbly, Hopsectioner IPA, Luau Krunkles, Moo Hoo
The Brew Kettle
El Lupulo Libre, Kitha Coconut Stout, White Rajah, Winter Warmer Christmas Ale
Toledo Wine & Spirits
Troeg's Brewery
Blizzard of Hops, Blood Orange Cranberry Tart, LaGrave, Mad Elf, Trail Day
Twin Oast Brewery
Two Road Brewing
Dark Cherry Synopsis, Holiday Ale, Lil Heaven, Rumbbl
Uncle John's Cider
Apple, APple Blueberry, Apply Cherry, Apple Pear, Rasperry Rose
Upside Brewing
Dog Gone Nuts, Dueling Vines, Elfin Ale Candy Cane Amber
Urban Artifact
Finn, Landline, The Gadget, Trivet
Virtue Cider
Cherry Apple, Rose
Warped Wing Brewing
Abominator, Ermal's Esther's Lil Secret, Flyer Red, Gamma Bomb, Holiday Special, Trotwood
Wild Basin
Classic Lime, Cucumber Peach, Lemon Agave Hibiscus, Melon Basil
Wild Side Brewing Co.
Wild Ohio Brewing
Black Cherry Bourbon, Blueberry, Daly Palmer
• Discuss this story on the ECHL message board...


ECHL Stories from December 9, 2019
The opinions expressed in this release are those of the organization issuing it, and do not necessarily reflect the thoughts or opinions of OurSports Central or its staff.