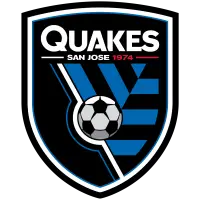 Quakes midfielder Chofis scores hat-trick in loss
September 16, 2021 - Major League Soccer (MLS) - San Jose Earthquakes News Release



Chofis of the San Jose Earthquakes celebrates his third goal of the match with head coach Matias Almeyda
(San Jose Earthquakes)
SAN JOSE, Calif. - The San Jose Earthquakes fell to Real Salt Lake 4-3 on Wednesday night at PayPal Park.
The Quakes jumped out to a 1-0 lead in the 26th minute. After receiving a long ball over the top, Chofis cut onto his left foot and blasted a shot around goalkeeper David Ochoa.
Just moments before halftime, Real Salt Lake scored the equalizer. A low header off a corner kick forced a diving save by Quakes goalkeeper JT Marcinkowski, but the ball rebounded off Rubio Rubin and into the back of the net.
RSL took the lead four minutes into the second half when Albert Rusnak received a pass at the top of the box and sent his low shot just out of reach of Marcinkowski's outstretched arms.
San Jose responded immediately with an equalizer just one minute later. Chofis received a pass from the kickoff and proceeded to dribble half the length of the field, evading multiple defenders before beating Ochoa.
Chofis then finished off his hat-trick with a goal in the 65th minute as his curling corner kick beat Ochoa at the near post.
RSL equalized once again six minutes later when a free kick into the box glanced off Justin Meram's head and caromed off Quakes defender Oswaldo Alanis and into the net.
The visiting side then took the lead in the 81st minute through a low shot from Rubin.
The Earthquakes will now prepare to travel to Texas to face Austin FC on Saturday, Sept. 18. The match kicks off from Q2 Stadium at 5:00 p.m. PT and will be broadcast on NBC Sports Bay Area Plus, KGO 810 and 1370 KZSF.
GAME NOTES
The Earthquakes now hold a 6-9-9 record (27 pts.) during the 2021 MLS regular season and are currently in 11th place in the Western Conference.
San Jose is now 13-12-11 all-time against Real Salt Lake, including a 9-6-4 record at home.
The Quakes have scored first in 10 of their last 13 matches (conceded first twice and had one match finish in a scoreless draw).
Midfielder Chofis scored his team-leading sixth, seventh and eighth goals of the season and of his MLS career. It also marked his first multi-goal game since joining the Quakes and the first hat-trick by an Earthquakes player since Chris Wondolowski on May 18, 2019. Chofis is the first player to score 8+ goals in his first season with San Jose since Alejandro Moreno in 2005 (8).
Defender Luciano Abecasis tallied the assist on Chofis' first goal. It marked his third assist of the season and third of his MLS career.
Goalkeeper JT Marcinkowski made a career-high nine saves.
MLS Regular Season
San Jose Earthquakes 3 - 4 Real Salt Lake
Sept. 15, 2021 - PayPal Park in San Jose, Calif.
Attendance: 9,636
Man of the Match: Chofis
Scoring Summary: SJ - Chofis (Luciano Abecasis) 26; RSL - Rubio Rubin (unassisted) 45+2; RSL - Albert Rusnak (Pablo Ruiz) 49; SJ - Chofis (unassisted) 50; SJ - Chofis (unassisted) 65; RSL - Justin Meram (Albert Rusnak) 71; RSL - Rubio Rubin (Albert Rusnak) 81.
Misconduct Summary: RSL - Nick Besler (caution) 8; SJ - Judson (caution) 59; RSL - Donny Toia (caution) 65; RSL - Pablo Ruiz (caution) 67; SJ - Chofis (caution) 69; SJ - Eric Remedi (caution) 72; RSL - Damir Kreilach (caution) 75.
SAN JOSE EARTHQUAKES: JT Marcinkowski; Marcos Lopez, Tanner Beason, Oswaldo Alanis, Luciano Abecasis (Cristian Espinoza 63); Judson (Paul Marie 63), Eric Remedi; Carlos Fierro (Cade Cowell 64), Jackson Yueill, Chofis (Andy Rios 80); Chris Wondolowski (Benji Kikanovic 63).
Substitutes not used: Jack Skahan, Daniel Vega, Tommy Thompson, Jacob Akanyirige.
SHOTS: 13; SHOTS ON GOAL: 6; FOULS: 15; CORNER KICKS: 4; SAVES: 9
REAL SALT LAKE: David Ochoa; Donny Toia, Justen Glad, Marcelo Silva (Erik Holt 22); Justin Meram (Ashtone Morgon 90), Jonathan Menendez (Pablo Ruiz 46), Albert Rusnak, Nick Besler, Maikel Chang (Toni Datkovic 83); Damir Kreilach, Rubio Rubin (Anderson Julio 82).
Substitutes not used: Bode Davis, Milan Iloski, Justin Portillo, Andrew Putna.
SHOTS: 18; SHOTS ON GOAL: 13; FOULS: 20; CORNER KICKS: 3; SAVES: 3
SAN JOSE EARTHQUAKES MIDFIELDER CHOFIS
On his emotions during and after the match:
"Honestly, I am sadder than I am happy because of the result. We would have liked to win and things would have been very different. I am sad because we didn't win. My only thoughts are in the 10 matches that are left. I really want to make it to the playoffs. I've never had a match as great as today. That doesn't matter anymore. We will try to turn things around and focus on Saturday. I wish it were Saturday already. I want to play and get the three points that we need, and that is where my thoughts are."
On the decisions going into his substitution:
"I was a little sore in the leg. Truthfully, I gave it my all. I tried helping in everything and I became tired. I just want to clarify that we were being precautious. I was tired and had some pain in my leg."
On his future in San Jose:
"Yeah, it's true that I still have a little left in my loan here. The truth is that I'm loving my time here. I love the people, I love the city, I love the environment. Everyone has treated me very well since I arrived, and I would love to continue to be here. Hopefully this team buys my clause and I can stay a lot longer. But it's true that I belong to another team right now and I still have a lot of respect for them and that's who I belong to."
Images from this story
• Discuss this story on the Major League Soccer message board...


Major League Soccer Stories from September 16, 2021
The opinions expressed in this release are those of the organization issuing it, and do not necessarily reflect the thoughts or opinions of OurSports Central or its staff.