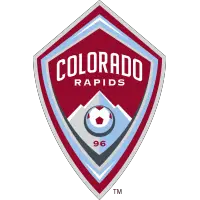 Rapids Draw Portland 2-2 in Back-And-Forth Contest
September 16, 2021 - Major League Soccer (MLS) - Colorado Rapids News Release



Jonathan Lewis and Michael Barrios scored to lead the Colorado Rapids (12-4-7, 43 points) to a 2-2 draw against the Portland Timbers (10-10-4, 34 points) on Wednesday at Providence Park. Lewis' goal was his third of the season, all in the last six games, while Barrios extended his team lead with his seventh goal of 2021. The draw extends the Rapids' unbeaten streak to nine games and their road unbeaten streak to six games, tying a club record set in 2016.
Notable:
Michael Barrios' seventh goal of the season marks his highest total since he scored nine in 2016.
Jonathan Lewis goal has now recorded three goals and an assist in his last six games with his goal tonight.
Colorado's nine-game unbeaten run is the longest active streak in MLS and the Rapids' longest in two years under Robin Fraser.
Jack Price made his 90th regular season start with the club. Price earned his team-leading eighth assist of the season on Michael Barrios' goal in the 87th minute. 
Andre Shinyashiki picked up his second assist of the season on Jonathan Lewis' goal in the 64th minute. It is the second consecutive match with an assist. Mark-Anthony Kaye earned his second assist with the club on Lewis' goal. 
The Rapids extend their road unbeaten streak to six games, tying a club record set from April to July of 2016.
Quotes: Head Coach Robin Fraser
On tonight's match:
"I just think that we're a young team that is learning and making our way through the league. Certainly making strides going forward, but we just appear to be a little bit naïve tonight in a couple of situations, and certainly, it's a disappointing draw given how long we were a man up and the fact that we were leading twice. But again, it's one of these things that is another teaching and another learning experience and we just need to be better in closing out games."Â 
On Braian Galvan's performance:
"Braian has been really a revelation as a wingback. His conversion to his understanding of the position, what he gives us defensively, what he gives us offensively, seems to be getting better every week. His understanding of the position, his understanding of what his capabilities are and how to create chances and how to eliminate players, and things along those lines, he's just getting better week by week."
Quotes: Forward Jonathan Lewis
On tonight's match:
"A good, hard-fought match, but I think for us it's a disappointment. They went down to ten men early, [we] put a lot of pressure on them, myself included, and I should've finished the first two chances that I had, so it's just a disappointment in general because we go up twice in the game and we let them come back. So I think for us, it's lessons that we learn and we have to just move forward with it and next time we just have to know we can't let that happen again."
On his goal:
"Something that we spoke about was just winning individual battles and I think finally I was able to get position on the center back to set the ball and Mark [Anthony Kaye] I think played Andre [Shinyashiki] and Andre just set it perfectly and I just read the play. I saw that it was going to fall to me and then I took the touch to beat the guy and I was able to score. Obviously, I was happy about that, but the most important thing is the result, and I think, again, it's a disappointment. It doesn't matter if I score, assist, play zero minutes-I want to win. That's the spirit of the team, so I think as a whole, we're just disappointed."
• Discuss this story on the Major League Soccer message board...


Major League Soccer Stories from September 16, 2021
The opinions expressed in this release are those of the organization issuing it, and do not necessarily reflect the thoughts or opinions of OurSports Central or its staff.