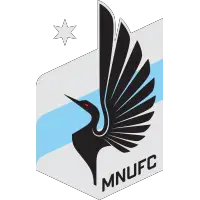 MNUFC Lose 4-0 in Kansas City
September 16, 2021 - Major League Soccer (MLS) - Minnesota United FC News Release



KANSAS CITY, Kansas - Minnesota United came into their game against Sporting Kansas City hoping for a bit of the mojo that helped them trounce SKC 3-0 in the Western Conference Semifinals last season, but after letting some early chances go begging in front of goal, Minnesota allowed four goals to a Sporting team that looked every bit the part as they climbed to the top spot in the Western Conference with the win.
The game began brightly for the visitors, with MNUFC putting together a plethora of opportunities inside of the first 10 minutes. Midfielder Ethan Finlay blasted a shot from distance off a deflected ball that struck the upper left corner of the woodwork in the fourth minute. Moments later, defender Romain Metanire sent a cross all the way across the box that midfielder Franco Fragapane - recently returned from injury - redirected to the head of forward Adrien Hunou, whose strike missed wide right.
But Sporting KC regrouped and managed to tilt the game in their direction. In the 14th minute leading goalscorer and MVP candidate Dániel Sallói smashed a hard shot that goalkeeper Tyler Miller knocked down but couldn't hold onto. The rebound came to forward Khiry Shelton who nodded it into the back of the net to give the home side an early 1-0 lead.
MNUFC hardly skipped a beat, though, and went right back to work, sending the ball on long diagonals down the right side to Metanire and creating some more opportunities they couldn't capitalize on. And then, in the 36th minute, midfielder Johnny Russell evading the defense down the right wing and cut into the box before chipping a ball to the far side where Sallói fired it through Metanire's legs and past Miller to double the lead.
The Loons were hoping to cut into that lead by the half, but instead they found themselves faced with a penalty kick in the 43rd minute after Tyler Miller clipped Khiry Shelton's legs near the right edge of the box. Initially called a goal kick, the play went to review and gave the home side a penalty. Russell lined it up and drove it into the right corner as Miller guessed left and Minnesota headed into the locker room down 3-0.
The second half began much the way the first ended, with SKC defending downhill and consistently forcing MNUFC to fall back and rely on long balls for openings. Before long, they found themselves falling further behind as Cameron Duke converted a Johnny Russell cross from the right wing to make it 4-0.
With the home side rolling, MNUFC had precious little chance to work their way back into the game. The rest of the 90 minutes featured a first appearance for Joseph Rosales in a Loons uniform and also saw the return of leading goalscorer Robin Lod from injury late, but ultimately, there was little to take from the game beyond the chance to move past it and get back to Allianz Field to face the LA Galaxy on Saturday.
LINEUPS:
Minnesota United: GK Tyler Miller; D DJ Taylor, Bakaye Dibassy, Michael Boxall (c), Romain Metanire; M Wil Trapp, Jacori Hayes, Franco Fragapane, Ethan Finlay; F Adrien Hunou, Fanendo Adi
Sporting Kansas City: GK Tim Melia; D Andreu Fontas, Graham Zusi, Luis Martins; M Elie Sanchez, Roger Espinoza, Cameron Duke, Jose Mauri; F Johnny Russell (c), Khiry Shelton, Daniel Salloi
UP NEXT
MINNESOTA UNITED FC vs. LA GALAXY
Allianz Field | Saint Paul, Minnesota
9.18.2021 | MLS Week No. 25 | MLS Game No. 24
7:00 p.m. CT | BSN, CW Twin Cities, MNUFC Radio on SKOR North
MINNESOTA UNITED QUOTE SHEET
MINNESOTA UNITED HEAD COACH ADRIAN HEATH
On how he characterizes the disappointment in the 4-0 loss to Kansas City...
"Immensely disappointed but if you concede the type of goals we conceded tonight, make the mistakes that we made this evening, at a place like this, then you're going to get punished. It was a comedy of errors, at time, at the back. Decision making was poor, with and without the ball. The one thing that we said before the game, you come here, you have to take them opportunities that come your way, and we did have some opportunities but we didn't take them. But you give yourself a mountain to climb when you concede the goals that we did against a team that is really good in possession. I'm afraid it was a really poor night for quite a lot of our players."
On if this is a low point in the season...
"Just said to the players, we came here about four years ago [2018], got beat four-nil [one]. The disappointment is more now because I didn't think that team of four years ago was capable of winning it. This team, as it proved last year, is. And I know we were without some big players for us tonight but that's not acceptable, that's not a good enough performance this evening. Little bit of food for thought in terms of where we move on to down the road."
On the problem for DJ Taylor on the left side defending against Kansas City...
"Well we did but sometimes when you have that type of first half performance, they deserve to try and get themselves out of it. It became quite apparent that we needed to make one or two changes. One or two of the guys that came on, I thought did well. I was really pleased for Joseph Rosales, thought he showed a lot of promise of what he might become. But on the evening, there was not a lot of positives other than maybe Josephs Rosales getting on the field and Robin Lod getting some minutes. Apart from that, not a lot."
On the missed chances in the first five minutes...
"Well how many times do we talk about it? We had two great chances. Game changes. Better belief in the group, better belief in what we're trying to do. They have to extend, they have to push, leave themselves more vulnerable. But when I look back, we've had probably four really good chances this evening. Don't think the keeper [Tim Melia] made a save. Disappointing."
On if he thought the team would get to the low point of the year in this game...
"No, not with this group of players because this group of players, as they proved in Seattle at the weekend. If anybody didn't think that we were the equal of Seattle at the weekend, they probably don't know anything about football. Thought second half we were excellent. So, no, I didn't expect this type of performance. But at the end of the day, if you make the errors that we did, and as I said, it was a comedy of errors at the back. Poor decision making with the ball. Poor decision making without the ball. When to go tight, when to drop off, when to clear your lines, when to put your foot through it, when to compose yourself and play. I don't think we could have made any more wrong choices than we did in the first half."
On Tyler Miller's performance tonight...
"One of the things that we've said is that Tyler [Miller] has been incredibly consistent for us. I don't think tonight was one of his great games and he'll be the first to hold his hand up to that. People know, players know when they've had a good one and when it's not gone so well. Obviously, the penalty sort of killed the game off really as when the contest gets to three here, you don't give yourself much of a chance. Tyler was one of a few players at the back tonight who I didn't think had the best game that we've had this season. When you look at our run, was it, two in 17 that we had lost, that was down to the defensive shape, the performances of the defenders individually and collectively. And tonight was not a good one."
On Joseph Rosales's debut tonight...
"I was really pleased with him. Really good understanding of the role. Knew when to support. Knew when to play. Knew when to relax. Got tight, pinched the ball in a few occasions. I thought he was one of the little bright spots, bright moments of the evening."
On the injury list ahead of Saturday's match...
"Obviously we hope that Robin [Lod] has no reaction and comes through because I think he made a difference when he came on and got a hold of the ball. Within two minutes he's had a flash wide. His general back-to-goal play and bringing people in to the game was there for all to see. [Fanendo] Adi will be better for starting a game. We think [Emanuel Reynoso] will be available for the weekend. And we'll go from there. We'll regroup and hopefully, we haven't gotten any more injuries. We've got the likes of Chase [Gasper] and Ozzie [Alonso] and a few others coming back."
On how close Emanuel Reynoso was to playing tonight...
"He just didn't feel comfortable this morning and we think an extra two or three days back at home, getting treatments and working there would have been better than putting him in the thrust of the game, which we knew would be likely."
• Discuss this story on the Major League Soccer message board...


Major League Soccer Stories from September 16, 2021
The opinions expressed in this release are those of the organization issuing it, and do not necessarily reflect the thoughts or opinions of OurSports Central or its staff.
Other Recent Minnesota United FC Stories