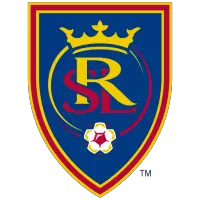 Real Salt Lake Earns Dramatic Come-From-Behind Victory over San Jose Earthquakes
September 16, 2021 - Major League Soccer (MLS) - Real Salt Lake News Release



SAN JOSE, California - Real Salt Lake (9-9-6, 33 points) came back from an early deficit to secure all three points with a dramatic 4-3 victory over San Jose Earthquakes
Two goals from Rubio Rubin, a goal and two assists from Albert Rusnak and a goal from Justin Meram were enough to snuff out San Jose.
The first half hour saw a back-and-forth battle in the midfield, with both sides struggling to breakout towards their respective goals. Twenty minutes into the match an injury forced Marcelo Silva to exit and the defender was replaced by Erik Holt. Shortly after the substitution in the back, San Jose jumped out in front when Javier Lopez curled a left-footed shot into the goal in the 25th minute. In the remaining 15 minutes Real Salt Lake pestered the Earthquake's defense, putting all six of their shots on target, but to no avail. Then, in the final moment of stoppage time Rubin pounced on a bobbled save to equalize and take the team into the halftime break level.
The second half erupted into an offensive onslaught from both side, combining for five total goals in the final 45 minutes. It was Rusnak who kicked things off, with a rocket from outside the 18-yard-box in the 49th minute, but San Jose was able to quickly answer with Lopez' second goal of the night, leaving the score tied at 2-2.
San Jose once again took the lead in the 65th minute when Lopez capped off his impressive offensive performance with a hat trick, curling in a corner shot. But the lead would not last long as Real Salt Lake equalized in the 71st minute when Rusnak connected with Meram off a free kick. RSL got their first lead of the night when Rusnak once again set up a picture-perfect cross for Rubin to step onto the end of and place firmly in the net.
Both sides continued to press for goal, and San Jose nearly brought the teams level, but at the top of stoppage time David Ochoa came flying off his line to block what appeared to be a sure equalizing goal from Jackson Yueill. Second-half substitute Anderson Julio almost locked it up when he broke out 1-v-1 with the goalkeeper, but a late run from an Earthquakes defender blocked his attempt at the end line. Ochoa once again saved the day at the death, blocking a hard-hit shot from Oswaldo Alanis, to kill off San Jose's chancing and steal all three points on the road.
UP NEXT: RSL finally returns home on Saturday, September 18 where they will face the Western Conference leading Seattle Sounders at 7:30 p.m. MT, closing out three-games in seven days.
GOAL SCORING RUNDOWN:
SJ: Javier Lopez (Luciano Abecasis) 26th minute: A long ball was sent over the top from Abecasis to the feet of Lopez, who sprang forward, took a touch around Erik Holt and with a left-footed strike sent the ball into the back of the net.
RSL: Rubio Rubin 45+2nd minute: After winning a corner, Albert Rusnak sent in a cross to the head of Damir Kreilach, who's shot was blocked by James Marcinkowski into the path of Rubin. The forward was in the right place at the right time and chested the ball down into goal.
RSL: Albert Rusnak (Pablo Ruiz) 49th minute: Ruiz flew threw the air to interrupt a clearance, tipping the ball to the feet of Rusnak. The captain shimmied his way through several defenders to set up his shot, hitting it firmly with the inside of his right foot, whizzing past the goalkeeper.
SJ: Javier Lopez 50th minute: Once again Lopez found himself with the ball at his feet inside the 18-yard-box where he took a shot with his left foot, slipping it underneath the goalkeeper to earn the brace.
SJ: Javier Lopez 65th minute: From the corner position Lopez curled in a shot at the near post, up and over Pablo Ruiz and past David Ochoa.
RSL: Justin Meram (Albert Rusnak) 71st minute: After being awarded a free kick, Rusnak sent the ball in towards the center of the box where it was met by Meram who flicked it backwards, deflecting off the head of Alanis and into the back of the net.
RSL: Rubio Rubin (Albert Rusnak) 81st minute: Pablo Ruiz found Justin Meram on the outside who quickly pinged Rusnak at the top of the box. Slipping the ball through several defenders, Rusnak connected with Rubin who dribbled towards the left post and slammed home his second goal of the night.
NOTES:
- Midfielder Everton Luiz was unavailable due to yellow card accumulation
- Forward Bobby Wood was unavailable due to a hamstring strain and Noah Powder was held out as an injury precaution due to hamstring tightness
- Forward Jeizon Ramirez (quad), goalkeeper Zac MacMath (knee) and defenders Andrew Brody (toe) and Zack Farnsworth (ankle) were unavailable due to injury
- Defender Aaron Herrera missed the match due to a non-COVID related illness.
Match: Real Salt Lake vs. San Jose Earthquakes
Date: September 15, 2021
Venue: PayPal Park; San Jose, California
Weather: Sunny and 75 degrees
Attendance: 9,636
Scoring Summary: 1 2 F
Real Salt Lake 1 3 4
San Jose Earthquakes 1 2 3
SJ: Javier Lopez (Marcos Lopez) 26'
RSL: Rubio Rubin 45+2'
RSL: Albert Rusnak (Pablo Ruiz) 49'
SJ: Javier Lopez 50'
SJ: Javier Lopez 65'
RSL: Justin Meram (Albert Rusnak) 71'
RSL: Rubio Rubin (Albert Rusnak) 81
Lineups:
Real Salt Lake (3-5-2): David Ochoa; Justen Glad, Marcelo Silva (Erik Holt 22'), Donny Toia; Justin Meram (Ashtone Morgan 89'), Nick Besler, Albert Rusbak, Jonathan Menendez (Pablo Ruiz 46'), Maikel Chang (Toni Datkovic 82'); Damir Krielach, Rubio Rubin (Anderson Julio 82')
Subs not used: Andrew Putna, Bode Davis, Justin Portillo, Milan Iloski
San Jose Earthquakes (4-2-3-1): James Marcinkowski; Luciano Abecasis (Cristian Espinoza 63'), Marcos Lopez, Taner Beason, Oswaldo Alanis; Carlos Fierro (Cade Cowell 63'), Judson (Paul Marie 63'); Javier Lopez (Andres Rios 80'), Jackson Yueill, Eric Remedí; Chris Wondolowski (Benjamin Kikanovic 63')
Subs not used: Tommy Thompson, Jack Skahan, Daniel Vega, Jacob Akanyirige
Stats Summary: RSL / SJ
Shots: 18 / 14
Shots on Goal: 13 / 6
Saves: 3 / 9
Corner Kicks: 5 / 14
Fouls: 20 / 15
MISCONDUCT SUMMARY:
RSL: Nick Besler (caution) 8'
SJ: Judson (caution) 59'
RSL: Albert Rusnak (caution) 62'
RSL: Pablo Mastroeni (caution) 65'
RSL: Pablo Ruiz (caution) 67'
SJ: Javier Lopez (caution) 69'
SJ: Eric Remedi (caution) 72'
RSL: Damir Kreilach (caution) 73'
SJ: Matias Almeyda (caution) 90'
RSL: Donny Toia (caution) 90'
OFFICIALS:
Referee: Nima Saghafi
Assistant Referees: Cameron Blanchard, Chris Elliot
4th Official: Alex Chilowicz
VAR: Daniel Radford
AVAR: Michael Kampeinert
• Discuss this story on the Major League Soccer message board...


Major League Soccer Stories from September 16, 2021
The opinions expressed in this release are those of the organization issuing it, and do not necessarily reflect the thoughts or opinions of OurSports Central or its staff.