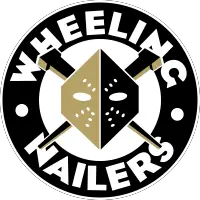 Nailers at Thunder Game Day Snap Shot, March 17
March 17, 2018 - ECHL (ECHL) - Wheeling Nailers News Release



Quick Chance to Rebound
The Wheeling Nailers are back in action less than 18 hours after dropping the opener of their quick two-game road trip. On Friday night, the Nailers and Worcester Railers played to a scoreless deadlock in the first period, with Wheeling coming inches away from going ahead, as Cody Wydo rang the right post. The early stages of the middle frame belonged to the Railers, who turned on the red light four times in a span of 8:32. Jeff Kubiak got credit for the first and fourth markers, as he tipped in Matthew Gaudreau's shot for the first one, then tucked in the rebound of Ryan MacKinnon's attempt for his second of the contest. Chris Langkow got credit for the second tally, which came just 23 seconds after Kubiak, when the Nailers batted the puck into their own net. Barry Almeida, Woody Hudson, and Frankie DiChiara also scored for Worcester, while Danny Fick converted on a one-timer for the lone Wheeling strike. Mitch Gillam made 28 saves in the win, while Adam Morrison and Matt O'Connor combined for 33 stops.
Shot Number 50 Wins it
The Adirondack Thunder put a barrage of shots on Fort Wayne Komets rookie goaltender Cam Lanigan on Friday night, and they needed every last one of them to skate away with a victory. Adam Larkin's first professional goal was the lone tally in the first period, as the Thunder took a 1-0 lead on home ice. Fort Wayne battled back to take the lead in the middle stanza, as Bobby Shea and Russell Jordan found the back of the net. With 16:16 left in regulation, Brian Ward potted his team-leading 26th goal of the season for Adirondack, knotting the score, 2-2, and forcing overtime. At the 4:07 mark of the extra session, on their 50th shot of the night, the Thunder prevailed, courtesy of Shane Conacher. Lanigan made 47 saves in the overtime setback, while fellow rookie Olivier Mantha picked up the win for Adirondack, turning aside 25 of the 27 shots he faced.
Career Years on the Blueline
Danny Fick connected for his fourth goal of the season on Friday night, as he continues to build on his career best season, beating his previous high of three goals, while collecting his 21st point, which is third most among Wheeling defensemen, behind Kevin Schulze (28) and Dylan Zink (22). Fick is one of three blueliners for the Nailers who is having a career year in the goal column, joining Ross McMullan and Dan Milan, who also reached four for the first times in their careers earlier in the season. All four of Fick's goals have come in the last 16 games, and three of the four have been scored against North Division opponents. Kevin Spinozzi had the lead assist on Friday's tally, notching his first point in a Wheeling uniform and third of his rookie campaign. Adirondack's leading defensive scorer is Desmond Bergin, who has 38 points, and was responsible for the overtime winning goal the last time the teams clashed.
Thundering Toward the Top
The North Division Playoff Race is one of the most intense races in the ECHL, as all four playoff spots have teams jostling to earn the most desired position. Adirondack has been on a strong run as of late, earning points in ten of its last 11 games, going 7-1-3 during that time. The lone regulation loss came against the Manchester Monarchs, who still own a two-point lead over the Thunder for first place in the group. Three different goaltenders have earned at least one win during Adirondack's recent run, with Drew Fielding being joined by rookies Tomas Sholl and Olivier Mantha. Sholl has since joined the Idaho Steelheads, and has yet to lose in regulation in ten ECHL decisions. The Thunder made a significant acquisition up front at the Trade Deadline, acquiring former Nailer Kenton Miller, who has followed up last year's 30-goal season with 22 goals and 42 points in 59 games.
The Daytime Series Finale
Saturday afternoon marks the fourth and final meeting between the Nailers and Thunder this season, as well as the second battle at Cool Insuring Arena. Wheeling has earned five out of six possible points against Adirondack in 2017-18, while picking up at least one point in seven of the eight matches played in the all-time series. The Nailers turned to their offense to get the job done in their two triumphs on home ice, as they bounced the Thunder, 6-4 and 6-3. In the most recent clash on February 25th, Wheeling rallied back from a 2-0 deficit to force overtime, before Adirondack escaped with the extra point. The Nailers are 1-0-1 in season sets against the Thunder all-time, and will be looking for a second triumph with a win on Saturday. Freddie Tiffels has been the top player in the first three games, collecting four goals and five points. Shane Conacher has four assists and five points for Adirondack.
Wheeling Nailers (31-25-6-1, 69 Pts.) at Adirondack Thunder (35-21-3-4, 77 Pts.)
WHEELING NAILERS
(31-25-6-1, 69 PTS, 4th North, 6th East)
220 GF, 218 GA
PP: 20.1% (50-for-249), 3rd
PK: 79.6% (195-for-245), 23rd
11-F-Cody Wydo (25 goals, 30 assists, 55 points in 49 games)
8-F-Nick Sorkin (7 goals, 43 assists, 50 points in 60 games)
24-F-Reid Gardiner (26 goals, 22 assists, 48 points in 49 games)
23-F-Garrett Meurs (21 goals, 27 assists, 48 points in 52 games)
14-F-Riley Bourbonnais (21 goals, 19 assists, 40 points in 58 games)
5-D-Danny Fick (4 goals, 17 assists, 21 points in 61 games)
29-G-Adam Morrison (14-12-1 record, 3.23 GAA, .904 Sv% in 29 games)
ADIRONDACK THUNDER
(35-21-3-4, 77 PTS, 2nd North, 4th East)
206 GF, 197 GA
PP: 18.8% (47-for-250), 5th
PK: 83.3% (175-for-210), 12th
23-F-Shane Conacher (15 goals, 39 assists, 54 points in 46 games)
15-F-James Henry (18 goals, 30 assists, 48 points in 63 games)
22-F-Brian Ward (26 goals, 20 assists, 46 points in 50 games)
10-F-Terrence Wallin (19 goals, 27 assists, 46 points in 50 games)
27-F-Kenton Miller (22 goals, 20 assists, 42 points in 59 games)
37-D-Desmond Bergin (13 goals, 25 assists, 38 points in 56 games)
30-G-Drew Fielding (15-8-2 record, 3.17 GAA, .900 Sv% in 27 games)
Head to Head
Season Series: Nailers 2, Thunder 1
Season Series at Cool Insuring Arena: Thunder 1, Nailers 0
All-Time Series: Nailers 5, Thunder 3
All-Time Series at Cool Insuring Arena: Nailers 3, Thunder 2
• Discuss this story on the ECHL message board...


ECHL Stories from March 17, 2018
The opinions expressed in this release are those of the organization issuing it, and do not necessarily reflect the thoughts or opinions of OurSports Central or its staff.