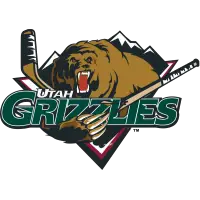 Grizzlies Gameday: Military Night at Maverik Center
March 24, 2023 - ECHL (ECHL) - Utah Grizzlies News Release



Cincinnati Cyclones (41-12-6-3, 91 points, .734 Win %) @ Utah Grizzlies (29-29-3, 61 points, .500 Win %)
Friday, March 24, 2023. 7:10 pm. Venue: Maverik Center
Broadcast: Video: FloHockey.TV - https://www.flohockey.tv/events/7761150-2023-cincinnati-cyclones-vs-utah-grizzlies
Audio: youtube.com/UTAHGRIZZLIES.
It's the second of a three-game series between the Grizzlies and Cyclones. It's the Cyclones first series at Maverik Center since both clubs were in the old International Hockey League. Utah is 6-3 in the month of March. They have a standings point in 12 of their last 17 games. Cameron Wright has a point in 10 of his last 13 games. Wright has 9 goals and 9 assists in his last 14 games. Tarun Fizer has 5 goals in his last 6 games. Fizer has 44 shots on goal in 9 games in March. Jordan Martel came up big for Utah on Wednesday night vs Cincinnati as he scored 2 goals and 1 assist.
Games This Homestand
Wednesday, March 22, 2023 - Cincinnati 6 Utah 4 - Jordan Martel had 2 goals and 1 assist. Connor McDonald had 1 goal and 1 assist and Aaron Thow had 2 assists. Cincinnati scored the game winner with 2:19 left in regulation as Patrick Polino scored from the left circle. Polino had 2 goals. Zach Berzolla had 1 goal and 1 assist. Cyclones went 1 for 3 on the power play and they scored 2 shorthanded goals. McDonald, Jaerd Power and James Shearer were each a +2 for Utah.
Friday, March 24, 2023 - Cincinnati at Utah - 7:10 pm. Maverik Center. Military Night. AFCU Friday.
Sunday, March 26, 2023 - Cincinnati at Utah - 3:10 pm. Maverik Center.
Wednesday, March 29, 2023 - Wichita at Utah - 7:10 pm. Maverik Center. Bud Light College Night.
Friday, March 31, 2023 - Wichita at Utah - 7:10 pm. Maverik Center. AFCU Friday.
Saturday, April 1, 2023 - Wichita at Utah - 7:10 pm. Maverik Center.
You can catch every game on FloHockey and audio on the Grizzlies YouTube channel.
All Times Mountain.
Tons of Shots
Utah has taken 665 shots over their last 17 games for an average of 39.11. Prior to February 11th the Grizzlies had averaged 28.43 shots per game and were 26th in the league at that time. Now the Grizzlies are averaging 31.27 shots per game for the season and are currently 17th in the league.
The more shots and scoring chances has translated into goals as Utah is averaging 4.00 goals per game in their last 17 contests (68 goals). Prior to February 11th Utah averaged 2.66 goals per game (117 goals).
Cameron Wright Comes Up Big Every Night
Cameron Wright has had an outstanding first season as a professional. Wright scored his league leading 8th game winning goal 14:24 into the third period in Utah's 2-1 win on March 11. On March 12 vs KC Wright scored a third period goal. On March 17he scored the game winning goal in a shootout at Allen. Wright leads the Grizzlies in goals (21) and points (48). Wright leads all league rookies with 232 shots on goal. He is third on the club with 17 power play points (6g, 11a).
Tarun Fizer Leads the Club in Goals
Tarun Fizer has been one of Utah's most consistent players during the 2022-2023 season. Fizer scored 2 goals on March 16 at Allen and 1 goal on March 17. Tarun leads the club with 23 goals this season. Fizer is 2nd on the team with 18 power play points (10g, 8a). Fizer is 2nd on the team with 183 shots on goal and is tied for 2nd with 41 points.
Grizzlies Offense Has Been Rolling
Utah has scored 68 goals over their last 17 games for an average of 4.00 per game.
Team Notes
Utah is 20-6 when scoring first. Utah has scored 68 goals in their last 16 games. Utah is among league leaders with 1118 penalty minutes. Utah is 12-1 when leading after 1 period. Utah is 22-1 when leading after 2 periods. Utah is 13-3-3 in one goal games. Utah is 20-7-3 in games decided by 1 or 2 goals. Utah has a point in 8 of their last 10 road games. Utah is 6-2 on Sundays. The Grizz have standings points in 12 of their last 17 games. Utah is averaging 39.11 shots per game in their last 17 contests.
Double Digit Goal Scoring Club
There are 11 players who have scored 10 or more goals this season. Utah has scored 185 goals this season. They have scored 33 goals in 9 games in the month of March.
Tarun Fizer (23)
Cameron Wright (21)
Dylan Fitze (15)
Zach Tsekos (12)
Keaton Jameson/Tyler Penner/Dakota Raabe (11)
Brandon Cutler, Jordan Martel, Cam Strong, Johnny Walker (10)
Tyler Penner Played in 133rd Consecutive Game
Forward Tyler Penner appeared in his 133rd consecutive game for the Grizzlies on March 22 vs Cincinnati. Penner appeared in all 72 games in the 2021-2022 season, scoring 13 goals and 20 assists. This season Tyler has played in all 61 games, scoring 11 goals and 10 assists. If you count the 2022 playoffs, Penner has appeared in 151 straight games for Utah. Penner led Utah with 8 shots on goal at Wichita on March 3. He scored the game winning goal at Wichita on March 5.
Grizzlies Ironmen
There are 2 players who have appeared in all 61 games this season: Dylan Fitze and Tyler Penner. Penner was 1 of 2 Grizzlies along with Mason Mannek, who appeared in all 72 games last season. Fitze has not missed a game for Utah since joining the club via a trade with Orlando on March 24, 2022. Fitze is 3rd on the club with 15 goals and is 5th in points with 30.
Match-Up With Cincinnati
The Cincinnati Cyclones have a standings point in 19 straight games. They are 17-0-1-1 in their last 19 games. The Cyclones have won 7 in a row. Their last regulation loss was on February 5th at Kalamazoo where they fell 5-2. They are led by Head Coach Jason Payne, who is in his 2nd season leading the Cyclones. There are 2 former Grizzlies players on the Cincinnati roster. Luka Burzan appeared in 41 games with the Grizzlies last season and had 13 goals and 18 assists. In 11 playoff games last season for Utah he had 2 goals and 2 assists. Burzan has 6 points (3 goals, 3 assists) in 7 games with Cincinnati this season. He has also played with the AHL's Cleveland Monsters and ECHL's Fort Wayne Komets. Matt Berry scored 37 points (16 goals, 21 assists) in 38 games with Utah in the 2015-2016 season. In the 2018-2019 season with the Grizz he had 22 points (13 goals, 9 assists) in 20 games. Last season Berry played with Toledo and met Utah in the 2022 Western Conference Finals.
Cyclones Statistical Leaders
Games: Patrick Polino/Justin Vaive (62)
Goals: Vaive (30)
Assists: Louie Caporusso (43)
Points: Zack Andrusiak/Caporusso (64)
PIM's: Sean Allen (162)
2022-2023 Utah Grizzlies Regular Season Totals (league rankings)
Overall record: 29-29-3
Home record: 13-14
Road record: 16-15-3
Win percentage: .500
Streak: Lost 2
Standings Points: 61
Last 10: 6-4
Goals per game: 3.03 (22nd) Goals for: 185
Goals against per game: 3.70 (22nd) Goals Against: 226
Shots per game: 31.41 (16th)
Shots against per game: 35.02 (25th)
Power Play: 55 for 295 - 18.6 % (19th)
Penalty Kill: 210 for 265 - 79.2 % (15th)
Penalty Minutes: 1118. 18.33 per game. (3rd most in the league)
Shorthanded Goals: 4.
Shorthanded Goals Allowed: 10.
Record When Scoring First: 20-6.
Opposition Scores First: 9-23-3.
Record in One Goal Games: 13-3-3.
SCORING 1ST 2ND 3RD OT/Shootout TOTAL
Utah Grizzlies 56 69 56 5 185
Opposition 70 76 77 3 226
Team Leaders (2022-23 Regular season)
Goals: Tarun Fizer (23).
Assists: Andrew Nielsen (32).
Points: Wright (48).
Plus/Minus: Connor McDonald (+6)
PIM: Nielsen (166)
Power Play Points: Nielsen (26)
Power Play Goals: Tarun Fizer (10)
Power Play Assists: Nielsen (20).
Shots on Goal: Cameron Wright (232).
Shooting Percentage: Johnny Walker (16.7 %) 10 for 60.
Game Winning Goals: Wright (8)
Wins: Trent Miner (12)
Save %: Miner (.910).
Goals Against Average: Miner (3.12)
Active Streaks
Goal Streaks: Jordan Martel (2) Connor McDonald, Zach Tsekos (1)
Assist Streaks: Dakota Raabe (4) Martel, Jared Power (2) Brycen Martin, Keaton Jameson, Connor McDonald, Aaron Thow, Johnny Walker
Point Streaks of 2 or more: Raabe (4) Martel (2)
• Discuss this story on the ECHL message board...


ECHL Stories from March 24, 2023
The opinions expressed in this release are those of the organization issuing it, and do not necessarily reflect the thoughts or opinions of OurSports Central or its staff.