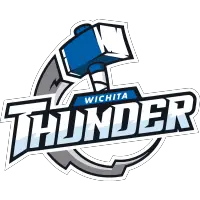 Game Day Capsule: Wichita at Tulsa, April 9th
April 9, 2016 - ECHL (ECHL) - Wichita Thunder News Release



Tulsa, OK - Wichita heads to Tulsa to close out the regular season tonight. Get ready for the match-up with this Wichita Brewing Company Game Day Capsule:
TONIGHT'S MATCH-UP
Wichita at Tulsa - 7:05 p.m., BOK Center, Tulsa, OK
WICHITA
HOME: 10-19-3-4
AWAY: 8-22-3-2
OVERALL: 18-38-6-6
Last 10: 4-6-0-0
Streak: 0-3-0-0
Rank: 4th place, Central Division, 48 points
TEAM LEADERS
Goals: Kenton Miller, 16
Assists: Kale Kerbashian, 29
Points: Kale Kerbashian, 43
+/-: Dalton Reum, -2
PIM: Dan Milan, 126
TULSA
HOME: 21-10-3-1
AWAY: 15-20-0-1
OVERALL: 36-30-3-2
Last 10: 5-5-0-0
Streak: 4-0-0-0
Rank: 3rd place, Central Division, 77 points
TEAM LEADERS
Goals: Phil Brewer, 25
Assists: Dennis Brown, 30
Points: Adam Pleskach, 48
+/-: Dennis Brown, Phil Brewer, +14
PIM: Mathieu Gagnon, 163
SEASON-SERIES
Oct. 16 BOK 3-2, W
Nov. 11 INTRUST 2-1, W (SO)
Nov. 27 BOK 2-0, L
Nov. 28 INTRUST 4-2, L
Dec. 18 BOK 3-2, W (OT)
Dec. 19 BOK 3-2, L (SO)
Dec. 26 INTRUST 2-1, L (SO)
Jan. 8 INTRUST 2-1, L (SO)
Jan. 9 BOK 6-4, L
Feb. 14 BOK 2-1, L (OT)
Apr. 6 INTRUST 5-1, L
Apr. 8 INTRUST 2-1, L
Apr. 9 BOK 7:05 p.m.
Wichita is 3-5-1-3 vs. Tulsa
HEAD TO HEAD - This is the 13th and final meeting of the season between the Thunder and the Oilers. All-time, Wichita is 134-115-27 against Tulsa and 60-63-13 on the road in the series.
275 - Tonight is the final meeting of the season between the Thunder and the Oilers. Tulsa has won both games this week, taking Wednesday's contest 5-1 and holding on for a 2-1 victory last night at INTRUST Bank Arena. Wednesday night's match-up was the 275th All-Time meeting between the longtime rivals.
BERGY - Domenic Alberga recorded his sixth goal in a Thunder uniform last night. He tipped home a shot from Donnie Harris, which helped cut the lead to one with less than 30 seconds remaining. It was his ninth goal of the season and 23rd point. The rookie forward out of Maple, Ontario has 14 points since coming to Wichita.
PENALTY SHOT - Christophe Lalancette had a penalty shot last night, which was the second time the Thunder had a penalty shot against. David Shantz was the goaltender of record for both opportunities and stopped both chances.
MILLER TIME - Kenton Miller took the team-lead in goals last week. He needs one more to tie his ECHL high from last season of 17. His career high as a pro (30) came during his rookie season in 2012-13 when he was with the Missouri Mavericks as a part of the Central Hockey League.
MILESTONES - Several Thunder players are nearing career milestones. Dan Milan is 18 games from playing in his 200th ECHL game. Landon Oslanski is three points away from 100 points in his pro career. Ian Lowe has 185 points in Thunder blue. Michael Neal is one games shy of playing in his 400th ECHL game and six points from 200 as a pro. Kale Kerbashian is seven points shy of 200 in his pro career.
THUNDERBOLTS...Landon Oslanski leads the team in shots (191)...Dan Milan leads the team with 130 penalty minutes...Wichita is first in the league in minor penalties (397)...Wichita is 12-1-1-1 when leading after two...Wichita is 11-12-6-6 in one-goal games...
TULSA NOTES - Ben Murphy and Shawn Bates have combined for 13 points in 13 games for Tulsa...Dan DeSalvo is still in Manitoba...Jussi Olkinuora has won back-to-back to starts this week against Wichita...
AROUND THE ECHL - There are 13 other games today in the ECHL. Toledo heads to Kalamazoo. Wheeling goes to Reading. Manchester takes on Adirondack. Florida hosts Orlando. Brampton is in Elmira. Greenville takes on Atlanta. South Carolina travels to Norfolk. Indy is in Fort Wayne. Evansville remains in Allen. Cincinnati takes on Quad City. Utah remains in Rapid City. Missouri plays at Idaho. Colorado faces Alaska.
UP NEXT - The team's season ticket holder end of the season party will take place on Monday, April 11th at 6 p.m. located at the Wichita Ice Center.
Season ticket holders can now put down their deposits to renew their seats for the upcoming 2016-17 season. Contact your ticket rep today!
• Discuss this story on the ECHL message board...


ECHL Stories from April 9, 2016
The opinions expressed in this release are those of the organization issuing it, and do not necessarily reflect the thoughts or opinions of OurSports Central or its staff.