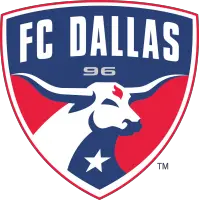 FC Dallas Falls on the Road against Minnesota United FC on Decision Day
November 8, 2020 - Major League Soccer (MLS) - FC Dallas News Release



St. Paul, MINN - FC Dallas (9-6-7, 34 points) falls 3-0 to Minnesota United FC (9-5-7) in the final match of the 2020 MLS regular season at Allianz Field Sunday night. Dallas will open the 2020 postseason on the road against the Portland Timbers. The date, time and broadcast details of that match will be announced at a later date.
Game Summary
First Half:
4' - Andrés Ricaurte's left-footed shot from outside of the box goes wide right of the Minnesota goal.
17' - Kevin Molino scores the first goal of the match with a shot near the edge of the box that has enough power to get past Phelipe at the right post.
21' - Michael Barrios' chip attempt was cleared off the line by Minnesota's Brent Kallman.
26' - Santiago Mosquera's right-footed curling shot near the left side of the box goes right of Dayne St. Clair's goal.
38' - Thiago Santos' right-footed volley is smashed against the crossbar of Minnesota's goal following a cross from Santiago Mosquera.
Second Half
47' - Emanuel Reynoso scores the second goal of the match for Minnesota as his shot from the edge of the box curls past Phelipe.
60' - Phelipe comes off his line to deny Molino at close range inside of the box.
76' - Ryan Hollingshead's volley inside of the box connects with the left post of Minnesota's goal.
79' - Reynoso sets up Molino in the box who slots it past Phelipe to score his second goal of the match and make it 3-0 for Minnesota.
Lineups:
FC Dallas - Phelipe; Ryan Hollingshead, Bressan, Matt Hedges, Bryan Reynolds; Thiago Santos (Tanner Tessmann - 71'); Santiago Mosquera (Fafa Picault - 53'), Jesús Ferreira (Franco Jara - 53'), Andrés Ricaurte, Michael Barrios (Ema Twumasi - 71'); Ricardo Pepi (Brandon Servania - 83').
Substitutes not used - Kyle Zobeck, John Nelson, Reto Ziegler, Dante Sealy.
Minnesota United FC - Dayne St. Clair; Bakaye Dibassy, Brent Kallman, José Aja, Romain Métanire (Noah Billingsley - 85'); Marlon Hairston (James Musa - 85'), Jan Gregus; Kevin Molino (Foster Langsdorf - 81'), Emanuel Reynoso (Chase Gasper - 85'), Ethan Finlay (Hassani Dotson - 75'); Robin Lod.
Substitutes not used - Greg Ranjitsingh, Adrián Zendejas, Sam Gleadle, Kevin Partida.
Scoring Summary:
MIN: Kevin Molino (Emanuel Reynoso, Robin Lod) - 17'
MIN: Emanuel Reynoso (Robin Lod, Kevin Molino) - 47'
MIN: Kevin Molino (Emanuel Reynoso, Robin Lod) - 79'
Misconduct Summary:
FCD: Ryan Hollingshead (caution) - 13'
MIN: Romain Métanire (caution) - 29'
FCD: Thiago Santos (caution) - 30'
FCD: Bryan Reynolds (caution) - 45'+1'
MIN: Marlon Hairston (caution) - 51'
MIN: Jame Musa (caution) - 87'
Weather: Mostly sunny, 70
Referee: Robert Sibiga
Assistant Referees: Claudiu Badea, Gjovalin Bori
4th Official: Lukasz Szpala
VAR Official: Younes Marrakchi
FC Dallas head coach Luchi Gonzalez
General thoughts on tonight's match...
"We're clearly disappointed, obvious this wasn't the plan. We've had some good momentum the last few games. We had a good away win in Nashville so we wanted to carry that and be consistent with that. So our approach was similar and we had a few knocks, but we also did in Nashville so there was no reason we couldn't come here and get a result. I'm sorry to the fans, I'm sorry to the club that we couldn't earn ourselves a home game. That was a big objective of ours set at the beginning of the season. And even after everything that we went through, we had that possibility until this last game; and it's obviously slipped through our fingers now. We were reactive in the game, we knew Minnesota were going to go for it all or nothing. The pressure was on them to push the game but we're also proud of how we want to play; we want to press, we want to push the game. We came here with a lineup that we wanted to attack with and put pressure on them. But we didn't win enough duels, we didn't win enough moments and battles and possessions. And those add up, all those individual moments add up to a result. They put away their chances and we didn't, we've got a similar amount of shots and a similar amount of crosses, similar amount of passes but it's all about the end product and they put away their chances and we didn't. I'm disappointed with our performance. We could lose the game but if we'd had a better performance - better reactions, winning more duels, little more fight - the game could bounce your way. We've got to be honest with ourselves, I've got to be honest with myself, we didn't trigger each other and I didn't trigger the boys enough to get that reaction. Look, we're in the playoff situation which is an important goal. Unfortunately, we have to play away but it is against a club like Portland that took away our playoff hopes in our stadium three years ago. Football gives opportunities for response and justice and another opportunity to play that club that ended our season three years ago in our stadium. It's an opportunity. We're going to be upset right now but we'll be steady and pick ourselves back up in the next day or two and start to gain some momentum. We want to be the team that can prepare the best in the next two weeks."
On Phelipe's FC Dallas debut...
"Phelipe earned that. He's been training really well. I know we're going to lose him to (international) camp with Brazil's U-23s soon but we have three keepers that are great. They're a great team and they compete every day and support each other. I'm proud of all three of them and it was Phelipe's number called for tonight. He did make some good saves and plays, unfortunately he conceded three and a keeper is never going to be happy with that. I think he has a really bright future. He's really young and has a bright future career. His mentality has always been about learning and being open. He's a competitor so he'll bounce back."
FC Dallas defender Matt Hedges
On the reasons behind Minnesota's three goals...
"First two goals were from poor giveaways and it put us on the backfoot. For those goals, that's what went wrong. The third goal happened in transition when we were pushing high and trying to get back into it but we had our chances. We hit the post, we had Mikey's (Barrios) chance that - I haven't seen a replay - but I thought it was a goal. So we created chances but didn't score them. But our lack of concentration on giveaways put us on the backfoot."
How Minnesota's goal after halftime affected the team...
"Deflating, that's the perfect word for it. We ended the half on the front foot, playing well, and we come out and that happens. I don't know, deflating is a good word for it. We had put in all the work to try to get back into it but we go down 2-0 right away. It's frustrating."
FC Dallas forward Michael Barrios
On the playoff game vs Portland...
"It's going to be a difficult and challenging game in the beginning. In the playoff phase we all start at zero. Only thing is they have the home field advantage, but it's going to be a lot better to cooperate since they won't have fans at the game. These two weeks we have off, we will work on getting in our best shape possible before we head out to Portland. We need to work on a few things and as a whole the team knows what we want to accomplish."
On getting revenge from the last playoff game vs Portland in 2018...
"A few years ago they eliminated us on our home field and now we have the opportunity to show them what we are made of and what we are capable of. We had a few good performances on the road throughout the year. I think if the team is all on the same page on becoming champions, and going step by step, I think this game will be a good one. We will work to get to that game one hundred percent"
• Discuss this story on the Major League Soccer message board...


Major League Soccer Stories from November 8, 2020
The opinions expressed in this release are those of the organization issuing it, and do not necessarily reflect the thoughts or opinions of OurSports Central or its staff.