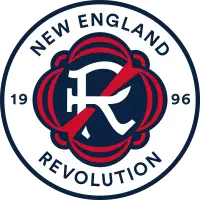 Revolution Conclude Regular Season with 2-0 Loss to Philadelphia Union
November 8, 2020 - Major League Soccer (MLS) - New England Revolution News Release



FOXBOROUGH, Mass. - The New England Revolution (8-7-8, 32 pts., 1.39 PPG) concluded the regular season with a 2-0 loss to the Philadelphia Union (14-4-5, 47 pts., 2.04 PPG) at Subaru Park on Sunday. Philadelphia's Sergio Santos opened the scoring in the 42nd minute, and Cory Burke doubled the host's lead in the 69th minute to secure the Supporters' Shield for the Union.
With the result, the Revolution finish the regular season in eighth place in the Eastern Conference and advance to the Play-In Round of Audi 2020 MLS Cup Playoffs, where they will host the Montreal Impact on Friday, Nov. 20 at 6:30 p.m. ET on FS1 and FOX Deportes. The Revolution have registered a 3-1-0 record in four meetings against the Impact this season, including three straight victories. The Revs are 12-10-3 against Montreal in the all-time series, though the Nov. 20 Play-In Round matchup will mark the teams' first postseason meeting.
Today's contest in Philadelphia marked the fourth time this season all three of the Revolution's Designated Players - Gustavo Bou, Adam Buksa, and Carles Gil - appeared in a match together. Gil made his second consecutive start and fourth consecutive appearance since returning from injury in October, while Bou made his second straight appearance since returning from a hamstring injury. Buksa, who played all 90 minutes today, finished the season as one of two Revolution players - along with Tajon Buchanan - to appear in every game this season. Buchanan's 23 MLS appearances this season are the most among Canadian players.
Forward Teal Bunbury finished the regular season as the club's leading scorer with eight tallies, along with one assist, to claim the Revolution's Golden Boot.
POSTGAME NOTES
New England Revolution 0, Philadelphia Union 2
November 8, 2020 - Subaru Park (Chester, Penn.)
Revolution Finish Eighth in Eastern Conference with 2-0 Loss
The Revolution (8-7-8, 32 pts., 1.39 PPG) closed the 2020 regular season with a 2-0 loss to the Philadelphia Union at Subaru Park on Sunday afternoon. The win clinched the Supporters' Shield for the Union.
New England finishes the MLS regular season in eighth place in the Eastern Conference. The Revolution will host the Montreal Impact, the No. 9 seed, in the Play-In Round of the Audi MLS Cup Playoffs on Friday, Nov. 20 at 6:30 p.m. ET (FS1/FOX Deportes).
New England concludes the 2020 campaign with a 6-5-3 record away from Foxborough, matching a club record for wins away form home and tied with Toronto FC for the most away wins in MLS.
Head Coach and Sporting Director Bruce Arena's all-time record moves to 218-131-105, and 16-10-16 with the Revolution. Arena, the winningest coach in MLS Cup Playoff history, has brought the Revolution to back-to-back playoff appearances after a three-year drought.
New England's Designated Player Triumvirate Makes Second Consecutive Appearance
- Revolution Designated Players Gustavo Bou, Adam Buksa, and Carles Gil appeared together in New England's attack for the second consecutive match and the fourth time this season. All three appeared in the Starting XI for the third time in 2020.
- Gil wore the captain's armband for the second straight game and fourth time this season. The second-year midfielder logged a 90-minute shift and finished with 89 touches, six fouls won, three key passes, and one interception, while successfully completing 48 of 59 pass attempts.
- Buksa finished the season second behind Teal Bunbury for the team's Golden Boot award with six goals.
- Buksa and forward Tajon Buchanan both played in all 23 games this season, with Buchanan's 23 games played leading all Canadian players in MLS.
Bunbury Claims Revs' Golden Boot
Forward Teal Bunbury captured the team's Golden Boot as the team's leading scorer with eight goals this season.
This marks the first time Bunbury has claimed the Revolution's Golden Boot.
He surged in New England's Golden Boot race over the team's last seven games, scoring four times - including a brace on Nov. 1 vs. D.C. United.
Bunbury is likely to finish the regular season with the most away goals (6) of any player in MLS this season.
Fagundez Finishes on 261 Games Played, Tied for Appearances Record
Midfielder Diego Fagundez was an unused substitute tonight and will conclude his season with 261 career regular season games played, tied with Shalrie Joseph for the Revolution's club record.
The 10-year Revolution veteran and first-ever Homegrown Player signing has registered 261 games played, 53 goals and 45 assists in his Revs career, all top-three in club history.
Revolution Make Two Changes to Starting Lineup
New England made two changes to the Starting XI from its most recent match on Nov. 1 vs. D.C. United, with Brandon Bye and Gustavo Bou starting in place of DeJuan Jones and Tommy McNamara.
Bye, who appeared in all but one match this season with 18 starts, recorded six clearances, five possessions gained, two interceptions and two shots over 77 minutes of action.
Defender Andrew Farrell registered his 19th full 90-minute shift of the season. Farrell finished with team highs in possessions gained (8) and clearances (7), along with two interceptions and one block.
GAME CAPSULE
Referee: Drew Fischer
Assistant Referee: Kathryn Nesbitt (AR1), Brian Dunn (AR2)
Fourth Official: Adam Kilpatrick
Video Assistant Referee: Drew Fischer
Weather: 77 and sunny
Attendance: 3,000
Scoring Summary:
PHI- Sergio Santos (Unassisted) 42'
PHI- Cory Burke (Jose Martinez) 69'
Misconduct Summary:
NE- Andrew Farrell (Yellow Card-Unsporting Behavior) 31'
NE- Teal Bunbury (Yellow Card-Unsporting Behavior) 55'
PHI- Jose Martinez (Yellow Card-Unsporting Behavior) 86'
NE- Scott Caldwell (Yellow Card-Unsporting Behavior) 90+6'
New England Revolution: Matt Turner; Alexander Büttner (Matt Polster HT), Andrew Farrell, Henry Kessler, Brandon Bye (Seth Sinovic 77'); Scott Caldwell, Teal Bunbury (Kelyn Rowe 57'), Tajon Buchanan (Lee Nguyen HT), Carles Gil ©; Adam Buksa, Gustavo Bou (Kekuta Manneh 77')
Substitutes Not Used: Brad Knighton, Michael Mancienne, Diego Fagundez, Tommy McNamara
Philadelphia: Matt Freese; Mark McKenzie, Jakob Glesnes, Kai Wagner, Raymon Gaddis; Jose Martinez, Jamiro Monteiro (Jack Elliot 90'), Alejandro Bedoya © (Anthony Fontana 90+6'), Brenden Aaronson; Sergio Santos (Cory Burke 63'), Kacper Przybylko (Ilson Jr. 90')
Substitutes Not Used: Warren Creavalle, Andrew Wooten, Joe Bendik, Olivier Mbaizo, Aurelien Collin
New England Revolution Team Statistics Philadelphia
9(1) Shots (on Target) 18(5)
4 Blocked Shots 7
3 Saves 1
6 Corner Kicks 3
3 Offsides 2
11 Fouls 14
428 (78%) Passes Attempted (% Completed) 321 (67%)
57.3% Possession 42.7%
POSTGAME QUOTES
New England Revolution Sporting Director & Head Coach Bruce Arena
On his takeaways from tonight's match:
Arena: "We were thoroughly beaten today. We were dominated in the first half. I thought the second half was better, but the team that showed up in the first half played poorly."
On the team's struggles against Philadelphia this season:
Arena: "Today they just outplayed us. In a bunch of the other games I think we might've outplayed them a little bit. They were obviously motivated, but I cannot understand how our team played in the first half. That was very disappointing, but Philly has a good team - that's why they've earned the most points of any team in the league to date."
On if the team's performance today concerns him heading into the postseason:
Arena: "This game has nothing to do with the next game, so I don't even concern myself with that."
On if a lack of chemistry between the team's Designated Players contributed to today's performance:
Arena: "No, that wasn't an issue. I think in the first half in particular they were much more aggressive, they put us under pressure, and our passing and inability to hold the ball, to keep the ball was very poor. That was our entire team. That had nothing to do with our top three players. I think from our back line up, we did a real job with our passing, our ability to hold the ball, to possess the ball."
Revolution Midfielder Scott Caldwell
On shrugging off today's loss and looking ahead to the postseason:
Caldwell: "I mean, we're going to have to learn from that one. We went into that game knowing it was going to be a playoff-type game and if we're going to win and advance in the playoffs and get results then we're going to need to play better than that, especially the way we came out of the gate. So we're going to have to learn from that and be able to build in the next week and a half, two weeks toward our next playoff game."
On the team's struggles at Gillette Stadium heading into the home play-in game vs. Montreal:
Caldwell: "We take every game the same way, especially this playoff game coming up. Maybe we haven't been as sharp as we need to be in some home games but we know we can beat any team at home and we're going to have to play together and build on different parts of our game for the one against Montreal."
On whether playing with a different formation hurt the team in tonight's game:
Caldwell: "I think we worked together throughout the week on it. We were able to learn through practice. We just weren't at our best, each individual player. For each individual player we have to play better individually and then collectively. We didn't do that tonight but there's a lot to learn from it. We have to move on, we have to be able to pick ourselves up and be able to play together moving forward like we did in the second half, creating chances and just continuing to get better."
On the team's plan against Philadelphia goalkeeper Matt Freese:
Caldwell: "We want to get shots, crosses, guys running across the first post. I just don't think we did a good enough job in the build-up and getting second balls in the first half to really challenge him. But we knew that it was a young goalkeeper and knew that we were going to try to challenge him but we just weren't sharp enough in other phases of the game to get there. So we'll continue to work on that."
On what the team has to do to improve on defending set pieces:
Caldwell: "Look I mean we've known that for a while. We continue to work on it in training and we just have to continue to stay switched on, continue to communicate and the moments, the moments are what are letting us down right now, and continuing to stay tight to guys in the box. So we'll keep working on that. We'll make sure that we get it sorted for the playoffs."
Revolution Goalkeeper Matt Turner
On how the team feels heading into the play-in game:
Turner: "We'll evaluate this game and then all we can do is the task at hand. We shot ourselves in the foot. Obviously we needed a result today to guarantee ourselves that top-six spot and we weren't able to do that tonight. I wouldn't call it a combination of bad luck, everything is in our own control. We would've been lucky if we got out of that first half without conceding a goal because we were really poor on the day. It was a better, much more promising second half and hopefully we can build on that, win our play-in game, and keep it rolling."
On the team's struggle matching up with Philadelphia:
Turner: "It's extremely frustrating, 0-4-1 against them on the year. Like I've said in previous interviews, I've never even beaten Philadelphia as a starting goalkeeper. What is it about Philly? I don't know. They have their game plan and they stick to it. They work hard, they tackle hard, they're in the refs ear all game, and at the end of the day, the best thing about them is that they don't make little mistakes. You could've thrown anybody in that net for them today and they still would've gotten a clean sheet. Those center backs are rock solid and we weren't able to do the same thing on our end. We shoot ourselves in the foot too many times against them."
On Philadelphia disrupting the buildup play:
Turner: "They're pressing high and that's no secret so they have their line of two strikers at the top of their 4-4-2 diamond and then their outside midfielders stay inside and they almost bate that pass to the outside backs. If you float that pass up, they're going to come pressing hard and that's kind of what they want. We knew they were going to be motivated to get a result and so we tried to just put our foot down and hit some longer balls. We didn't end up winning any of those long balls, any of those second balls, so it was just wave after wave of pressure, pressure, pressure and then corner kicks after corner kick. And eventually, off the second phase of a corner kick, again we're conceding a goal. It's tough. Obviously I sound a little frustrated and I'm sorry but it's been that kind of night."
On Philadelphia's first goal:
Turner: "I think it was Bedoya, he got inside position and did well to flick the header. I was going to try to cover it, tip it either over the bar, off the post, or out of bounds for another corner kick. Couldn't quite get my hand there, it took a good bounce off the cross bar and, again the little things like I said, we're not following the goal there, everyone was just sort of watching. Sergio Santos was the only one being proactive in that moment, he comes in, easiest goal of his life so that's what that was. It's unfortunate, like I said the second phase of a corner kick and set piece, which I think overall we did alright and I think it's definitely something to build on in the future."
• Discuss this story on the Major League Soccer message board...


Major League Soccer Stories from November 8, 2020
The opinions expressed in this release are those of the organization issuing it, and do not necessarily reflect the thoughts or opinions of OurSports Central or its staff.