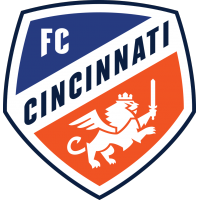 Gyau scores first FCC goal as Orange and Blue conclude 2020 MLS season
November 8, 2020 - Major League Soccer (MLS) - FC Cincinnati News Release



FORT LAUDERDALE, Fla. - FC Cincinnati fell to Inter Miami CF, 2-1, at Inter Miami CF Stadium on Decision Day on Sunday afternoon. Joseph-Claude Gyau scored his first goal as an FCC player, but the Orange and Blue were unable to equalize.
Inter Miami CF (7-13-3, 24 pts.) opened the scoring in the 19th minute when a cleared corner kick landed at the feet of Mikey Ambrose about 25 yards from goal, where the midfielder took a shot from distance for his first career MLS goal. Just minutes later, Miami center back Leandro González Pírez connected on a header following a corner kick to double the home side's lead.
FC Cincinnati (4-15-4, 16 pts.) cut into the deficit in the second half when Joseph-Claude Gyau curled a shot from outside the 18-yard box into the back of the net. Off a set piece delivery from Haris Medunjanin, Nick Hagglund headed a shot on goal late in the match, but John McCarthy was able to make the save to ensure all three points for Miami.
For up-to-the-minute information about FC Cincinnati, visit the team's official website at fccincinnati.com, or follow the team on Twitter, Instagram and Facebook at @FCCincinnati. Additionally, fans are encouraged to download the team's official mobile app on the Apple App Store or Google Play for instant access to mobile tickets, team content and match notifications.
Information about seating options at the club's state-of-the-art West End Stadium - which will open in Spring 2021 - is now available at westendstadium.com. Season ticket deposits are now being accepted for traditional reserved seating and The Bailey. For more information about 2021 season memberships, visit westendstadium.com or the stadium's social properties on Twitter, Facebook or Instagram at @WestEndStadium, or by calling the team's sales and service staff at 513-977-5425.
Inter Miami CF 2, FC Cincinnati 1
Inter Miami CF Stadium | Fort Lauderdale, Fla.
November 8, 2020
SCORING SUMMARY
MIA - Mikey Ambrose (unassisted) 19'
MIA - Leandro Gonzalez Pirez (Lewis Morgan) 23'
CIN - Joseph-Claude Gyau (Brandon Vazquez) 66'
FC Cincinnati: Spencer Richey, Zico Bailey (Brandon Vazquez 62'), Nick Hagglund, Maikel van der Werff, Andrew Gutman, Kamohelo Mokotjo, Haris Medunjanin ©, Frankie Amaya (Siem de Jong 55') (Tommy McCabe 78'), Jürgen Locadia, Joseph-Claude Gyau, Franko Kovačević
Bench: Bobby Edwards, Saad Abdul-Salaam. Mathieu Deplagne, Kendall Waston, Jimmy McLaughlin, Rashawn Dally
Stats: Shots 12, Shots on goal 4, Saves 3, Corner kicks 3, Offsides 0, Fouls 10, Possession 63.2%, Passes 541 (88.9%)
Inter Miami CF: John McCarthy, Andres Reyes, A.J. DeLaGarza, Leandro Gonzalez Pirez, Mikey Ambrose, Wil Trapp, Lewis Morgan (Victor Ulloa 84'), Blaise Matuidi, Rodolfo Pizarro (Alvas Powell 84'), Gonzalo Higuain © (Christian Makoun 90'), Juan Agudelo (Julián Carranza 63')
Bench: Drake Callender, Matias Pellegrini, Jay Chapman, Dylan Nealis, Federico Higuain
Stats: Shots 13, Shots on goal 5, Saves 3, Corner kicks 5, Offsides 1, Fouls 18, Possession 36.8%, Passes 314 (78.7%)
MISCONDUCT SUMMARY
CIN - Joseph-Claude Gyau (caution) 4'
CIN - Nick Hagglund (caution) 21'
MIA - Andres Reyes (caution) 62'
MIA - Andres Reyes (caution, ejection) 88'
Referee: Guido Gonzales Jr
Assistant Referees: Jose da Silva, Jeffrey Swartzel
4th Official: Marcos de Oliveira
VAR: Chris Penso
Weather: 74 and rain
Attendance: 2,703
GAME NOTES
With tonight's loss, the Orange and Blue conclude the season with a 4-15-4 record ... FCC finished 1-10-0 in matches played at road venues ... FC Cincinnati's all-time, all-competition record against Inter Miami CF moves to 0-1-0 ... The Orange and Blue conclude the season 4-12-4 against Eastern Conference opponents
Joseph-Claude Gyau scored his first FC Cincinnati goal in today's match ... the winger has recorded one goal and one assist in 29 career MLS matches
Brandon Vazquez recorded his second assist of the campaign on Gyau's goal ... with that assist, Vazquez became the only FCC player this season to record multiple goals and assists
Franko Kovačević made his MLS debut in tonight's match ... the Croatian forward started, played 90 minutes and recorded three shots, including one shot on goal
Tommy McCabe made his first appearance of the season for the Orange and Blue when he replaced an injured Siem de Jong in the 78th minute ... McCabe has made seven appearances, including two starts, in two professional seasons with FCC ... the midfielder made seven appearances on loan with USL Championship side Memphis 901 FC this season
Head coach Jaap Stam made four changes to the club's most recent match against Atlanta United FC on Nov. 1 ... Zico Bailey, Nick Hagglund, Maikel van der Werff and Franko Kovačević replaced Saad Abdul-Salaam, Kendall Waston, Tom Pettersson and Brandon Vazquez
Alvaro Barreal, Allan Cruz, Greg Garza, Yuya Kubo, Caleb Stanko, Tom Pettersson and Przemysław Tytoń were excluded from the matchday roster because of injuries
POSTGAME QUOTES
FC Cincinnati head coach Jaap Stam
On tonight's performance
"A lot of the time, I am pleased with what the guys are trying to bring. Second half, we already spoke about it, it was going to be different, because the wind is different. They need to defend more. You get a big part of the game, in terms of having possession going forward. Sometimes, we come out on the break. We scored that one goal. They tried on pushing to get the equalizer. Unfortunately, we couldn't get that one. I am not saying that the first half was bad, because the first half, due to circumstances, it is not easy to play. At times, yeah, we could have done better, but it's not like the first half was bad football. "
On Joseph-Claude Gyau's goal
"Joe (Joseph-Claude Gyau) is always working hard. I mentioned it to him before the game, and he scored. It was a great goal. It gives you a little bit of a boost, and they keep on pushing. Unfortunately, they couldn't finish it."
FC Cincinnati winger Joseph-Claude Gyau
On his first goal
"It feels good, but unfortunately we lost. What, did they make the playoffs now? Our plan was to spoil their playoff run. It didn't work. Yeah, I am happy I was finally able to get a goal, but it's just a sad way to end the season."
On the buildup in his goal
"Coach (Jaap Stam) just put me at right back. That is something that we discussed. I just saw Brandon (Vazquez) peeling into the middle, played it into him. He played it back to me. From the first half, they knew I wanted to go down the line, so I cut it inside and hit it with my left."
On whether he has played in similar weather conditions before
"No, this is crazy. It is absolutely crazy. Unbelievable. We have to get out of here."
FC Cincinnati forward Franko Kovačević
On his MLS debut
"I'm always disappointed when I lose. For me, this was not as great as a team. As a result, you can see that, but I think the team wanted the win. The coach wanted the win and stop everyone. I think we played well. I think we were better. I hope next season ... I will be the first to promise to the fans that we will give everything to make playoffs and then we will see. This team needs a winning mentality. When we get a winning mentality, by the quality of players, we can easily come to playoffs, and then we can show everyone we are a good team and that each player is good."
On his transition to MLS
"Look, I come from Croatia in Europe. In Croatia, you grow up in the street and on the street you learn everything. Everything that I learned, it was on the street. So yeah ... when you put me on the pitch I am comfortable, because I feel that I can dribble to every place. So yeah, I feel comfortable."
On whether he played in similar weather conditions before
"I am not sure, but I want to say this ... Weather like this is no problem. Every player needs to be blessed that he can play on this pitch. This pitch is perfect pitch. In Croatia, you can't find it. In Europe, not all pitches are like this. For me, everytime that I play on a pitch like this I am blessed."
• Discuss this story on the Major League Soccer message board...


Major League Soccer Stories from November 8, 2020
The opinions expressed in this release are those of the organization issuing it, and do not necessarily reflect the thoughts or opinions of OurSports Central or its staff.