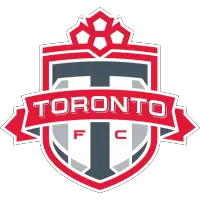 New York Red Bulls (2) - Toronto FC (1) Post Match Summary
November 8, 2020 - Major League Soccer (MLS) - Toronto FC News Release



NEW YORK RED BULLS (2) - TORONTO FC (1) POST MATCH SUMMARY
SCORING SUMMARY
NYRB - Tom Barlow 24'
NYRB - Brian White 26' (Kyle Duncan, Sean Davis)
TFC - Tsubasa Endoh 50'
MISCONDUCT SUMMARY
NYRB - Dru Yearwood 15' (caution)
TFC - Chris Mavinga 22' (caution)
NYRB - Jared Stroud 32' (caution)
NYRB - Ryan Meara 85' (caution)
TFC - Jayden Nelson 90'+4 (caution)
RECORDS
TORONTO FC: 13-5-5 44 PTS.
NEW YORK RED BULLS: 9-9-5 32 PTS.
LINE-UPS
TORONTO FC - Quentin Westberg; Auro, Omar Gonzalez, Chris Mavinga, Richie Laryea (Tony Gallacher 41'); Michael Bradley (C), Jonathan Osorio (Ralph Priso HT'), Nick DeLeon (Jayden Nelson 76'), Tsubasa Endoh (Jozy Altidore 57'), Alejandro Pozuelo; Ayo Akinola
Substitutes Not Used: Kevin Silva, Eriq Zavaleta, Laurent Ciman, Liam Fraser, Patrick Mullins
NY RED BULLS - Ryan Meara; Kyle Duncan, Tim Parker, Aaron Long, Jason Pendant; Dru Yearwood (Amro Tarek 78'), Florian Valot (Caden Clark 90'+2), Tom Barlow (Mandela Egbo 78'), Sean Davis (C), Jared Stroud (Cristian Casseres Jr. 63'); Brian White (Daniel Royer 63')
Substitutes Not Used: David Jensen, Marc Rzatkowski, Alejandro Romero Gamarra, Samuel Tetteh
GREG VANNEY - HEAD COACH, TORONTO FC
Can you just comment on what this team has gone through this season and the fact that it managed to be in the hunt for the Supporters' Shield down to the final minutes...
"It has been a journey and I appreciate the question. I think these guys, as I said to them today before the game, I'm extremely proud of the way they have handled this season. It's been a challenging year and in many ways for everybody around the world but just as it relates to our team, the challenges of Orlando and trying to get ourselves restarted. Coming back from Orlando and being quarantined for 14 days and having to get started up again and then move away from home. And our guys, every single day came out to training and didn't complain, didn't moan. They just got to work. They found ways to support each other and to get on with it. We dealt with some injuries, but just managed to put it out there every single day. There are a couple performances, of course, we'd love to have back along the way. But the mentality and the commitment to trying to make the most out of this season, not complaining about stuff, just getting on with it and working every single day, being there for each other, it's been incredible. There are only two other teams in the league who have any understanding of what we went through as a group. And both of those teams were battling today just to get into the playoffs, and we were battling to try to win a Supporters' Shield. So, they know how difficult it is. We know how difficult it is. I'm so proud of our guys for being there till the end. With that being said, we are going to be laser-focused on trying to win the MLS Cup. We'll try to get healthy here in this little stretch of a couple weeks. I thought the second half today was just a better response. We have to recognize sometimes, especially around playoff time, when you play these teams that really want to press high, that the game can't always look as pretty as we want it to look. Sometimes we have to just turn them and put them on their heels and bully them back in and move the game into their half the field and play territory. And then we can settle down and play. We created some chances in the second half to equalize and I thought the guys fought to the bitter end. We weren't going to come away with the shield today as Philly did their job and won their game, but our guys fought to the end and I'm proud of them."
Can you talk about the second half and the team's mentality heading into the playoffs and comment on the injuries with Jonathan Osorio and Richie Laryea?
"I thought the response was great. Again, it's a reminder as we get into this time of year, as we're getting guys back, and we're getting whole as a group, against some of these teams in the Eastern Conference, you really want to be on the front foot and press. And it's not so much about what they do with the ball it's what they do without the ball. So, it's a reminder that we can be aggressive, and we can play on the front foot, and we can turn teams and we can play more aggressively. And it's not always because we have to play through them with 15 passes or 20 passes. Sometimes it's just playing the game a little bit. And fighting back and fighting for space and then turning the game on its heels and earning the right to then play. And I didn't think we did that the first half. We didn't really earn the right to play. We kept trying to play but we hadn't created the space we hadn't shown them that we could threaten them on a consistent basis, enough to back them up. And we didn't put the pressure on them the way we did in the second half. And I do think that even though it was 2-0, I think we could have made the first half look more like the second half had we been more committed to that and been willing sometimes to just lose balls playing forward if they didn't connect but be able to work off of those passes. Too many of our moments were where balls lost between our lines that then came right back at us. And we don't gain any momentum in that. So, there are some things that we take out of this game and we build on over the next couple weeks ... in which we train and prepare for the playoffs. As it relates to the injuries, Oso was more precautionary. He obviously has been out for a couple weeks. We were set to play him 45 and then see where he was at the end of 45. At 2-0 he was feeling okay to go back on and we just decided that we wouldn't. And it's a good thing. Richie felt a little bit of a groin twinge, pull. I don't think it's anything serious but when he noticed that he tried to keep going but realized that it probably would be smart and take himself out. So, we'll treat him and manage him and see where he's at. But I think he'll be alright. Groins aren't as bad as hamstrings and quads so hopefully he will be ready to go."
MICHAEL BRADLEY - MIDFIELDER, TORONTO FC
Thoughts on the year?
"It's been an exercise for everybody, learning how to deal with things right? Nobody would of predicted so much that's gone on this year and so you can spend all your time worrying about things that aren't perfect or aren't the way they used to be or you can just try to find the right ways to move on and to still push forward. It's been that type of year. I think, for me personally, as a team, as a club we've tried to get rid of all the excuses, come every day ready to enjoy what we do. When you look at everything going on all around the world, we are very lucky to be able to do what we love, to play football, to train, to compete, to play games and so yeah, look it's a year where if you wanted to you could find something to complain about every day but we've really tried hard not to do that. We're excited now for the next few weeks and the playoffs and we're going to see if we can really be ready to raise our level as the really important games come."
Are you encouraged by the good moments as you get ready for the post season?
"Yeah very. It's been a weird stretch over the last few weeks. As you've said, not every result has been perfect but still when you look at getting more and more guys back healthy, even on some of these days when maybe the result hasn't gone our way, for sure there are things that we look at that need to be better. But there's also been good stretches of some of these games, where we're pleased with what things have looked like. We're trying to do a lot of different things at once, we're trying to get guys who have been injured back, sharp and fit and going. We're trying to still win games and we're still trying to understand that as we get ready for the playoffs, making sure we understand the type of team we need to be, the way we need to play that is going to give us the best chance."
• Discuss this story on the Major League Soccer message board...


Major League Soccer Stories from November 8, 2020
The opinions expressed in this release are those of the organization issuing it, and do not necessarily reflect the thoughts or opinions of OurSports Central or its staff.