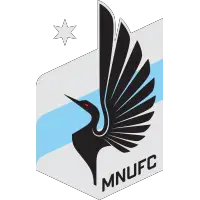 MNUFC Dominates Dallas, Earns Home Playoff Game
November 8, 2020 - Major League Soccer (MLS) - Minnesota United FC News Release



SAINT PAUL, MN - There was plenty on the line for Minnesota United coming into Decision Day presented by AT&T. Sitting in fifth place and facing fourth place FC Dallas, the Loons had to come out strong and stay on the front foot against a tough Dallas team to claim all three points and stake their claim to a home game in the first round of the MLS Playoffs. Fortunately, the attack was up to the task, scoring three goals generated by the interplay between Robin Lod, Kevin Molino and Emanuel Reynoso.
Minnesota United came out with more urgency than on Wednesday against the Colorado Rapids. Despite lacking a true forward with knocks to both Aaron Schoenfeld and Kei Kamara, Robin Lod put in yeoman's work as a false 9, linking up well with his fellow midfielders in Ethan Finlay, Emanuel Reynoso and Kevin Molino. The home side swarmed the ball whenever FC Dallas got possession and quickly transitioned into attack with crisp passing, especially from Jan Gregus in the central midfield. The Loons rode their consistency on the ball to 59.6% possession in the first half overall.
Dallas were not without their threats, though, including Michael Barrios in particular down the right wing. His speed was a matchup problem for defender Bakaye Dibassy, pressed once again into service as a left back rather than a centerback. The Mali national nevertheless put on a strong show and despite some breakaways where Barrios wriggled free, he largely kept him in check.
Before long, Minnesota were consistency knocking on the door, including a free kick in the 14th minute driven by Reynoso from just outside the right edge of the box and onto goal. The ball struck the crossbar. The Loons would not have to wait long for their attacking pressure to pay dividends, though. In the 18th minute, Lod forced a turnover on the right side and got it centrally to Reynoso who found Molino cutting into the box. The Trinbagonian struck the right-footed shot past goalkeeper Phelipe Megiolaro into the bottom corner to put the home side on top 1-0.
Minnesota's lift was quickly cut short, though, when Barrios got out way ahead of the pack in the 21st minute and faced down goalkeeper Dayne St. Clair one on one. St. Clair closed down the angle before Barrios released the shot and the keeper got a hand on it, tipping it high into the air. Defender Brent Kallman tracked back and headed the ball away at the very edge of the goalline.
Danger averted, MNUFC got back to putting pressure on Dallas' defense, racking up six corners by the half-hour mark of the first half. Over the final 15 minutes of the half, Dallas managed to build up some pressure on Minnesota's backline, getting the ball into dangerous spots and earning some corner kicks of their own. Heading into the half, Minnesota likely looked the team deserving of a one goal lead, but only just.
Before the whistle to start the second half had stopped echoing around Allianz Field, the Loons were on the board again. Another Dallas turnover in the 47th minute led to Lod pinging the ball behind a Dallas backline that had dropped to defend. Reynoso drove it home for his first goal as a member of MNUFC to double the lead to 2-0.
Clearly looking to change things up, Head Coach Luchi Gonzalez went to his bench early, bringing on the speedy Fafa Picault and forward Franco Jara to provide more offensive heft. Although it gave the visitors a bit of a different look and helped keep Metanire pinned farther back, it also seemed to up the choppiness of an already fraught game. In the 67th minute, Gregus got hold of the ball near the top of the box and slapped a shot that went wide but also went to ground. Midfielder Thiago Santos stepped on his head, drawing blood but no card. Once Gregus' head was bandaged, play resumed.
The Toros kept knocking, but in the 79th minute, MNUFC put the game away for good. Showing off yet another example of confident offensive interplay. Gregus sent the ball wide to the right side from the middle of the park for Lod. Lod sprinted forward, looking to get the ball on his favored left foot on the inside of the park. But at the last second he cut it right and got past his man, centering it to Reynoso who tapped it one-time off to Molino. Molino fired it into the lower right corner to complete his brace and make it 3-0 for the home side. Lod - with a hand in all three goals on the evening - completed the gentleman's hat trick.
Down the stretch, new addition Foster Langsdorf came in to spell Molino in the 81st minute for his MLS debut, and defender Noah Billingsley also made his MLS debut, coming on for Metanire in the 85th minute. While Dallas managed a few more opportunities, they couldn't find a consolation goal and the game - and the season - ended with MNUFC taking fourth place in the Western Conference and earning a home game in the first round of the playoffs against the Colorado Rapids.
BELL BANK MAN OF THE MATCH: Midfielder Emanuel Reynoso
GOAL BREAKDOWN
18' | Lod forces a turnover on the right, gets it to Reynoso in the middle to Molino cutting into the box on the left and he scores with the right-footed shot. 1-0
47' | Reynoso gets his first as a Loon after another turnover for Dallas. Lod pinged it centrally behind the defense and Reynoso was there to drive it home. 2-0
79' | Beautiful. Gregus gets it out wide to Lod who takes it up the pitch. He fakes to his left and goes around the defender to the right before sending it back to Reynoso, who drop it off to Molino. Molino fires it into the lower right corner. Brace for Molino. 3-0
LINEUPS:
Minnesota United: GK Dayne St. Clair; D Bakaye Dibassy, Brent Kallman, Joe Aja, Romain Metanire; M Jan Gregus, Marlon Hairston, Kevin Molino, Emanuel Reynoso, Ethan Finlay; F Robin Lod
FC Dallas: GK Phelipe; D Bryan Reynolds, Matt Hedges, Bressan, Ryan Hollingshead; M Andrés Ricaurte, Thiago Santos, Michael Barrios, Jesús Ferreira, Santiago Mosquera; F Ricardo Pepi
UP NEXT
Minnesota United vs. Colorado Rapids
Allianz Field | Saint Paul, Minnesota
Date and time TBD | MLS Cup Playoffs | Round 1
MINNESOTA UNITED QUOTE SHEET
MINNESOTA UNITED HEAD COACH ADRIAN HEATH
On continuing the unbeaten streak, finishing fourth in the Western Conference for the second straight year and what it means to him and the team ...
"More satisfaction this year because of what we've been through. I know I've mentioned it, but, trust me guys, this has been the most stressful sort of five or six months that I've ever had in football. And, I'm really pleased with the players tonight. And, I thought my little conversation, shall we say, at halftime on Wednesday obviously had an effect because we came out on the front foot and we played the way I know we can play. When we get the right players in the right positions and move the ball the way we can, you know with Robin [Lod], with Kev [Molino], Ethan [Finlay] was there today, then Rey [Emanuel Reynoso], we're very, very difficult to play against. Obviously, pleased for everybody. Pleased for all the staff. Pleased for all the supporters. Pleased for the ownership group. Because, I think we've proved an awful lot of people wrong this year with the amount of adversity that we've had to come through. I get a lot of pleasure from that."
On having no true striker tonight and the circumstances in playing the four starters together ...
"I wasn't worried about playing the four of them, but it's just the fact that, say Robin [Lod] had have got injured, we put Foster [Langsdorf] out later, but, he hasn't trained with the group. He probably didn't know half the players names. So, he's been in quarantine and training on his own since he's been with us. You know, that's always a gamble. But, it was great to see Noah [Billingsley]. Noah has had a really difficult year because of COVID, etcetera. He's been on loan. So, it was great to see him on the pitch. Good to see Chase [Gasper] back. I thought Marlon Hairston had a really good game in midfield as well. So, there was an awful lot of pleasing things this evening. But, the biggest one is the attitude of the group to go and grind it out and come away with another win."
On his comments on wanting to see more effort from his team after the last game and if he saw that from his team tonight ...
"I didn't question their effort. I thought it was a little bit misguided and I thought that at times we took a backwards step when we could take a forward step. That's virtually not happened all evening and it just makes so much of a difference to a football team when you're being positive and you're playing on the front foot rather than giving the initiative to the opposition. And, going back towards your own goal. I thought we played forward. We ran forward. All the things that we ask of the team. I just spoke to the players, and I watched the [Manchester] City, Liverpool game this morning. All the best players are the people who run forward and are positive and I know they're far better than us, but the principle of doing that and making it difficult for people and making people run towards their own goal, rather than coming and running to yours, makes all the difference in the world and I thought we were very good at that this evening."
On if the late scoring in other games to finish the final seeding in the table this Decision Day is a good representation of how tight of a race it has been until now ...
"Yeah. I think everybody... The thing is, it's been so unpredictable. And then the last day has been so unpredictable. I actually did an interview on the field and somebody told me we got FC Dallas and I'm thinking, there you go. Then, I get told it's Colorado. We know it's not going to be easy, we played them here recently. It was tight. But, you know, the one thing about Colorado is they're probably really fresh. They missed that many games. They haven't traveled. They've been at home. So, hey. And I don't think they've got any internationals either. You know, it's going to be tough for us, but, hey, if we show the same commitment and desire that we've shown this evening, anything is possible."
On how valuable the week off to get some players healthy is for the squad ...
"Well, yeah, as I said, it's a week where we can get some real work into two or three players, and it's a week where we can give some others a rest. And, it's a week where Aaron Schoenfeld, the likes of Ozzie [Alonso], etcetera can get that much closer to fitness. So, it's a welcomed break. I, for the life of me, I can't stand, our players are leaving today to play an international game on Wednesday and we've got to bring them back and they've got to have nine days before the next game. I just, like, it must be a different COVID in Europe. I don't know.
On Kei Kamara's status...
"Kei [Kamara] tweaked his groin yesterday at the very end doing some finishing and he tweaked his groin. He didn't want to make it worse, which I understand, he's going away. He thinks in three or four days he's going to be fine. So, he's going with our permission to play for Sierra Leone. At the end of the day, as I've always said, I will never stop players from playing for their country. I know how much it means to them. And, it's important that we support everybody."
On given the stress of this year, how he's going to celebrate with his team going forward celebrating ...
"It's COVID. It's back on. No celebrations. You know what it's like. Obviously, I said to the players, you know, we've got to prepare now. And, I think everybody has got something different on their plate for the next week to 10 days. We've got the guys going away. We've got the people like Hassani [Dotson] who got through tonight, but now needs to get some work in. And, hopefully the guys who have got minor knocks, some of them playing and some of them not playing, it will give us a little bit of time to sort of regroup and see where we are. And see what we're going to do for the playoff game."
On how important Kevin Molino is to this team and this attack ...
"A fit and healthy Kevin Molino is as good as anybody in the league. I honestly believe that. When he's fit and healthy. I think that's his 18th, 19th game of the year. When he plays, he has something different. But the one thing I did know, with the changes that we made, that they were all on the same wavelength. Robin Lod, Ethan [Finlay] and Kev and Rey [Emanuel Reynoso]. You know, I've seen all that little ticki tacka play around the penalty area in training for the last few months. So, I wasn't concerned about that. I was more concerned about how we're going to get through it because of the reasons I mentioned, about fitness levels, etcetera. That group, when they play, they're as good as anybody."
On Brent Kallman's decision to stand instead of kneel before kickoff and if he has heard any conversations being had in the locker room around this decision, if Kallman gave the team any explanation ...
"He has. And I fully support him. He has his reasons. Brent [Kallman] spoke to his teammates. He can express himself the way that he feels is right. The one thing that we all know is he's a great guy, he's a great teammate and he stands for something different. So, I just think that we have to respect that. Last time I looked, we're in a democratic society where people are free to do what they want to do. But, his teammates know what he thinks of them. He knows what the social issues is that he thinks about. So, you know, he does it with our support."
On the players clapping to nobody in the stands after the win to acknowledge the fans and supporters and if anything seems strange anymore this season ...
"Yeah. But, what you didn't see, that end was full. Didn't come across on TV. I'm only kidding, I'm only kidding. Seriously. Obviously, they know what our supporters mean to us and obviously playing that Wonderwall at the end of the game was their little appreciation of the support we've had. I know they haven't been in the stadium, but they players have all spoke about what they've been seeing when they see people around the city. So, I think that was their little bit of a thank you. Hey, hopefully, we've got a few more home games and hopefully that end will be full next year with some of the best supporters in the league."
MIDFIELDER EMANUEL REYNOSO
On creating a relationship with the attackers, Kevin Molino, Ethan Finlay, Robin Lod...
[SPA] "Primero que nada, feliz por el partido que hizo el grupo, la verdad que fue un partido muy bueno de todo el grupo. Creo que nos juntamos mucho con los chicos, nos justamos mucho, tratamos de asociarnos mucho y cuando tengamos la pelota, ir para adelante, eso se dio. También fue un equipo muy ordenado donde estábamos bien parados cuando no teníamos la pelota. Creo que estuvimos muy fino arriba así que eso me llena de orgullo y muy feliz."
[ENG] "First, really happy with the game from the group. Honestly, it was a great showing from the entire team. I think we mesh well together [Molino, Lod and Finlay], we try to get to know each other and when we have the ball, to move forward and that happened tonight. Also, we were a well-organized team, well placed when we didn't have possession. I think we were great up top and that fills me with pride and I'm happy."
On his first goal with Minnesota United...
[SPA] "Feliz, lo busque mucho y contento porque sirvió para poder ganar y creo que fue mi primer gol acá así que muy contento. Me voy a mi casa feliz. También el pase que me dio [Robin] Lod fue espectacular así que agradecido con él por el pase que me dio."
[ENG] "Happy, I had been looking for it for a while and content because it helped us win. I'll go home very happy with that goal. Also, the pass from [Robin] Lod was spectacular and I'm very grateful to him for that pass he gave me."
On his interplay with Kevin Molino...
[SPA] "La verdad que es un jugador importantísimo para nosotros. Tiene muchos goles, llega al área, que para nosotros es muy importante. Cada vez me estoy sintiendo mejor, me estoy asociando mucho al lado de el y me estoy entiendo mucho así que a pesar que por no me puedo comunicar mucho en la cancha por el idioma. Creo que hizo un gran partido, los dos goles que convirtió nos sirvió para el equipo. A felicitarlo y muy contento por el. Se lo merece y es un bueno jugador, la verdad que es muy importante para nosotros."
[ENG] "Honestly, he's a very important player for our team. He's scored a lot of goals, gets to the right spot and that's really important for us. Each time, I'm feeling better with him, getting used to playing alongside him despite the fact that it's hard for us to communicate because of the language barrier. I think he played great tonight, his two goals helped the team a lot. I want to congratulate him and I'm happy for him. He deserved it, he's a great player and very important to the team."
On being nominated for MLS Newcomer of the Year...
[SPA] "Muy feliz. Vine a este club a dar lo mejor. A seguir aprendiendo, del técnico, a seguir aprendiendo de mis compañeros. La verdad que eso me llevo al esfuerzo que le llevo metiendo, el sacrificio que estoy haciendo. Muy contento y feliz por el premio."
[ENG] "Really happy. I came to this club to give my best, keep learning, from my coach, from my teammates. And it shows the work I'm putting in and the sacrifices I've had to make. Really happy for the nomination."
On how he sees the MLS Playoffs...
[SPA] "Lo veo muy difícil. La verdad que los que clasificaron son equipos muy importantes. Nosotros tenemos que estar tranquilos, tratar de recuperarnos - recuperar los chicos que vienen lesionados, los chicos que están con COVID. Tratar de recuperarnos como debe ser y a descansar y a corregir errores que ahí cometimos, hoy o en el partido pasado, tratar de corregir los errores y seguir metiéndole con todo. Va ser muy importante los playoffs y el partido que tenemos va ser muy duro así que a descansar y a pensar en el partido que nos toca."
[ENG] "I think it'll be tough. Honestly, every team that qualified are very good. We need to stay calm, try to recuperate the team - get the injured guys healthy, get the guys sick with COVID healthy. Try to rehab the best we can, rest and fix the errors we've made, whether it was tonight or from the last game and keep giving it our all. The playoffs are very important and the next game we have will be tough, so we have to rest and prepare for the next opponent."
MINNESOTA UNITED MIDFIELDER MARLON HAIRSTON
On this moment of joy amidst the chaos this week ...
"It feels great. To see what we've been through this year with [coronavirus] and weeks at a time where we haven't been able to train as a team, and to be able to finish the season off like this, the regular season, with a home result like this and a performance like this, it was huge for us. I'm proud of the guys in the locker room for coming out and doing what we did tonight."
On Adrian Heath's motivational speech after the last game...
"Yeah definitely. The way we ended the last game, the second half, we feel like that was 45 minutes, one of our best performances of the season. You know, we were on the front foot from the beginning of the second half, putting them under pressure, winning second balls in midfield, and when we do that we give our attack good opportunities to score and to help our team. We have one of the best front four, front five, front six in the league and I'm just stepping in to help do my part in a position I haven't played in a while. But, for us to carry that performance over this game, it meant a lot for each one of the guys in the locker room. We're just proud of the result and happy to get the shutout."
On playing with no true striker tonight, but watching the front four move the ball...
"Yeah man, it was fun to watch. You know, all those guys are play-makers and just watching them use their creativity to help the team get forward. They're all guys that are comfortable with the ball. They can help us relieve pressure. And just watching them work their magic around the box, it's a great feeling. If we continue to do this going into the playoffs, we give ourselves a good opportunity to win games. But also credit our backline, today, tonight, they were huge and it was just a solid performance overall."
On if he saw the extent of Jan Gregus's injury...
"Yeah, it was just a weird challenge. I don't think the Dallas player [Thiago Santos] meant it, but it just looked like the guy came down on Jan when he was on the ground and, like you said, it was a cleat to his face and it left a mark, but I think Jan will be fine. Once he taped his head up, he was good to go."
On the team applauding the supporters...
"Yeah, this year has been a crazy year for everyone, but the support from the few people that are allowed to come to the game and cheer us on, it meant a lot to us. It's empty, but you know, they were huge for us. We could hear them and their support took us through 90 minutes today and we appreciate them. And we are going to continue to need their support, and from the fans at home, going into the playoffs. What better feeling then for us to have a home playoff game."
• Discuss this story on the Major League Soccer message board...


Major League Soccer Stories from November 8, 2020
The opinions expressed in this release are those of the organization issuing it, and do not necessarily reflect the thoughts or opinions of OurSports Central or its staff.