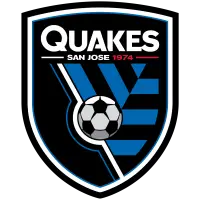 Earthquakes Weekly Update
June 30, 2014 - Major League Soccer (MLS) - San Jose Earthquakes News Release



THIS WEEK
The Earthquakes return home to take on Chivas USA on Wednesday, July 2 at Buck Shaw Stadium. Kick off is 7:30 p.m. PT on Comcast Sports Net California, 1590 KLIV and 1370 KZSF.
Last Game
LA Galaxy 1, Earthquakes 0; June 28, 2014; Stanford Stadium; Stanford, Calif.
After a scoreless first half, the San Jose Earthquakes conceded a goal midway through the second half and fell 1-0 to the LA Galaxy on Saturday night in front of a sold-out crowd of 50,006 at Stanford Stadium. The team returned to MLS action after a two-week FIFA World Cup break. In the first half, the Quakes Steven Lenhart came close on a couple of headers that nearly put San Jose in the lead. On the first, he got on the end of a header from close range but just pushed it past the post. Late in the half, Jason Hernandez picked up a poor clearance and volleyed a high cross in for Lenhart. The Quakes forward out-jumped his defender, but his header just missed the left post. The Galaxy took the lead in the 61st minute on a goal from Gyasi Zardes. Robbie Keane curled a ball in from 25 yards out to Marcelo Sarvas in the heart of the penalty box. Sarvas calmly laid the ball off to Zardes, who powered home a right-footed shot past Quakes goalkeeper Jon Busch. With time running down, Lenhart almost equalized with another powerful header. A long cross from the right wing found Lenhart in the box and he headed a ball back across the Galaxy goal, but LA goalkeeper Jaime Penedo leaped and tipped the ball over the bar.
Earthquakes in June
The Earthquakes are 33-23-16 all-time in MLS play in the month of June.
This Week's Opponent Info
Chivas USA Scouting Report
Chivas USA currently sits in last place in the Western Conference with a 3-7-5 record and 14 points. They are coming off a 1-0 win over Real Salt Lake over the weekend. Erick Torres leads the way for Chivas USA with 10 goals after scoring the winner against RSL, while midfielder Mauro Rosales has five assists. Torres currently sits third in the MLS Golden Boot race. Starting goalkeeper Dan Kennedy leads the team between the pipes in his seventh season with the team.
Last Game vs. Chivas USA
Earthquakes 1, Chivas USA 0; April 26, 2014; Buck Shaw Stadium in Santa Clara, Calif.
Portuguese playmaker Yannick Djalo scored his first career MLS goal to lead the San Jose Earthquakes to a 1-0 win over Chivas USA at a sold-out Buck Shaw Stadium. Djalo came on at halftime and created a flurry of offense. His attacks bore fruit in the 66th minute when he finished a Shea Salinas cross with a spectacular volley into the far post. Minutes later, Chris Wondolowski appeared to double San Jose's lead after tapping home a through ball from Salinas, but the goal didn't stand after he was whistled for offsides. Jon Busch earned his second straight shutout with three saves for the Quakes.
Earthquakes -- Chivas USA Connections
Quakes defender Jason Hernandez made 50 appearances for Chivas USA from 2006-07 ... Hernandez and Chivas USA goalkeeper Dan Kennedy were briefly fellow members of the 2005 New York/New Jersey MetroStars ... Kennedy (2001-04), Chivas USA midfielder Eric Avila (2005-07), Chivas USA defender Tony Lochhead (2001-04) and Quakes midfielder Sam Garza (2010-11) each played at UC Santa Barbara ... Earthquakes forward Steven Lenhart and Kennedy are both from Yorba Linda, Calif. ... Avila also played with Earthquakes defender Ty Harden for Toronto FC in 2011 and 2012 ... Chivas USA defender Bobby Burling played for the Earthquakes from 2009-11 ... Burling began his career with Chivas USA in 2007 and joined the Earthquakes via trade on Sept. 11, 2009 ... Chivas USA forward Eriq Zavaleta (2011-2012) and Quakes midfielder Tommy Thompson (2013) both played at Indiana University ... Chivas USA midfielder Martin Rivero and Quakes forward Atiba Harris both played for the Colorado Rapids in 2013 ... Chivas USA forward Luke Moore and Quakes defender Jordan Stewart are both from Birmingham, England ... Chivas USA midfielder Marvin Chavez played for the Earthquakes from 2012-13 ... Chavez and Earthquakes defender Victor Bernardez were teammates with Honduras during the 2014 World Cup in Brazil.
MISCELLANEOUS NOTES
Earthquakes Announce Partnership with PetersenDean for Stadium Solar Installation
The San Jose Earthquakes announced a founding partnership with Northern California-based PetersenDean, which will bring solar energy to the club's new stadium. The long-term multi-million dollar deal makes PetersenDean the official solar and roofing partner of the Earthquakes and will feature a prominent solar installation at the new stadium. The installation of American-made solar panels will be located at the South end of the stadium in the VIP Parking Lot. With a peak capacity of 220kW, the system will generate enough power annually to offset all regular season game-day usage. The 882 solar panel array will sit atop a state-of-the-art carport structure, which will provide shade for 94-parked vehicles. PetersenDean will also have significant in-stadium presence with marquee signage, a solar panel display in the Epicenter Fan Zone, and an interactive solar energy monitoring system. For more information about the club's new stadium project, visit www.sjearthquakes.com/newstadium .
Hernandez Makes 200th Appearances
Earthquakes defender Jason Hernandez made his 200th appearance in MLS after playing 90 minutes in a 1-0 loss to the LA Galaxy on June 28 at Stanford Stadium. Hernandez began his MLS career with the Metro Stars and Chivas USA before spending his last seven seasons with San Jose. Hernandez has made 147 appearances for San Jose, 143 of them being starts.
Mark Watson Perfect Against Chivas USA
Earthquakes head coach Mark Watson is 3-0-0 against Chivas USA, his best record against any MLS opponent since taking over as head coach in 2013.
Earthquakes Unbeaten in Seven vs. Chivas USA
San Jose is 5-0-2 in its last seven games against Chivas USA. Their last loss against the Rojiblancos was 2-0 on July 6, 2011 at the StubHub Center. The Earthquakes have out-scored Chivas USA 13-3 during the unbeaten stretch.
Loan Watch: Tommy Thompson Debuts for Sac Republic FC
Earthquakes midfielder and Sacramento native Tommy Thompson made his first appearance of the season with club affiliate Sacramento Republic FC against Arizona United SC on June 26 at Bonney Field in Sacramento. Thompson started the match and played 75 minutes. Thompson would make his second appearance for Sacramento after playing 30 minutes as a substitute in a 2-0 loss against Oklahoma City Energy FC on June 28 in Oklahoma City.
Loan Watch: Adam John returns to Sac Republic FC
Earthquakes forward Adam Jahn started and played 68 minutes for Sacramento Republic FC in a 1-0 win against Arizona United SC on June 26 in Sacramento. Jahn also played 57 minutes as a substitute in a 2-0 defeat to Oklahoma City Energy FC on June 28 in Oklahoma City.
Shea Salinas Unselfish Against Chivas USA
Earthquakes midfielder Shea Salinas has compiled four assists against Chivas USA in his career with the Earthquakes, three of which have come in his last two seasons in San Jose. His latest assist against Chivas USA came in a 1-0 win on April 26 in San Jose.
Lenhart Passes Quakes All-Time Great
Quakes forward Steven Lenhart passed former Quakes and U.S. National team forward Eric Wynalda (4673) on the Quakes' all-time list for minutes played with 4,716 after playing 90 minutes in a 1-0 loss to the LA Galaxy on June 28 at Stanford Stadium.
Busch Has Wins Against Chivas USA
Earthquakes goalkeeper Jon Busch has recorded a 6-2-2 record against the Goats as a member of the Earthquakes, the most wins against any MLS team during his time with San Jose. Busch has a 9-3-2 all-time record against Chivas USA.
Busch Becomes Oldest to Play In Match for SJ
Earthquakes goalkeeper Jon Busch became the oldest player to ever play in a match for San Jose after playing 90 minutes in a 1-0 defeat to the LA Galaxy on June 28 at Stanford Stadium at the age of 37 years, 314 days.
World Cup Viewing Parties in San Jose
The San Jose Earthquakes will host a 2014 FIFA World Cup Final viewing party at Gordon Biersch Bottling & Keg in San Jose on Sunday, July 13. Proceeds from the event will benefit the Earthquakes Community Fund. Tickets are $30 and include access to the brewery as well as all you can eat and drink (Note: Food selection will include bratwurst sandwiches, garlic fries and vegetarian sandwiches; drinks will include Marzen, Pilsner, Blonde Bock, Dunkles, Coca Cola, Diet Coca Cola, Sprite and water). Fans can purchase tickets in advance of the event by visiting sjearthquakes.com. Gordon Biersch Bottling & Keg is located at 357 E Taylor St. in San Jose, Calif. In addition to the club's official championship viewing party, the City of San Jose and the San Jose Downtown Association will host 10 free outdoor viewing parties. Their events will center around two downtown locations: Plaza de Cesar Chavez and St. James Park. For more information, visit www.sjearthquakes.com.
Earthquakes Youth Development Structure Growing
The San Jose Earthquakes announced a significant growth in their youth development programs with the creation of boys club teams from the Under-9 level through Under-16. The new Quakes program will add a full development pathway to their current U.S. Soccer Development Academy (USSDA) teams at the Under-14, Under-16 and Under-18 level. They have added seven age groups for the 2014-15 season that will be designated as the Earthquakes Pre-Academy. Additionally, the Quakes will now have a recreational program, Earthquakes Elite Player Development, for ages 4-11 for both boys and girls. The Earthquakes Player Development system will now consist of five levels -- Earthquakes professional team (Major League Soccer), Earthquakes Under-23 team (Premier Development League), Earthquakes Academy teams (U14, U16, U18 -- USSDA), Earthquakes Pre-Academy teams (U9-U16), Earthquakes Elite Player Development teams - recreational teams for ages 4-11. All Earthquakes Pre-Academy and Elite Player Development programs will train in San Jose. For more information about the Quakes program and tryout dates and locations, visit www.earthquakesacademy.com.
Late Game Lockdown
The Earthquakes lead MLS with the fewest goals allowed in the second half this season. They have allowed just four goals after halftime this year. Additionally, San Jose has allowed only two goals in the final 15 minutes of games, also tied for the league lead. The Quakes are a perfect 3-0-0 when leading at halftime.
Busch Among League Leaders
Earthquakes goalkeeper Jon Busch is having another stellar season for San Jose. He is currently third in the league in saves percentage at 75 percent, one percent behind Real Salt Lake's Nick Rimando and LA Galazy's Jaime Penedo. He is also second in saves with 52 and third in goals against average (1.07).
#MilestoEpicenter Campaign Kicks Off
The San Jose Earthquakes launched their "Miles to the Epicenter of Soccer" campaign, presented by Alaska Airlines. The campaign gives fans the chance to measure their distance from anywhere in the world to the site of the Earthquakes New Stadium at 1145 Coleman Ave in San Jose with the opportunity to win prizes by sharing their photos. To enter for a chance to win the grand prize, fans can either pick up a "Miles to the Epicenter" sign at the Quakes Front Office or download and print a paper one from the team's official website at sjearthquakes.com. Using the sign, fans can then write their distance from the Quakes New Stadium on the sign and take a photo of themselves with the sign. To enter the contest, fans have the option of emailing the photo to milestoepicenter@sjearthquakes.com or uploading the photo through the club website, sjearthquakes.com. All of the photos will then be displayed at sjearthquakes.com and the team's official Facebook page, facebook.com/sanjoseearthquakes. Fans can then share their submission with the hashtag #milestoepicenter and vote for their favorite photo. The photo that receives the most votes will win a VIP trip for 4 to an Earthquakes away match, including airfare on Alaska Airlines and hotel. The contest with Alaska Airlines runs through the Quakes game on Aug. 2 at Levi's® Stadium. In addition to being able to pick up the signs at the office, 5,000 fans will receive the "Miles to the Epicenter" signs, courtesy of Alaska Airlines, at the Quakes match against D.C. United on July 11 at Buck Shaw Stadium.
Earthquakes, Wells Fargo Announce 4v4 Tournament Dates
For a fourth consecutive year, the Earthquakes and Wells Fargo have teamed up to host a series of youth and adult soccer tournaments in the Bay Area. This summer, the two organizations will host events in Santa Cruz and Santa Rosa. Building on successful tournaments in 2011, 2012 and 2013, the first of two Earthquakes 4v4's Presented by Wells Fargo tournaments is set for Saturday, July 19 at UC Santa Cruz at the East Field in Santa Cruz. The final tournament of the summer will take place on Saturday, Aug. 9 at the Trione Fields in Santa Rosa. Divisions for each event include: boys and girls U-8 through U-19, men's and women's rec, adult coed and men's open. Prizes will be awarded to first- and second-place teams in all divisions. All participants receive an Earthquakes ticket voucher, event t-shirt, and sponsor gifts. Each event will also feature a fan zone with booths and activities, as well as an autograph session with two Earthquakes players. Participation fees are $175 for youth and adult rec divisions for early bird registration and $200 for regular registration. Early bird registration for the Santa Cruz event lasts from 5/1-6/1 while regular registration lasts from 6/2-7/11. For the Santa Rosa event, early bird registration lasts from 5/1-7/1 while regular registration lasts from 7/2-8/1. For more information or to register, visit www.sjearthquakes.com/4v4.
Earthquakes to Host Atletico Madrid at Candlestick Park on July 27
The Earthquakes will host La Liga Champions Atletico Madrid on Sunday, July 27 at Candlestick Park with kickoff at 4 p.m. PT. Tickets for the match are now on sale at sjearthquakes.com. Suites and group tickets are available through the Earthquakes front office in person or by calling 408-556-7700. The club will also have designated supporter areas in sections 42 and 44.
Tickets on Sale for Levi's® Stadium Match
The Santa Clara Stadium Authority and the San Jose Earthquakes have partnered to present the first event at Levi's® Stadium. The Earthquakes will host to Seattle Sounders FC in one of Major League Soccer's most heated rivalries on Aug. 2, 2014. Tickets are now on sale at www.ticketmaster.com.
• Discuss this story on the Major League Soccer message board...


Major League Soccer Stories from June 30, 2014
The opinions expressed in this release are those of the organization issuing it, and do not necessarily reflect the thoughts or opinions of OurSports Central or its staff.
Other Recent San Jose Earthquakes Stories