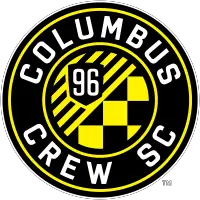 Gehrig Pleased to See Both Germany, USA Advance
June 30, 2014 - Major League Soccer (MLS) - Columbus Crew SC News Release



While many in this country watched last week's Germany-USA matchup with nervousness, anticipation, excitement and many other emotions all swirled into one, those feelings were intensified for Crew defender Eric Gehrig, who hails from a German family and supports both teams with earnest.
While the outcome of who would advance was in doubt for a good portion of the match, in the end both Germany and USA survived, which was exactly as Gehrig hoped and intended.
"Especially early on, Germany was playing really well. I like to see the Germans do well, but at the same time I was definitely rooting for the United States to get a result there. At one point, Ghana needed one more goal and we were going to be out. I'm not a big fan of Ronaldo, but [Thursday] I was," laughed the Crew defender.
Now that both nations are on opposite sides of the bracket and could only next meet in the Final, Gehrig and other German-Americans can exhale and support each side without conflict. In fact, the former Loyola University (Chicago) player likes both countries' chances to make a run.
Germany is set to face Algeria in the Round of 16, a surprise runner-up in Group H.
"When you draw a team like Algeria - no offense to them - in a knockout stage, I think you're feeling pretty good about it," said Gehrig. "Germany maybe found it tough to break down the U.S. [on Thursday] with the U.S. sitting the way they did. Credit to the U.S., I'm glad they did it and I'm glad everything worked out, but against a team like Algeria, Germany can really turn on the jets. They can get back to form, get back to scoring goals and getting some confidence going into the later knockout stages."
The United States, meanwhile, plays talented Belgium in what should be a great match.
"Personally, I think Belgium has one of the best teams on paper. I think everyone thinks that," said Gehrig. "I haven't been overly impressed with them in the group stage, but I think they're a team that's very dangerous and you can't take them lightly. If you're going to pair against a team that's good on paper like that - Germany's good on paper, Brazil's good on paper, but those teams have been there before. This Belgium team is fairly new and I think it's a good opportunity for the United States to advance. I really do."
• Discuss this story on the Major League Soccer message board...


Major League Soccer Stories from June 30, 2014
The opinions expressed in this release are those of the organization issuing it, and do not necessarily reflect the thoughts or opinions of OurSports Central or its staff.