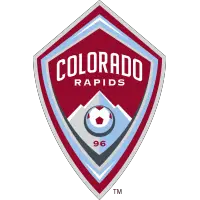 Vicente Sánchez, the Wizard with Us
June 30, 2014 - Major League Soccer (MLS) - Colorado Rapids News Release



Once upon a time, in a faraway land, lived a young boy who had bestowed upon him magical powers. Emerging from the city known as Montevideo, the small child worked hard on the craft that would one day allow him to venture forth and grow still further.
His craft would go by different guises. Often referred to as football, but known also as soccer, it was once the stronghold of the English. Their grip loosened many moons ago, the fight for global domination and ultimate power has since been led by a small army of senior figures. Battle-hardened, they have feasted on the riches and slain the non-believers.
Occasionally, from the darkness emerges light. One such beacon of hope is the boy who became a man; his travels taking him from his homeland of Uruguay to Mexico and on to Germany. His journey eventually brought him to the United States of America and a place called Commerce City, where Vicente Martín Sánchez Bragunde - known simply as Vicente Sánchez to his followers - had the ability to make grown men rise to their feet as one and clap and cheer. He could make women and small children shout and scream, and have hordes of ordinary folk forget their worries in his moments of mesmerizing magic.
Some suggest that his actions with a sphere-like object bordered on sorcery. The latest example of this came in a soccer contest between his group, the Colorado Rapids, and another, which went by the name Vancouver Whitecaps.
The reincarnation of a once-powerful band of brothers, the Whitecaps arrived at Dick's Sporting Goods Park - where Sánchez and his friends lay in wait - undefeated in their previous eight battles.
They would prove no match for the mystical maestro from Montevideo. Wounded in a previous conflict, the charismatic conjurer was healed and on hand to toy with the Whitecaps, sending them home sorry and sore, their heads still spinning from his torment.
A young man many feel has been marked down for greatness, Dillon Powers, delivered the first blow, driving home the ball with clinical precision after twisting, turning and teasing the opposition's pony-tailed warrior, Russell Teibert.
Sanchez sealed the Whitecaps' fate, but only after Deshorn Brown had breached the opposition's defense, his speed and grace creating panic. Felled by a wild lunge, it was then left to Sanchez to punish the Whitecaps from a position on the battle field known as the penalty spot.
With a healthy advantage, Sanchez sought to display the full range of his powers, performing trickery few watching had ever witnessed. Many summers from now, those in attendance will recall the moment that the South American lured two sizeable opponents toward him before elevating in front of their eyes and, with the rarely-used scissor-kick, sending the ball toward the target.
On that occasion, the Whitecaps' fragile defenses held, but it was another indication of how Sanchez has perfected his trade, and is able to out-wit and out-think most around him. He does what many only dream about. Indeed, he often goes beyond that and strives to conjure-up the unimaginable.
When sorcerer Sanchez is only able to stand and stare, the Colorado Rapids are less of an unpredictable threat to their opponents. His mind works in mysterious ways, his bag of tricks seemingly bottomless and gained from years of working among the elite and wanting to be the best he can.
Vicente Martín Sánchez Bragunde is the Wizard. Of that, I have no doubt ...
• Discuss this story on the Major League Soccer message board...


Major League Soccer Stories from June 30, 2014
The opinions expressed in this release are those of the organization issuing it, and do not necessarily reflect the thoughts or opinions of OurSports Central or its staff.