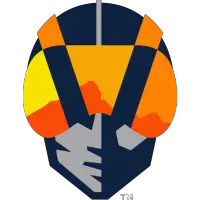 Taking Flight with â?¦ Skye Bolt
August 18, 2019 - Pacific Coast League (PCL) - Las Vegas Aviators News Release



Like most professional baseball players, Skye Bolt was born with the sport in his blood, his father having played collegiate ball in Florida. Unlike most, though, Bolt began developing a passion for baseball not so much on a diamond but on a fairway.
"I grew up on a golf course, so I was always out there swinging something," says the Aviators' switch-hitting outfielder. "It was kind of like having your own Field of Dreams."
Bolt would end up playing multiple sports throughout his youth, but as he reached his high school years, it was clear that baseball was his strong suit. That much was also clear to college recruiters and professional scouts, who began focusing on Bolt near the end of his junior year, when an improvement in his skills happened to coincide with a substantial summer-long growth spurt between his junior and senior seasons.
During that defining summer, Bolt received multiple college offers and also began hearing rumors that, with a solid senior season, he might be a high-round draft pick. Ultimately, Bolt accepted a scholarship from the University of North Carolina and began, for the first time, taking seriously the possibility that he could play professionally.
"It really wasn't until my junior year of high school that everything started happening fast," Bolt says. "At that time, I was starting to grow as a player and seeing what I could really do. Then I got to college, and after that, I knew I was going to go pro."
That's precisely what happened in 2015, when the Oakland A's drafted Bolt in the fourth round. In four years since, the 6-foot-2, 187-pounder has steadily progressed through the A's system, reaching Triple A for the first time at the start of this season. And a productive season it's been for Bolt: Entering Sunday's game against Albuquerque at Las Vegas Ballpark, Bolt was batting a career-best .305 with 10 home runs, 59 RBI and 79 hits in 75 games.
Another first for Bolt this season: He made it to the major leagues, as the A's promoted him two separate times back in May. Although both stints were brief - he appeared in a total of four games - the experience was unforgettable, starting with the moment Aviators manager Fran Riordan first broke the news that he was headed to Oakland.
We recently caught up with the Bolt - who was activated from the injured list Sunday after missing 10 days with a concussion - to discuss his monumental major-league moment, as well as a variety of other subjects, including his backup plan if baseball hadn't worked out, his fondness for doing community work and why he's having a blast this season playing for the Aviators.
What went into your decision to go the college route instead of turning pro after high school, and what was your major at North Carolina?
It was one of those things where I thought, "You can always go back to school, but you can't go back to college." Ultimately, I chose to go to college to get that education and college experience, and I wouldn't trade it for anything. I majored in business management. I don't have that degree yet; I'm still working toward it.
Where would business management have taken you if your baseball career hadn't taken off?
My dad ran a health-club [business] and my mother owns a small modeling agency in the Atlanta area for kids. They both hustled and made themselves who they are today as business-minded individuals, so business was always kind of in the blood. And because I've always loved sports, I would've [pursued a career that] combined the two in some way.
Who were your baseball idols growing up?
I'm from Atlanta, so I grew up watching Chipper Jones, [the Atlanta Braves'] switch-hitting third baseman. Also, [perennial Gold Glove-winning outfielder] Jim Edmonds- he was another idol of mine, as was [Braves outfielder] Andruw Jones. Those three were at the pinnacle of baseball when I was growing up.
You mentioned Chipper Jones being a switch hitter. When did that become part of your game?
When I was 15 or 16, I picked up a bat and started to switch-hit. And I tried [to emulate] Chipper. The only way I really knew how to do it was to pick someone and watch their mechanics over and over again.
What's the most frustrating thing about switch-hitting that most fans don't understand?
That even if your mind is telling your body to do something you've done thousands and thousands of times, it doesn't always work. It's kind of a pain, an internal battle you have where you're telling your body to do something that you know you're capable of doing, and you're just not doing it. Your body says "no" and does something totally different.
Also, it's double the work having to maintain two swings. Like today, I'm trying to snag stuff from my left-handed swing and put it into my right-handed swing. Sometimes, when one side's on, the other side's not. And sometimes they're both on, or they're both not. It's the paradigm of life.
You play all three outfield positions. Which is your favorite?
Center field, by far. It's the easiest. Even though it's the position with the most ground to cover - it's the biggest part of the field, there's more running [involved] - the reads you get off the bat are the truest. Because of backspin, where the ball is going generally tends to stay true. If you're on the corner (right or left field), that ball is either tailing or hooking, so sometimes it's a circus out there trying to keep yourself underneath the ball.
What was the moment like back in early May when you learned you were going to the big leagues for the first time?
We were in Reno, it was the second or third inning and I'd already had an at-bat. The inning had just ended and we were going out to play defense when Fran came running across the diamond and stopped me at the top step of the dugout.
To understand exactly why he said what he said to me, you have to understand that prior to leaving for that road trip, I had forgotten [to pack] my jersey that we wear for batting practice and pregame routines, and Fran had given me a hard time about that two days before. So he stops me at the top step and says, "Hey, man, you remember how I gave you a hard time about your BP top?" And I'm thinking, "I don't know what this has to do with anything. We're in the middle of a game, I'm about to go out and play defense, you've already given me grief about this." Then he said, "Where you're going, you don't have to pack your stuff or worry about forgetting anything again, because they'll pack it for you. Congratulations, son, you're a big leaguer!"
I looked around and said, "You're kidding me." And he shook his head no, stuck out his hand and gave me a handshake, and I gave him a hug and got emotional. I've been with [Aviators first baseman] Seth Brown since the day we got drafted; he was the first one there, and he gave me a big hug, and I made my way down the dugout and got hugs from some of my other teammates. I sat there for the rest of the half inning, then grabbed my stuff and made my way out.
Well, in Reno, the visiting team has to walk down the left-field line to get to the clubhouse. When I did that, one umpire turned around and congratulated me - he'd figured it out. And a couple of guys in the Reno dugout whom I'd played with and against in my career congratulated me, and a couple of fans started clapping for me. It was about then, as I was walking down the third-base line, that I pretty much lost it. Then I went into the clubhouse and made phone calls to my mom, my dad and everyone who is close to me. It's a moment I'll never, ever forget.
You've done some community-outreach work with the Aviators this season. Why is that important to you?
As a kid growing up, I went to church, and one of our regular tenets was to be a decent person and do community outreach. So it's just something that we've always done. My mom and dad both instilled that in me, so I didn't really have a choice. But I also never fought it, because I didn't the know the difference. I have to give credit to my parents, who have made me aware that the older you get and the more events you go to, the more you see how great the impact is on other people. I now understand [the significance] with the response you get from the community.
How does your experience this year playing with the Aviators and at Las Vegas Ballpark compare to past seasons in pro ball?
This is the most fun I've had playing baseball since my freshman year of college. Every guy here wants to compete. We're all trying to either get to the big leagues or get back to the big leagues, but we're all close, we're all rooting for each other and it's a team that's never out of a ballgame. It's a blast to come out here every day, because there's not a split unity in the clubhouse. Everybody gels with everybody. It's been a fantastic year.
Lately, your walk-up song has been "Panama" by Van Halen. What goes into selecting a walk-up song?
My dad was a classic-rock guy, so I was a rock head growing up - always have been. Ozzy Osbourne after [he left] Black Sabbath, Van Halen, Journey - you name it, that's what gets me going. I'm not into hip-hop very much, and being from Georgia, I like some country music. But nothing gets you going like a classic-rock song. In fact, it got me out of my slump in the back half of last year. My uncle called me and said, "Dude, you need to get some rock back into your life," so I started blaring some Metallica and the switch flipped.
So being a Van Halen fan, the next logical question is: David Lee Roth or Sammy Hagar?
[Pause.] I'm going Sammy. I'm a Sammy Hagar guy.
What's the most Vegas thing you've done this season?
I went to two pool parties one day. We spent half the day at Mandalay Bay, then hopped over to Wynn. The fog machines, the LED lights, the DJ booth, the music, the people going crazy in the pool - it's not exactly my scene, but I checked it off [my to-do list] and it was a blast.
Who's the one teammate you wouldn't want to play poker against?
Oh, Jorge Mateo for sure. Whether or not he knows what he's doing, he wins everything. I'm not betting against him in anything!
Finish this sentence: I'll know I've had a successful career if ...
... kids who watched me play make an impact on their community off the field.
• Discuss this story on the Pacific Coast League message board...


Pacific Coast League Stories from August 18, 2019
The opinions expressed in this release are those of the organization issuing it, and do not necessarily reflect the thoughts or opinions of OurSports Central or its staff.