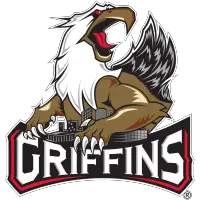 Griffins Return Home After Bagging Moose
October 18, 2010 - American Hockey League (AHL) - Grand Rapids Griffins News Release



How Sweep It Is: With the Griffins earning wins in their only two regular season meetings with the Moose at the MTS Centre over the weekend, it marked the first time since 2002-03 (2-0) and just the third time in 15 seasons (3-0 in 1999-00) that they swept their road series against Manitoba. If they can defeat the Moose in their two upcoming meetings at Van Andel Arena (Oct. 30 and Nov. 5), they'll earn their first sweep of a season series against Manitoba since 2002-03 (4-0).
Friday Fun: After finishing off their three-game road trip with a 2-1 mark, the Griffins will return to Van Andel Arena this Friday for their second home game of the season, a 7 p.m. tilt against the Milwaukee Admirals. It's another Dollar Beers, Dollar Dogs night from 6-8 p.m. while supplies last, and fans can take advantage of the College Night and D-Zone promotions. In addition, special discounts on lower and upper bowl tickets will be available for fans that follow the Griffins on Facebook and Twitter. For complete promotional information, visit griffinshockey.com.
A Long Time Coming: The Griffins' 3-2 win on Saturday gave them a temporary share of first place in the North Division, marking the first time they've stood atop the standings since Oct. 9, 2009 - one game into their 2009-10 season. Following Rochester's win over Adirondack on Sunday, Grand Rapids, Lake Erie and Abbotsford all stand one point behind the division-leading Americans.
Mac Daddy: The Griffins today nominated goalie Joey MacDonald for the Reebok/AHL Player of the Week award, after he backstopped the two-game sweep in Manitoba by posting a 1.00 GAA and a 0.957 save percentage (44-46). In Friday's 1-0 win, he made 25 saves and extended his franchise record with his 17th career shutout, his first in a Griffins uniform since Feb. 22, 2006 at Rochester. On Saturday, he stopped 19 shots to earn his 90th win as a Griffin, tying Jimmy Howard for the most in franchise history. With a 1.30 GAA and a 0.946 save percentage, MacDonald ranks fourth in both categories among all AHL goalies, second among those with at least two games played, and first among those with at least three games played. He is also tied for first in the AHL in shutouts (1) and sixth in wins (2).
The Shutout Situation: By earning a shutout in just their third game of the season on Friday, the Griffins matched their shutout total from the entire 2009-10 campaign. The 1-0 victory marked Grand Rapids' first shutout since Oct. 29, 2009 (2-0 W vs. HOU, Daniel Larsson, 34 saves), its first 1-0 win since Jan. 24, 2009 (1-0 SOW vs. QC, Jimmy Howard, 43 saves), and its first 1-0 win in regulation since Nov. 30, 2008 (1-0 W at CHI, Larsson, 29 saves).
Batten Down the Hatches: The Griffins allowed only two goals and 46 shots to the Moose during their two-game set, despite missing the services of defensemen Doug Janik (recalled to Detroit) and Logan Pyett (injured). For the season, Grand Rapids has allowed an average of just 27 shots per game, tying for the fourth-fewest in the AHL.
Cold-Hearted Killers: After denying the Moose on all 12 of their power play chances over the weekend, including seven in Friday's 1-0 win, the Griffins are a perfect 15-for-15 in road penalty killing this season. Overall, they've allowed just one goal during the 19 times they've been shorthanded, giving them a 94.7% penalty killing success rate that ranks second in the AHL.
Close Calls: All four of the Griffins' games thus far have been decided by a single goal.
Spread the Joy: The Griffins' 10 goals have been scored by nine different players.
Immediate Impact: Rookie defenseman Brendan Smith, Detroit's first-round selection in the 2007 NHL Entry Draft, leads the Griffins in both goals (2) and points (4) after scoring the game-winning goal on Saturday. His four points tie for eighth among AHL defensemen, sixth among rookies and second among rookie defensemen.
Homecoming: Friday's game against the Moose marked Winnipeg native Derek Meech's first game in his hometown since Nov. 8, 2006, as well as homecomings for two others on the trip. Head coach Curt Fraser lived in Winnipeg until age nine, while new medical therapist Brad Shaw is a native of Cardale, Manitoba, who previously worked for both the Moose and the Winnipeg Goldeyes minor league baseball team.
Scouting Report
Fri., Oct. 22 vs. Milwaukee Admirals (1-1-1-1) - Van Andel Arena - 7 p.m.Radio: ESPN 96.1 FM at 6:45 p.m. Web Casts: Video web cast at AHLLive.com, free audio available through griffinshockey.com. All-Time Series: 51-37-7-5-4 Overall, 30-16-2-1-1 Home. Season Series: First of eight meetings overall, first of four in Grand Rapids. NHL Affiliation: Nashville Predators. Head Coach: Lane Lambert (4th season). Notes: Milwaukee forward Chris Mueller attended Michigan State and made his pro debut in two games with the Griffins at the end of the 2007-08 season...The Admirals sit in last place in the West Division and have won only one of four games despite outscoring their opposition 12-11...Goalie Mark Dekanich, currently wi th the parent Predators, ranks third in the AHL with a 1.22 GAA and a 0.951%.
Sat., Oct. 23 at Rochester Americans (3-2-0-0) - Blue Cross Arena - 7:35 p.m.Radio: ESPN 96.1 FM at 7:15 p.m. Web Casts: Video web cast at AHLLive.com, free audio available through griffinshockey.com. All-Time Series: 25-18-1-1-1 Overall, 11-11-0-1-0 Road. Season Series: First of six meetings overall, first of three in Rochester. NHL Affiliation: Florida Panthers. Head Coach: Chuck Weber (1st season). Notes: Grand Rapids center Jamie Johnson led the Amerks in scoring last season with 71 points (27-44-71) in 80 games...Former Griffins Michael Nylander (4-2-6) and Clay Wilson (3-2-5) rank second and third on Rochester in scoring...The Americans sit atop the North Division, one point ahead of Grand Rapids...Michal Repik (1-7-8) is tied for fifth in AHL scoring while Triston Grant leads the league with four majors and 44 PIM (tied).
Sun., Oct. 24 at Toronto Marlies (1-3-0-0) - Ricoh Coliseum - 5 p.m.Radio: ESPN 96.1 FM at 4:45 p.m. Web Casts: Video web cast at AHLLive.com, free audio available through griffinshockey.com. All-Time Series: 19-16-0-1-0 Overall, 8-10-0-0-0 Road. Season Series: First of six meetings overall, first of three in Toronto. NHL Affiliation: Toronto Maple Leafs. Head Coach: Dallas Eakins (2nd season). Notes: Griffins goalie Joey MacDonald split last season between the Marlies (14-19-3, 2 SO, 3.18 GAA in 36 games) and parent Leafs (1-4-0, 3.20 GAA in six games)...Grand Rapids defenseman Brian Lashoff is the younger brother of Marlies blueliner Matt Lashoff, and Sunday will mark their first-ever game against each other in organized competition...Toronto occupies last place in the North Division.
• Discuss this story on the American Hockey League message board...


American Hockey League Stories from October 18, 2010
The opinions expressed in this release are those of the organization issuing it, and do not necessarily reflect the thoughts or opinions of OurSports Central or its staff.