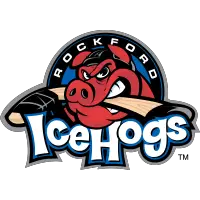 Rockford Takes Two of Three in Week Two
October 18, 2010 - American Hockey League (AHL) - Rockford IceHogs News Release



The IceHogs followed up opening weekend by winning two of three games on the road in week two. After a loss to the Peoria Rivermen in the middle of the week, the IceHogs rebounded by taking two at Abbotsford against the Heat over the weekend.
Week 2 Results
Tuesday, Oct. 12: Rockford 2 at Peoria 6
Friday, Oct. 15: Rockford 5 at Abbotsford 0
Saturday, Oct. 16: Rockford 4 at Abbotsford 3 SO
Week 3 Schedule
Friday, Oct. 22 vs. Abbotsford, 7:05 p.m.
Saturday, Oct. 23 vs. Chicago, 7:05 p.m.
Bacon Bits:
-After beginning the season by allowing eight power play goals on 12 (33.3%) shorthanded situations, Rockford has allowed their opponents to just 1-12 (91.7%) since
-Rockford's power play is 6-18 (33.3%) over their last three games
-Rookie goalie Alec Richards posted his first career AHL shutout on Friday night in Abbotsford, making 27 saves
-The shutout was the first for Rockford since Nov. 20, 2009 against Chicago (Joe Fallon) and first road blanking since Oct. 10, 2009 at Lake Erie (Corey Crawford)
-Rookie winger Jeremy Morin leads Rockford with three goals on the season and all three have come on the power play
-Morin has a goal in three straight games, two shy of the IceHogs franchise record, last accomplished by Rob Klinkhammer from 12/31/08-1/9/09
-Defenseman Ivan Vishnevskiy has four assists, all coming on the advantage as well
-Vishnevskiy and Brian Connelly have assists in three-straight games
-Rookie center Brandon Pirri has a point in all four games in which he has played so far with Rockford, totaling 1g-3a
-Defenseman Nick Leddy was assigned to Rockford by the Chicago Blackhawks on Sunday
-With Leddy on the IceHogs roster, Rockford now has three 19-year-olds on the roster including Pirri and Morin
-Through five games, 18 of the 21 position players to play in a game for the IceHogs have registered at least one point
Hot Hog Week 2:
Rookie goaltender Alec Richards picked up his first career AHL shutout on Friday, turning away 27 Abbotsford shots in Rockford's 5-0 win over the Heat. The Robbinsdale, Minn, native then turned away 29 Heat shots, including a shorthanded breakaway attempt from Carter Bancks in overtime, to help knock off the Heat 4-3 in a shootout. Richards now has a three-game winning streak to start the 2010-11 season.
Upcoming Games:
Friday, Oct. 22 vs. Abbotsford Heat: Friday, Oct. 22 vs. Abbotsford Heat: Game time is 7:05 p.m. Rockford match up with Abbotsford for the third straight game, this time in Rockford. The first 1,000 fans into the building will pick up an IceHogs Poster #1 in a series of six, compliments of Comcast, Q98.5 and Medicine Man.
Saturday, Oct. 23 vs. Chicago Wolves: Game time is 7:05 p.m. The IceHogs welcome their West division rivals, the Chicago Wolves, for the first time of the 2010-11 season at the MetroCentre. The game is the first of 10 meetings this year. The first 5,000 fans will relieve an IceHogs refrigerator dry erase schedule courtesy of Mygofer.com
The IceHogs Broadcasting Network:
Rockford IceHogs fans can catch all of the IceHogs regular-and post-season games on the Hogs' flagship radio station, Rockford's Voice, WNTA-AM 1330 and 30 regular season games on ESPN Radio 1380-AM, WTJK. Fans can also watch and listen to the Hogs on the World Wide Web with AHL Live! Visit the IceHogs Web site (icehogs.com) and click on the "click here to watch the AHL Live" icon, and for just $7 you can catch all of the IceHogs action on your computer. Also, fans with Comcast Cable television in Rockford can tune in to Channel 57 for all the IceHogs hockey action at the MetroCentre this season. All Saturday home game will also be televised on My Network TV digital subchannel 17.2 along with Comcast and Charter Cable channel 16. The broadcast begins with the U.S. Cellular Pregame Show 30 minutes before the puck drops. Make sure to give your opinion during the Comcast Post-Game Call-In Show following each game at (815) 874-8255.
Bud Light Hog Talk Is Back Tonight At Swilligan's Pub:
Bud Light Hog Talk returns to Swilligan's Pub tonight. Swillgan's Pub is located in downtown Rockford at 200 North Church St. Fans can join Mike Peck from 6-7 p.m. most Mondays as he chats with IceHogs players, coaches and front office members. This week's guests include IceHogs wingers Ben Smith, Kyle Hagel and assistant coach Ted Dent. Stop by and take advantage of some great food and Bud Light specials. If you can't make it, tune into 1330 AM, WNTA.
Tickets Now On Sale!
IceHogs individual game tickets are now on sale! Call (815) 968-5222 to reserve your seats for any IceHogs regular season game during the 2010-11 season. Tickets can also be purchased in person at the Rockford MetroCentre Box Office in downtown Rockford or on the Web at www.metrocentre.com. Tickets start at just $7.
• Discuss this story on the American Hockey League message board...


American Hockey League Stories from October 18, 2010
The opinions expressed in this release are those of the organization issuing it, and do not necessarily reflect the thoughts or opinions of OurSports Central or its staff.