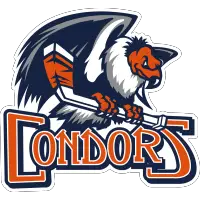 St. Jacques and Munce Star in 3 Point Weekend
November 21, 2005 - ECHL (ECHL) - Bakersfield Condors News Release



This Week (All Times Pacific)
Tuesday, November 22nd vs. Long Beach, 10:30 a.m.
Saturday, November 26th vs. Fresno, 7:00 p.m.
Last Week
Last Week's Record (1-1-1)
Overall Record (4-5-3)
Thursday, November 17th
CONDORS 3 vs. San Diego 4 (OT)
Attendance - 4,390
Mike Hofstrand's short-handed goal pushed the Condors to overtime, but San Diego's Steve Hildenbrand's game-winner with 29.7 seconds left in the extra period gave the Gulls a 4-3 victory over Bakersfield Thursday night in front of 4,390 fans at the Rabobank Arena. Kevin St. Jacques extended his point streak to five games with his goal and Ryan Munce made 23 saves on 27 Gulls shots.
Friday, November 18th
CONDORS 0 at San Diego 7
Despite outshooting San Diego on the evening, the Bakersfield Condors suffered a 7-0 loss to the San Diego Gulls in front of 4,637 fans at the iPayOne Center in San Diego.
Saturday, November 19th
CONDORS 2 vs. Long Beach 1 (SO)
Attendance - 6,298
Kevin St. Jacques scored the lone Condors regulation goal and sealed it with the shootout- winner as Ryan Munce stopped 27 shots in Bakersfield's 2-1 victory over the Long Beach Ice Dogs in front of 6,289 fans at the Rabobank Arena.
Where We Are
The Condors (4-5-3) sit in fourth place with 11 points in the Pacific Division, one point behind Long Beach and San Diego, who are tied for second. Fresno leads the division at 8-3-1 (17 pts).
Condors Sign Nick Economakos
On Wednesday, the Condors signed forward Nick Economakos to the team. Economakos, 24, played college hockey at Rensselaer Polytechnic Institute. The 6-foot 190-pound forward played in 124 games at RPI and scored 30 goals and 49 assists during his time with the Engineers. He was named one of Rensselaer's co-captains for the 2004-05 season. As a senior, Economakos ranked second on his team in goals (11) and power-play goals (8).
Notes from the Nest
-The Condors held their first Jersey Raffle & Auction of the season on Saturday night. The team raised a total of $16,650 benefiting the Ronald McDonald House. A jersey worn by Kevin St. Jacques sold for $3,500, the 2nd highest bid in franchise history.
-Sean Venedam is tied for 2nd in the league with 5 power play goals.
-Kevin St. Jacques has scored a point in 6 of his last 7 games.
-With the shootout victory over Long Beach, the Condors improved to 3-0-2 at home and have earned at least a point in each of their 5 games at Rabobank Arena.
-Scott Basiuk is tied for the league lead among defensemen with 7 power play assists.
-Scott Balan was placed on the 7-day injured reserve following the Friday night game in San Diego.
-The Condors Coach's Show will take the week off for the Thanksgiving holiday. The Coach's Show will return next Thursday, December 1st, live from the Holiday Inn Select and can be heard live on KGEO Hot Talk AM 1230 starting at 6:00pm.
Buy Tickets
The next home game for the Condors is Tuesday, November 22nd against the Long Beach Ice Dogs at 10:30am for the Field Trip Day and Businesspersons' Special presented by the Bakersfield Californian, Fox 58, KGEO Hot Talk AM 1230 and Arrival Communications. Fans will be treated to a special face-off time of 10:30am as the Condors invite the students of Kern County to the Arena for a unique trip outside the classroom. Students will receive educational booklets to help apply learned skills to the day's game and the sport of hockey. Fans arriving after 11:30am can purchase two-for- one tickets at the Rabobank Arena for the matchup with Long Beach.
After the Thanksgiving holiday, the Condors host Fresno on November 26th for the annual Teddy Bear Toss, sponsored by 29 Eyewitness News, KERN 1410 AM & Wells Fargo Bank. All fans are encouraged to bring a teddy bear, or other stuffed animal, to throw onto the ice when the Condors score. The teddy bears will be collected and donated to less-fortunate children through the United Way of Kern County. In the event's six-year history in Condorstown, over 25,000 stuffed animals have been tossed onto the ice and has become one of the most successful stuffed animal drives in hockey. Last season, a franchise record of 7,149 plush toys were collected.
League Leaders
-Sean Venedam - 5 PPG (T-2nd)
-Sean Venedam - 3 PPG in one game (ECHL season-high)
-Scott Basiuk - 10 assists (T-3rd among defensemen)
-Scott Basiuk - 7 power play assists (T-1st among defensemen)
-Alexandre Bolduc - 40 PIM (4th among rookies)
-Alexandre Bolduc - 2 shorthanded points (2nd among rookies)
-Bakersfield - 21.9% home power play (8th)
-Bakersfield - 34.8 PIM/game (2nd)
-Bakersfield - 6,040 fans/game (5th)
• Discuss this story on the ECHL message board...


ECHL Stories from November 21, 2005
The opinions expressed in this release are those of the organization issuing it, and do not necessarily reflect the thoughts or opinions of OurSports Central or its staff.