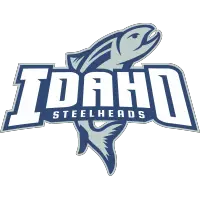 Steelheads weekly update
November 21, 2005 - ECHL (ECHL) - Idaho Steelheads News Release



BOISE, Idaho - The Idaho Steelheads maintain a first place standing in the ECHL, but it is in points only. Three teams have a better winning percentage, including Idaho's next rival, the Utah Grizzlies. The showdown between the two West Division foes will take place on Friday and Saturday nights at Qwest Arena - Utah's first visit since leaving the American Hockey League (AHL) as Idaho's affiliate and joining the ECHL this season.
NATIONAL CONFERENCE, WEST DIVISION STANDINGS
WEST GP W L T PTS PCT
Idaho 14 10 3 1 21 .750
Utah 13 10 3 0 20 .769
Alaska 14 9 3 2 20 .714
Las Vegas 11 6 4 1 13 .591
Victoria 14 5 8 1 11 .393
Phoenix 13 3 8 2 8 .308
IDAHO STEELHEADS AT A GLANCE
Overall: 19-3-1
Home: 4-2-0
Away: 6-1-1
Streak: none
LAST WEEK'S GAME RESULTS:
Wed. 11/16 @ Victoria: W5-2
Fri. 11/18 @ Victoria: W6-3
Sat. 11/19 @ Victoria: L2-3 (OT)
GETTING IT DONE:
The Steelheads have 5 of the ECHL's top 20 scorers...Idaho's Garett Bembridge (RW) is the league's top scorer with 21 points (9g, 12a) in 14 games...Captain D'Arcy McConvey (C) is second in the league with 20 points (7g, 13a) despite a call up to the Iowa Stars (AHL) and missing the last two games with Idaho...Veteran Marty Flichel (RW) is third in scoring with Idaho and seventh overall in the league with 18 points (6g, 12a)...he leads the league in power play points with 12.
UPCOMING:
Fri. 11/25 vs Utah Grizzlies
Sat. 11/26 vs Utah Grizzlies
COMMUNITY: It's the season of giving and the Steelheads will give fans a ticket for a donation they make this weekend to two worthy children's causes....
- Friday Night is Book Drive Night - bring new or gently used children's books to donate at the Steelheads game and receive a ticket for an upcoming Steelheads game (one per person). All books will be donated to the St. Vincent de Paul Booklets Program.
- Saturday Night is Sports Equipment Drive Night - bring new or gently used children's sports equipment (of all types) and receive a ticket for an upcoming Steelheads game (one per person). All equipment will be donated to the Boys and Girls Clubs of Ada County.
PRACTICE SCHEDULE:
The Steelheads will practice Tuesday through Saturday at Qwest Arena - everyday at 10:00 am (Tuesday may be delayed slightly due to arena conversion - call if planning to come down.) All practices are free and open to the public and media.
I WANNA GO TO THE GAME:
Tickets for Steelheads home games are available at the Qwest Arena Box Office, by visiting any Select-A-Seat outlet, by calling 331-TIXS (8497), or through the Steelheads website by logging on to www.idahosteelheads.com. Season tickets, Flex-Plans and Mini-Plans are also available by calling (208) 383-0080.
PAST WEEK TRANSACTIONS:
11/21/2005 Delete AARON PLUMB (LW) waived
11/19/2005 Add AARON PLUMB (LW) signed contract
11/17/2005 Delete D'ARCY MCCONVEY (C) recalled to Iowa (AHL)
LISTEN UP:
Join "Voice of the Steelheads," Joe O'Donnell, on ESPN 1350 KTIK every night from 6:00 p.m. - 7:00 p.m. for the Bud Light Sports Talk Show. Stay tuned on game nights as Joe will bring fans play-by-play live action for all 72 games; Color Commentators Mark Broz and John MacMillan join Joe for home games. Games can be heard via the Internet through the Steelheads website, www.idahosteelheads.com or by logging on to www.ktik.com. Games can also be watched live through a Webcast ($6 per view) - link available from the Steelheads Website.
• Discuss this story on the ECHL message board...


ECHL Stories from November 21, 2005
The opinions expressed in this release are those of the organization issuing it, and do not necessarily reflect the thoughts or opinions of OurSports Central or its staff.