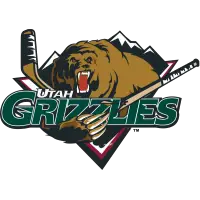 Playoffs Open Tuesday in Utah: First Round Playoff Preview
April 3, 2011 - ECHL (ECHL) - Utah Grizzlies News Release



Tuesday, April 5: Stockton at Utah, 7:05 p.m.
Wednesday, April 6: Stockton at Utah, 7:05 p.m.
Saturday, April 9: Utah at Stockton, 8:30 p.m.
**Sunday, April 10: Utah at Stockton, 4:00 p.m.
**Tuesday, April 12: Utah at Stockton, 8:00 p.m.
All times mountain.
**If Necessary**
Utah V Stockton
The Grizzlies and the Stockton Thunder meet in the post-season for the first time ever as each team completes their sixth season in the ECHL.
Midweek Specials
Tuesday is a Jumping Jack Cash 2-For-1 Tuesday with select lower bowl tickets buy-one-get-one-free. Wednesday is a Wild $2 Wednesday with $2 Hot Dogs, $2 Fries, $2 Soft Drinks and $2 Draft Beers, plus $5 student tickets.
Thin Mountain Air Vs Sea Level
In six of seven games played at Maverik Center between Utah and Stockton this year, the winning team had four or more goals. In all four games in Stockton, the winning team had three goals or less.
Scoring
Utah leading scorer Kevin Deeth led Utah against Stockton this year with four goals and five assists in nine games. Brett Parnham led Utah with five goals against the Thunder.
Goaltending
J.P. Lamoureux is 3-0 in his last three starts at home and has allowed just one goal in that stretch. He has stopped 105 of the last 106 shots that he has seen at home dating back to December 22 and has a .990 save percentage and a 0.26 goals-against-average in that stretch. Lamoureux did not face Stockton at home this year.
Against Stockton
Lamoureux played the first two games of the season series in Stockton and went 1-1 with a .928 save percentage and a 2.52 goals-against-average. Despite having a 1-4 record against the Thunder, Andrew Engelage still had a .915 save percentage and a 3.03 goals-against-average.
You Could Cut The Tension With A Knife
Utah and Stockton combined for 728 penalty minutes against each other in the 11-game 2010-2011 regular season series. However, in four of the 11 games, there was less than 30 penalty minutes combined.
Versus Pacific Division
Utah is 2-0 versus Pacific Division opponents in the first round of the playoffs in the ECHL. The Grizzlies beat Fresno in six games in a best-of-seven first round in 2008 and defeated Las Vegas last year in five games in a best-of-five set.
Opening At Home
This year marks the first time since 1999-2000 that the Grizzlies have opened a playoff series at home. Utah hosted the Houston Aeros in the first round that year.
Coaching Matchup
Both Utah's Kevin Colley and Stockton's Matt Thomas have had regular season records of .500 or better and led their teams to the post-season each year in ten combined seasons as ECHL Head Coaches. In the only other playoff meeting between the two, the Grizzlies defeated Fresno four games to two in the first round in 2008. Kevin Colley was in his first year as the Grizzlies 29-year-old Assistant Coach, while Matt Thomas was the Head Coach of the Falcons. That series pitted Fresno as the three seed and Utah as the six seed, just like this year.
• Discuss this story on the ECHL message board...


ECHL Stories from April 3, 2011
The opinions expressed in this release are those of the organization issuing it, and do not necessarily reflect the thoughts or opinions of OurSports Central or its staff.