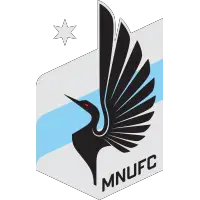 Minnesota United Suffers Narrow 2-1 Loss on the Road at Austin FC
June 1, 2023 - Major League Soccer (MLS) - Minnesota United FC News Release



AUSTIN, Texas -- Unable to shut down a dynamic Austin FC and capitalize on a multitude of close scoring opportunities, Minnesota United was narrowly defeated 2-1 at Q2 Stadium on Wednesday night.
Under the waning rays of the Texas sun, Minnesota brought the heat in Wednesday night's match. The Loons nearly scored within the first five minutes of the game when defender Kemar Lawrence played a through ball to forward Mender Garcia. The Colombian was able to find midfielder Joseph Rosales, who launched shot that deflected off the crossbar and into the back of the net, but the goal was ruled offside.
The Verde & Black opened the scoring in the 19th minute with a cross from Adam Lundkvist into the center of the box, where an unmarked Jon Gallagher made a back-post run and connected on the half-volley, sneaking the ball past goalkeeper Dayne St. Clair for the 1-0 lead.
In search of the equalizer before the half, MNUFC was quick in transition to create a dangerous counterattack against the home side. Forward Bongokuhle Hlongwane won a key duel in Minnesota's defensive half and sent a long ball for Mender Garcia to chase down towards goal. Garcia, in a 1v1 situation with Austin's Brad Stuver, sent a pass across the box to Joseph Rosales who scored with a single touch, putting Minnesota on the board. Rosales' goal was his first ever goal in MLS, either regular-season or playoffs.
Nearing the end of the first half, the Loons earned a corner in the 37th minute for a chance to get the go-ahead goal. Franco Fragapane lined up for the kick, opting for the short pass to Wil Trapp, who then fired a long-range shot at net, just missing the upper right corner and hitting the post.
Austin FC notched its game-winning goal in the 82nd minute when MNUFC conceded a throw-in in its defensive half. After a battle for possession in the center of the box, the ball slipped through to Sebastian Driussi, burying a shot into the cheek of the goal for the late lead.
Chasing a last-minute goal, DJ Taylor took a one-time strike, hitting an Austin defenseman, making the ball deflect towards goal. Midfielder Hassani Dotson was able to redirect the ball for what could've been Minnesota's second goal, but was soon overturned with a VAR decision. Despite a strong offensive effort, Minnesota United was not able to secure another goal for a point on the road.
With the loss, Minnesota United moves to a 5-6-4 (W-L-D) record and 19 points.
BELL BANK MAN OF THE MATCH: Joseph Rosales
LINEUPS:
Minnesota United XI: GK Dayne St. Clair; D Kemar Lawrence, Miguel Tapias, Michael Boxall, DJ Taylor; M Hassani Dotson, Wil Trapp (c), Joseph Rosales, Franco Fragapane, Bongokuhle Hlongwane; F Mender Garcia
Bench: GK Clint Irwin, Eric Dick; D Brent Kallman, Zarek Valentin; M Kervin Arriaga; F Cameron Dunbar, Sang Bin Jeong
Austin FC XI: GK Brad Stuver; D Alex Ring, Jon Gallagher, Julio Cascante (c), Adam Lundkvist, Nick Lima; M Dani Pereira, Sofiane Djeffal; F Gyasi Zardes, Ethan Finlay, Diego Fagundez
Bench: GK Matt Bursano; D Hector Jimenez, Aleksander Radovanovic; M Jhojan Valencia; F Will Bruin, Sebastian Driussi, Emiliano Rigoni, Rodney Redes, Maxi Urruti
UP NEXT:
MINNESOTA UNITED FC vs. TORONTO FC
Allianz Field | Saint Paul, Minnesota
06.03.2023 | MLS 2023 Regular Season | Matchday 17
7:30 pm CT (MLS Season Pass/1500 ESPN)
MINNESOTA UNITED POST GAME QUOTE SHEET
HEAD COACH ADRIAN HEATH
On his takeaways from the match...
"I'm devastated for the players. 21 efforts at goal. After the first 20 minutes, when we changed the shape, I thought we were far and away the better team. I think we've been [inaudible]. So, disappointed in the result, certainly not disappointed with the players: performance and the effort was magnificent."
On if he received an explanation for Hassani Dotson's recalled goal...
"No, and I don't think we'll be getting one because I don't want to get into it, with him [referee, Fotis Bazakos]. You've seen his performance, just write what you thought about it."
On a clarification of Hassani Dotson's offside goal question above; if defender touches the ball, Dotson is in onside position...
"Yeah. It's the same - he's [referee, Fotis Bazakos] from Minnesota. Why we have him [Fotis Bazakos], I don't know because he goes the other way every time we have him."
On relying on Joseph Rosales as a winger...
"He's grown into that little position, that left side coming in field. He was very unlucky, but the one that he scored early on, late on he's had a really good effort that he's just put, narrowly, wide. Once we got him in the right spots, he played very well, as most of the players did. I can't think of anybody tonight who didn't do an unbelievable shift. They did what we asked of them, and I feel for them because we haven't gotten something from this game, which I think is a travesty."
On how the result will affect the team heading into the weekend against Toronto FC...
"No, we did play well. We played well tonight and that's what we'll take from it. As I've just said to the players, I'm really proud of them. You're coming to a place where, I don't know how much money they've spent on this group of players - I think it was about $25 million who came off the bench. And to play the way we did and restrict them [Austin FC] the way we did, I thought it speaks volumes for everybody."
On the possibility of Luis Amarilla leaving the club and the reason he wasn't on the roster...
"No. At the end of the day, he's our player. Until otherwise, he's our player."
On the possibility of the club making an offer to Teemu Pukki of Norwich City...
"No, I don't really speak about players that are not ours, so I'm not going to speak about somebody's ifs, whats, and maybes. Obviously he's a free agent, we know that. That's all I want to say about that at this minute."
On the amount of shots on goal that were not finished...
"No, that's what I'm saying, that's when you feel for the players because their effort to take opportunities, to run forward, to get in the box, to do what we did was magnificent on the back of the games we've had recently. I can't fault the players tonight, they've done everything that we've asked of them, and they're very, very unlucky that they haven't taken not only a point, but could've taken all three."
On needing a clearance after a long throw into the box...
"Yeah. If you don't win the first one, you have to win the second one. We didn't do it and then you leave the MVP of the league [Sebastian Driussi] standing on his own, so that's down to us. I don't think they should've kicked it out, thought they should've kicked it long and there's a few errors on the goal. You can't leave somebody of his quality, from six yards out, free in the box when you've got maybe nine, 10 players in the box."
On planning to recover points through the rest of the season...
"We've given ourselves opportunities in most games. I think there's maybe two or three throughout the year where I don't think we've done ourselves justice. If we maintain the away form like we've played again tonight, like we did in Portland, if we maintain that and then start to take a fair proportion of our opportunities at home, then I think we're going to be okay [and] put ourselves in a good spot."
On an update on Kemar Lawrence after leaving the pitch due to injury...
"We'll probably know more tomorrow. He said his hamstring was... he pulled his hamstring. We'll have a better idea tomorrow when he's had some treatment tonight and a nights sleep on it."
On Joseph Rosales' injury status after a knock late in the game...
"Same again. It's always really early after the game. It's generally the next day when you've slept on it that it feels a lot better or it feels a lot worse. It's like the Robin Lod incident. Robin didn't really feel that bad after the game, but the next morning, he could hardly walk. So, we'll have a better picture of the ones who came off with little knocks, tomorrow."
On the change of strategy in corner kicks, with preference to the short ball...
"Sometimes you have to play to what the opposition do. It's not something that we worked on, but when Wil's [Wil Trapp] standing 20 yards out with nobody within 15 yards of him, then you take that opportunity. I thought that we looked dangerous with the set pieces this evening and then Hassani's [Dotson] had an unbelievable effort that hit the post. So, as I say, I'm sitting here so disappointed for the players, but I'm really, really pleased [with] the way we played."
On Sang Bin Jeong feeling pressure to score due to high expectations from the club...
"No, that's one thing that we've mentioned; I don't want to put him under pressure. He's a young boy who's coming in. He wants to do so well, he's really happy here, and his best days are ahead of him. I think if you look, he came on at the weekend and had two or three efforts, he's had a couple of efforts tonight, I feel as though he's starting to get back to the Sang Bin [Jeong] that we've seen from when he's been like 18 years-of-age. As I say, his best days are ahead of him, and he's working really, really hard. We're really pleased with him."
On Joseph Rosales scoring his first regular-season goal with MNUFC...
"As we've said, he's had a few efforts tonight, he had a few at the weekend. We've got a lot of faith in the boy. An awful lot ground up, an awful lot of distance covered for his goal, and he's got a really good strike on him. He can bend it, he can drive it. So, we encourage him to get in and around the 18-yard-box because invariably, in the training, he hits the target. He'll be pleased, it's his first one and he'll grow. We've got another young kid that we're really pleased about."
On seven offside calls on Minnesota United...
"Sometimes you've gone too early, sometimes the ball's not played early enough. I would like to see one or two of them because we haven't seen the replay, we haven't had that opportunity. I thought there were two or three that were really close. When you're playing on that last man, that last shoulder, it can become very, very tight. And if we were offside, we were offside. But I liked the fact that we were running away from the ball, running in behind their defenders and it caused them [Austin FC] an awful lot of trouble."
On the chance of seeing Emanuel Reynoso or Bakaye Dibassy on the roster on Saturday...
"Bakaye [Dibassy] definitely not. Rey [Emanuel Reynoso] I would think maybe. I don't know, maybe on the bench or something like that. He's worked really, really hard. I spoke to the second team trainer today, Cameron Knowles, he said he [Reynoso] was excellent this morning. Worked really, really hard. He's getting frustrated, he wants to play, but we have to be mindful of the fact that he hasn't played and done an awful lot for a long time. But no, he's not far away, that's the best way to describe him."
MIDFIELDER WIL TRAPP
On if it felt like Minnesota United couldn't buy a second goal against Austin FC...
"I don't know [if] 'buy a goal'. We scored one, obviously, and it got called back. We did everything we possibly could to create as much chaos in front of their goal. Some of those balls bounce your way, like their second goal. Some of them don't, right? I think there's some positives to take from it, certainly, from the attacking side of things because I think we were very composed at the top of the box getting good shots, creating chances and guys being brave in those moments. So, it's disappointing to not come away with at least a point in this one just because of the chances we created."
On what explanation he heard from the referee on Hassani Dotson's offsides call...
"It was an interesting one because he obviously called the goal, and there is no flag from the linesman, and then the flag goes up. So, I'm more or less asking, 'okay, was it a handball, is that what you saw? Was it an offside?' And the communication from Fotis [Bazakos] was an offside decision, but he was just listening for VAR [Video Assistant Referee] to either basically confirm or deny that. Adrian [Heath] touched on it, we didn't get to see a true replay, so it's hard for us on the field. But, the communication to me was that it was an offside decision."
On whether the team uses the performance as momentum or result as deflating into Saturday night's match...
"Going on the road is difficult in this league. We've overachieved in many regards with our away form this season, and I think this game what we're really looking at is just the ability to create chances, the ability to be composed. Outside of 15 minutes in the first half and the first 15 minutes of the second half, we did some really good things. That's absolutely something to build off. We said it after the game in the locker room, we're going home and we need to start winning games in front of our fans. I think the build-off from this one is continue the performance, because that performance is often times not is going to get you wins."
On how the team approaches the next games after dropping points tonight...
"We don't have times to rue these games that much, just because they've been coming so thick and fast. That's where I think that processing of the performance is more important. Yeah, of course, anytime you lose a game, you're not happy. This one is one at least we can draw positives. We're not happy with the result, plain and simple. But, we have to move on because we play Toronto [FC] Saturday in front of our home crowd, and they [Allianz crowd] deserve a win."
On if an Emanuel Reynoso return to game action will provide a scoring spark...
"The [Sebastian Driussi] goal, I guess, was right place, right time. For us, looking at where Rey's [Emanuel Reynoso] physically, of course if he's healthy and in a position to potentially get minutes on Saturday, it's not going to hurt our group because of his quality. Like we talked about yesterday, that relieves the group because of what he can produce and bring to our team. We'll see what that looks like in the next couple of days, but certainly if he's on the field, he creates chaos for the opponent."
On why the two goals were conceded to Austin...
"The first one, I think it's a play in which they're a cross-heavy team, and it's a little bit of an expansive play. They cross early and they get really aggressive. If you think about it, it's a wingback-to-wingback goal, [Adam] Lundkvist to Jon Gallagher. I think it's being super responsible with our midfielders and our wide midfielders coming back to help on the top part of the box or on the far side of the box. The second one is a pretty broken play, to be honest. We just need to be cleaner on communicating on those plays and clearing the ball. Because at the end of the game, with 10 or so minutes left, it's safety first. I thought we got a bit jumbled in."
On MLS All-Star and if that potential honor is any motivation for players to perform...
"I think there's probably some. At the same time, I think it's one of those situations where all we can do is focus on winning games, and if your team's winning and you're playing well, then you have a chance to potentially be an all-star. The fans have a huge say in it, the commissioner and all that. I don't think we pay much mind."
On Joseph Rosales and what he's provided in the wide spot in the lineup...
"He's been extremely impressive, in my opinion, for his versatility. You see tonight that he scored one and had one disallowed, but that one was an excellent goal as well. He provides something very interesting in the sense of his tactical versatility, his defensive capabilities, and then when he's on the ball, he's been composed for us and has really helped us have continuity in our play. I've been super impressed with him being able to adapt on the fly, and not all just tread water, but to provide as well."
On recovering ahead of Saturday's match against Toronto FC...
"It's wrapping the guys up in cotton wool that have been playing lots of minutes. You look at Boxy [Michael Boxall], Bongi [Bongokuhle Hlongwane], Kemar [Lawrence], DJ [Taylor]... these guys have played nearly every minute of all seven games we've had, and it takes a toll. I think it's just getting those guys as rested as possible. Then, it's as we always say, it's looking at what Toronto brings. But ultimately, we're pleased to be going home for this last game before there's no midweek game. We're really happy to be at home and really relax somewhat tomorrow, Friday. Then prepare again for Saturday."
On what he's seen in Hassani Dotson's role so far this season...
"I touched on it a bit yesterday in some of the conversations, but he just has the range box-to-box. He has power in his legs to dribble in between lines, break lines with the ball at his feet, passing - all of those things. Coming off the surgery [ACL] last year was a disappointment and I think he's really come back to the player that we know to be. That's been huge for us. For me, he provides a good balance to what I do as well, and I really enjoy playing next to him."
• Discuss this story on the Major League Soccer message board...


Major League Soccer Stories from June 1, 2023
The opinions expressed in this release are those of the organization issuing it, and do not necessarily reflect the thoughts or opinions of OurSports Central or its staff.