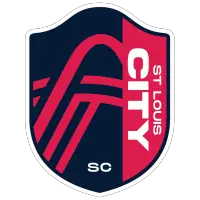 City for All: St. Louis City SC Makes Citypark Accessible to Fans with Disabilities
June 1, 2023 - Major League Soccer (MLS) - St. Louis City SC News Release



ST. LOUIS (June 1, 2023)-St. Louis CITY SC believes an incredible match day experience at CITYPARK should be accessible to everyone, including fans with disabilities. To help St. Louis' Major League Soccer team create one of the most inclusive experiences in major league sports, St. Louis CITY introduced accessibility programs and guest accommodations to provide fans with visible and non-visible disabilities the support they need to enjoy home matches.
"Soccer is the world's most popular sport," said Barbra Silva, St. Louis CITY SC director of community relations. "Many soccer fans have disabilities - both seen and unseen -- that can at times make attending a sporting event difficult to navigate, especially with CITYPARK's overwhelmingly loud and sensory-rich environment. We want to make sure when they and their families come out to a match, we do everything possible to make our stadium a welcoming place."
According to the State of Missouri, approximately 14% of Missourians have a disability, and 15% in the City of St. Louis. Many of those disabilities are not immediately visible to others, including autism spectrum and sensory processing disorders, PTSD, hard of hearing, seizure disorders, asthma, traumatic brain injuries and many more.
CITYPARK is the first stadium in the U.S. to partner with international organization Hidden Disabilities Sunflower, whose program uses discreet wearables enabling fans who have a hidden disability to alert guest services and security staff to help provide special accommodations. CITYPARK guest services and security staff receive training through Sunflower on how to support fans with understanding and compassion. Sunflower is currently in use in airports across the world and in English Premier League stadiums.
"We are thrilled St. Louis CITY SC joined the Hidden Disabilities Sunflower program. Our values and goals are aligned with CITY in the belief sports stadiums should be accessible for everyone. Thanks to CITY's dedication to accessibility and training their staff to recognize the Sunflower, soccer fans with non-visible disabilities will now have access to help, patience and understanding so they too can enjoy attending matches," said Paul White, CEO, Hidden Disabilities Sunflower.
In addition, CITYPARK's Sensory Room presented by St. Louis Children's Hospital, provides a low sensory environment for adults and children who a safe and quiet environment to decompress.
"As the official health care provider of St. Louis CITY SC, we recognize the importance of creating safe, welcoming and comfortable spaces for fans of all abilities to enjoy the match ," said Sarah Becker, director of therapy services, St. Louis Children's Hospital, part of BJC HealthCare. "We are excited to collaborate with the team to support these needs because every fan deserves an extraordinary experience.
KultureCity, a national organization dedicated to creating sensory accessibility and inclusion for those with disabilities, curated the sensory room experience. Guest Services has KultureCity sensory bags available for check out, which include a weighted lap bag, ear plugs and other sensory tools. KultureCity currently works with the NFL, MLB, NBA and US Soccer as well as MLS.
"Our communities are what shape our lives and to know that CITYPARK is willing to go the extra mile to ensure that everyone, no matter their ability, is included in their community is amazing. We're honored to partner with CITYPARK to provide a truly inclusive experience for all fans and guests! Even more so excited that this is the first sensory room at a sports arena in St. Louis; excited to see CITYPARK be a true leader in the community," said Uma Srivastava, Executive Director, KultureCity.
Closed captioning for the deaf and hard of hearing are provided by VITAC and visible on the northeast and northwest video boards. ASL interpretation is provided by DEAF, Inc. and is used as part of CITYPARK's pre-match festivities, including in-stadium interviews and the national anthem. Audio description for the blind and visually impaired is provided by MindsEye; a code to access audio description through the MindsEye app is available at guest services for all CITYPARK matches.
"While I know St. Louis has rallied around 'All for CITY' we also want everyone to feel welcome and comfortable in CITYPARK, and we truly want to be 'CITY for All' as well," said Silva.
All this is in addition to the many built-in accessibility features of CITYPARK which include accessible passenger loading zones, wheelchair accessible entrances at all gates, elevator access to all levels, 242 wheelchair spaces dispersed throughout the seating areas, accessible restroom fixtures in all restrooms, 14 accessible family restrooms, and wheelchair attendants to provide escorts for guests who may need assistance getting to and from the gates and their seats.
• Discuss this story on the Major League Soccer message board...


Major League Soccer Stories from June 1, 2023
The opinions expressed in this release are those of the organization issuing it, and do not necessarily reflect the thoughts or opinions of OurSports Central or its staff.