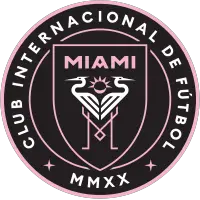 Days to Debut: Inter Miami Goalkeeper and MLS Veteran Luis Robles Named Team Captain
February 26, 2020 - Major League Soccer (MLS) - Inter Miami CF News Release



On Tuesday morning, prior to the beginning of the team's training session for the day, media gathered at the Inter Miami CF Training Complex awaiting an important announcement. Co-owners David Beckham and Jorge Mas arrived at the training facilities before the team around 9:30 a.m. Once the team bus arrived, the players and coaching staff made their way onto the field and gathered around the two co-owners for a long-awaited announcement. Alongside Beckham and Mas, Head Coach Diego Alonso then proceeded to name the team's first-ever captain by handing the captain's armband to goalkeeper and MLS veteran Luis Robles, who received a warm round of applause from everyone present.
Luis Robles, who was signed on December 2, 2019, as a Free Agent, is a proven MLS goalkeeper with loads of experience under his belt. Prior to joining Inter Miami, Robles amassed 238 MLS appearances for the New York Redbulls between 2012 and 2019. During his time with the Red Bulls, the 35-year-old helped the team in their journey towards winning the Supporters' Shield in 2013, 2015 and 2018. Robles achieved several individual honors during that time as well; keeping 72 clean sheets, eighth-most in league history, being named MLS Goalkeeper of the Year in 2015, setting a club-record and career-high with 14 clean sheets in the 2018 season, setting the record for most consecutive Regular Season starts by being named in the Redbulls starting lineup 183 times in a row from 2012 to 2018 and also becoming sixth all-time in MLS history with 114 wins as a goalkeeper.
Robles, who also has three caps for the U.S Men's National Team in his career, accepted the honor of being named the first-ever team captain in the Club's history with excitement and is ready to set the example for his teammates in the locker room.
"More than anything, I represent not just this team, but an entire community. For me, that's something that's truly a privilege and I feel very blessed to have this opportunity," said Robles.
"I have to be an example to these guys. The sort of leadership that I want to deploy is one that empowers other people. That it's not about just me being a leader, it's bringing other guys alongside me so that there's a strong core of guys that are leading and setting an example," he added. "There are some truly talented young guys here and we want to put them in the best position to succeed. If we do that, then the team will be successful."
Co-owners Beckham and Mas also shared their thoughts about Head Coach Alonso naming Robles as team captain, showing their delight at the coach's selection.
"It was a decision made by the coaching staff and the team. I've witnessed Luis' leadership within the team. He's a person that since day one came here and took charge for Diego in the team, and I believe he's made the right choice. I congratulated him because he deserves it," stated Mas.
"It was important to announce someone who has experience, who other players can look up to in tough moments as our Club captain this first year," added Beckham. "There are certain players that walk on the field and have an aura about them and a leadership about them and that's why he's our captain. Having a player that has experience and that leadership quality is important."
The newly appointed team captain also opened up about what drew him towards joining Inter Miami's project and what can be expected from the team in the Club's inaugural MLS season in 2020.
"When I met Paul [McDonough], Niki [Budalic] and Kurt [Schmid] for the first time, they challenged me. They said if you can get your mind around this, what's going on here, something truly exceptional and very special; you get to be a part of history. That was the clincher for me. It seemed like a great personal growth step for me, and it has been."
"As we go into this weekend and play against LAFC we don't expect perfection, we expect that there's going to be some growing pains, but more than anything, we know that we are committed to this project and that our heart is going to be on display. As long as we continue to do that, and we add in the hard work and the preparation, we'll continue to get better and better," concluded Robles.
• Discuss this story on the Major League Soccer message board...


Major League Soccer Stories from February 26, 2020
The opinions expressed in this release are those of the organization issuing it, and do not necessarily reflect the thoughts or opinions of OurSports Central or its staff.