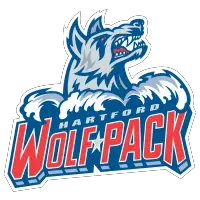 Wolf Pack Earn 3-2 Win over Wilkes-Barre/Scranton
November 3, 2018 - American Hockey League (AHL) - Hartford Wolf Pack News Release



Wilkes-Barre, PA - Steven Fogarty scored twice, and Marek Mazanec made 35 saves, Saturday night at the Mohegan Sun Arena at Casey Plaza, as the Hartford Wolf Pack snapped a five-game losing streak with a 3-2 win over the Wilkes-Barre/Scranton Penguins.
The game was the second in as many nights between the two clubs in Wilkes-Barre, and the win earned a split of the two contests for the Wolf Pack, after a 5-3 loss to the Penguins on Friday night.
A second-period goal by Bobby Butler was the winner for Hartford, and Brandon Crawley and Peter Holland had two assists apiece. Sam Lafferty and Zach Trotman scored for Wilkes-Barre/Scranton.
"I thought it was a good response, in a back-to-back scenario," Wolf Pack head coach Keith McCambridge said. "I thought our leadership group did a real good job with their on-ice play and leading by example, saying the right things on the bench and in the (locker) room in between periods. And their hard work paid off."
For a second straight night, the Wolf Pack opened the scoring on the first power play of the game.
After the Penguins' Thomas DiPauli was called for slashing at the 35-second mark, Fogarty gave the Wolf Pack a 1-0 lead at 2:15.
Holland played the puck from the left circle toward the goal mouth, and it deflected to Fogarty at the goal post to the left of Wilkes-Barre/Scranton goaltender Tristan Jarry (21 saves). Fogarty was easily able to backhand the puck in.
Lafferty knotted things up at 11:17, set up by a strong individual effort by former Wolf Pack Ryan Haggerty. Haggerty carried the puck across the top of the Hartford zone from left to right, and unloaded a shot that Lafferty deflected. Mazanec got a big piece of the puck with his catching glove, but could not keep it out of the net.
The Wolf Pack were outshot 17-8 in the second period, but they outscored Wilkes-Barre/Scranton 2-1 in the frame.
It remained 1-1 until the 11:02 mark of the second, when Fogarty bagged his second of the game, upping his team-leading goal total to seven on the year. Crawley sent Fogarty and Ville Meskanen away on a 2-on-1, and Fogarty used Meskanen as a decoy and fired a shot past Jarry's catching glove from the right side.
Just 2:24 later, at 13:06, Butler scored his third of the season to make it a two-goal Wolf Pack lead. Holland passed the puck out of the right-wing corner to an unchecked Butler at the left side of the goal mouth, and Butler dunked a forehand shot into the net.
It took the Penguins just 1:24 to get that goal back, though, as Teddy Blueger won a faceoff from Holland to Mazanec's left, and the puck went right to Trotman high in the slot. He unloaded a shot that beat Mazanec's catching glove at 14:50.
The third period was scoreless, with the Penguins forcing Mazanec to make a save on a shorthanded breakaway opportunity for Garrett Wilson around the eight-minute mark, after Wilson stole the puck from John Gilmour at the right point.
"It was understanding crucial moments of the game, and I thought we did a real good job with that," McCambridge said. "When we were losing momentum, we put the puck into areas where we could get it back, and tried to get that swing on our side of the momentum ledger. A solid game, and something to build off."
The Wolf Pack finish their first three-game weekend of the season Sunday at Hershey, taking on the Bears in a 5:00 PM game. All of the action can be heard live on News Radio 1410 WPOP, and on-line at www.newsradio1410.com and iHeartRadio. Video streaming is available at theahl.com/AHLTV.
The Wolf Pack's next home game is also against Wilkes-Barre/Scranton, next Saturday, November 10 at 7:00. That is "Country Night" at the XL Center, and tickets for all 2018-19 Wolf Pack home games are on sale now at the Agera Energy Ticket Office at the XL Center, on-line at www.hartfordwolfpack.com and by phone at (877) 522-8499. Tickets purchased in advance for kids 12 or younger start at just $13 each, and all tickets will have a $3 day-of-game increase.
Season ticket information for the Wolf Pack's 2018-19 AHL season can be found on-line at www.hartfordwolfpack.com. To speak with a representative about all of the Wolf Pack's many attractive ticketing options, call (855) 762-6451.
Hartford Wolf Pack 3 at Wilkes-Barre/Scranton Penguins 2
Saturday - Mohegan Sun Arena at Casey Plaza
Hartford 1 2 0 - 3
Wilkes-Barre/Scranton 1 1 0 - 2
1st Period-1, Hartford, Fogarty 6 (Holland, Schneider), 2:15 (PP). 2, Wilkes-Barre/Scranton, Lafferty 3 (Haggerty, Lindberg), 11:17. Penalties-Di Pauli Wbs (slashing), 0:35; Lafferty Wbs (cross-checking), 3:06; Lindgren Hfd (tripping), 7:53; Fogarty Hfd (boarding), 12:30; Lindgren Hfd (slashing), 19:18; Hayes Wbs (slashing), 19:18.
2nd Period-3, Hartford, Fogarty 7 (Crawley, Meskanen), 11:02. 4, Hartford, Butler 3 (Holland, Crawley), 13:26. 5, Wilkes-Barre/Scranton, Trotman 1 (Blueger), 14:50. Penalties-O'Neill Wbs (high-sticking), 4:23; O'Gara Hfd (roughing), 9:49; Wilson Wbs (roughing), 9:49; Fogarty Hfd (tripping), 18:50.
3rd Period- No Scoring. Penalties-Lafferty Wbs (tripping), 6:35; Lindberg Wbs (tripping), 12:54.
Shots on Goal-Hartford 9-8-7-24. Wilkes-Barre/Scranton 11-17-9-37.
Power Play Opportunities-Hartford 1 / 5; Wilkes-Barre/Scranton 0 / 3.
Goalies-Hartford, Mazanec 3-4-0 (37 shots-35 saves). Wilkes-Barre/Scranton, Jarry 3-2-1 (24 shots-21 saves).
A-4,393
Referees-Ryan Jenken (24), Jeremy Tufts (78).
Linesmen-James Tobias (61), J.P. Waleski (14).
• Discuss this story on the American Hockey League message board...


American Hockey League Stories from November 3, 2018
The opinions expressed in this release are those of the organization issuing it, and do not necessarily reflect the thoughts or opinions of OurSports Central or its staff.