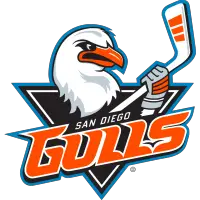 Gulls Enjoy Comforts of Home in 5-2 Victory
February 21, 2019 - American Hockey League (AHL) - San Diego Gulls News Release



The Gulls opened a two-game homestand with a 5-2 win over the Tucson Roadrunners at Pechanga Arena San Diego. The Gulls have seven wins their last 11 games (7-3-1-0) and in 17 of their last 23 (17-5-2-0). San Diego has also earned points in 24 of the last 28 games overall (20-5-2-2).
The Gulls have matched the best start in club history on home ice through 24 games, posting a 15-7-1-1 record and 32 points (also 15-7-1-1 in 2016-17). In addition, San Diego continues to lead the AHL in goals-per game (3.64) while the 180 goals this season (excluding shootout goals) is the most through 50 games in club history.
Tonight marked the 2,000 game for an Anaheim Ducks primary affiliate. Since 1993 beginning with the San Diego Gulls of the International Hockey League (IHL), Anaheim's top affiliates have combined for a 927-813-166-94 record.
Adam Cracknell netted the game's opening goal and added an assist for his seventh multi-point game of the season (1-1=2). Cracknell has recorded four points his last two contests (1-3=4) in addition to seven goals and 14 points (7-7=14) his last nine games.
Kalle Kossila picked his seventh multi-point game with a goal and assist (1-1=2). Kossila has tallied 2-4=6 points his last five games and 10-17=27 points in 27 games this season.
Chase De Leo collected two assists (0-2=2) to earn his 40th point of the season (16-24=40) and tie a career high in points set as a rookie in 2015-16 (19-21=40). With 24 assists this season, De Leo also set a new career high for single-season assists, surpassing his previous high of 23 set in 2017-18. De Leo now has 7-6=13 points his last 10 games.
Sam Carrick scored his team-leading 26th goal of the season (PPG), his third straight game with a power-play goal (4-1=5).
Sam Steel tallied his first career shorthanded goal to extend his goal streak to three games (3-1=4) and match his career high three-game goal streak from Nov. 21-25 (4-1=5).
Kiefer Sherwood netted his third goal of the season and now has points in his last five games (2-3=5).
Ben Thomson earned an assist for his fourth helper his last five games (0-4=4).
Jack Kopacka, Jacob Larsson, Josh Mahura and Trevor Murphy also earned assists.
Goaltender Jeff Glass stopped 34-of-36 shots to win his ninth game of the season. Glass also earned an assist on the Carrick goal, his second assist of the season and first as a Gull. He also earned an assist on Oct. 13, 2018 with Toronto vs. Utica. Glass became the fourth goaltender in Gulls history to record an assist and the first since Jhonas Enroth (Feb. 3, 2017 at Ontario).
The Gulls will conclude the two-game homestand on Saturday, Feb. 23 vs. the San Antonio Rampage (7 p.m.).
POSTGAME QUOTES
San Diego Gulls
Adam Cracknell
On returning home after a six-game road trip
Coming off of a tough loss in San Jose, we didn't play our best hockey. We knew after a 8-3 win, a team is going to come out firing. We had to respond coming back tonight, especially being at home. We haven't been home in a while. It's a good team over there, I think we just overwhelmed this with a lot of forechecks, good speed and puck management. We got away from it in the third a little bit, but (Jeff Glass) played a hell of a game for us and that's what you need to be successful. We gave them a couple power-play looks that could change the game and that's something we want to tighten up.
On Tucson
I think it's a completely different team than what we had at the beginning of the year. Ever since December rolled around, we are a completely different team. Our mentality of taking it to teams every night, especially at home. The way we played tonight, especially the first two periods and a little bit of the third, that's what we have to be to be a championship team. When you play teams like San Jose and Tucson, you're going to have to play them in the playoffs. We want to establish dominance and play a hard game.
Chase De Leo
On returning home after a six-game road trip
It felt like we were on the road forever. Playing in California, we're fortunate to be able to live here during the hockey season and come to work every day. It's definitely good to be back home in front of our fans and back in San Diego.
On the team's recent success
I think we're just rolling right now. When we stick to our system and stick to the plan, we don't get away from it. When we start overcomplicating things, that's when we get into trouble. With the depth scoring, we have guys throughout the whole lineup that can step up and contribute so that is definitely a good thing.
On Jeff Glass
He's been awesome. Every night he gives us a chance and tonight I think he literally stood on his head for a couple saves. He's doing a great job back there and he gives the group in front of him a lot of confidence.
Head Coach Dallas Eakins
On the balanced attack
It's how we're constructed. We have four lines that can all chip in. All of our defensemen are more than capable of moving the puck and getting involved in the offense. We want to keep it that way.
On special teams
We had a couple of big kills. I think our penalty kill is slowing improving. We've changed some things on it and I think we've been rewarded for it. The power play was good. We got one and also had a couple of really good looks. That's important. If you can go into the game and get one on the power play and give up nothing on the penalty kill, you're going to have good nights.
On Jeff Glass
He's a great teammate and he works extremely hard. He's had a quite a journey from where he was at in Toronto to getting here, to really supporting Kevin [Boyle] when he was on a roll, and now he's getting his chance. It's always good to see a guy play well and the guys play hard in front of him in games like that.
• Discuss this story on the American Hockey League message board...


American Hockey League Stories from February 21, 2019
The opinions expressed in this release are those of the organization issuing it, and do not necessarily reflect the thoughts or opinions of OurSports Central or its staff.