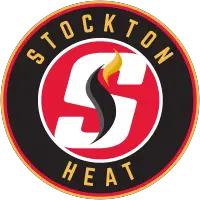 Final Home Game of the Season Tonight at 7:30 Sees Heat Wear Military Themed Sweaters
April 16, 2016 - American Hockey League (AHL) - Stockton Heat News Release



TONIGHT
The Stockton Heat open up a home-and-home series beginning tonight against the San Jose Barracuda, as both teams closeout their respective 2015-16 regular seasons after this weekend.
Stockton enters tonight off the heels of a tough loss in Bakersfield that officially eliminated the Heat from playoff contention.
San Jose comes in with their playoff hopes hanging on by a thread, needing a win in tonight's contest to keep their hopes alive.
MILITARY APPRECIATION NIGHT
Proceeds from ticket sales and from the jersey auctions will be donated to the Welcome Home Heroes Foundation, which helps active, reserve or veterans upon return to the United States.
The bowl will be packed with soldiers, both current and former, so please, make sure to say a thank you to those in attendance tonight with their families.
You can also so thank you by purchasing one of the Stockton Heat game worn or game issued jerseys in tonight's game.
The following jerseys will be available via Silent Auction on the Fan Deck: # 5 Tyler Wotherspoon (Sz 56), #6 Dustin Stevenson (Sz 58), #7 Kenney Morrison (Sz 56), #10 Pat Sieloff (Sz 56), #12 Mason Raymond (Sz 56), #20 Austin Carroll (Sz 56), #22 Mitchell Heard (Sz 56), #25 Blair Riley (Sz 56), #28 Colton Orr (Sz 58), #31 Nick Schneider (Sz 58G), #34 Hunter Smith (Sz 58+) and #46 Bill Arnold (Sz 56).
The following jerseys will be live auctioned after the game (in order): #45 Aaron Johnson (Sz 58), #39 Kevin Poulin (Sz 58G), #48 Bryce Van Brabant (Sz 58), #9 Garnet Hathaway (Sz 56), #18 Morgan Klimchuk (Sz 56), #11 Freddie Hamilton (Sz 56), #23 Drew Shore (Sz 56), #27 Derek Grant (Sz 58), #2 Brett Kulak (Sz 56), #16 Hunter Shinkaruk (Sz 56), #15 Kenny Agostino (Sz 56), and #13 Turner Elson (Sz 56).
Finally three military jerseys will be available via eBay next week including #17 Mark Jankowski (Sz 56), #21 Emile Poirier (Sz 56), and #36 Jon Gillies (Sz 58G).
LAST TIME VS. SAN JOSE
Back on March 9th, the Heat hosted the Barracuda for a midweek tilt that didn't exactly go Stockton's way, as San Jose earned the 4-1 win.
After a scoreless first period, San Jose rattled off three goals to jump out to a big lead, before Mitchell Heard scored his first goal as a member of the Stockton Heat.
Unfortunately, Heard's goal was the lone marker for the Heat that night and the Barracuda collected the win.
WHO TO WATCH
Morgan Klimchuk has played some of his best hockey in recent weeks for the Heat. It may not necessarily show on the scoresheet, but his play across all 200-feet of the ice has been some of the best individual effort we've seen here in Stockton this season.
That point was no more evident than on Stockton's third goal Tuesday night in Bakersfield, when Klimchuk, along with Drew Shore and the goal-scorer Turner Elson, won a puck battle in the corner and eventually found Elson open cross-cage for what was at the time a game-tying goal.
Klimchuk has also finished his last 15 games with an even plus-minus rating or better. His two-way game has greatly improved this season, especially as he's embraced his role as a hard-working, hard-nosed forward that is difficult to play against in all situations.
Watch out for #18 tonight as he looks to continue to impress as his rookie season winds down.
PLAYING FOR PRIDE
Yes, the Heat have been unfortunately eliminated from playoff contention, but there is still plenty to play for.
With just a pair of games remaining on the schedule, it's time now for the Heat to show that they won't just lay down because they are out of the postseason. These next two games are about showing the fans, the organization and their teammates that every guy in that locker room are going to fight until the end regardless of what they're playing for.
Stockton can also play spoiler to San Jose's playoff hopes, which would be at the very least a moral victory to take from a team that the Heat have struggled against this season.
CAREER YEAR WATCH
Seven players have already surpassed their previous career high in points (Morrison, Sieloff, Shinkaruk, Agostino, Grant, Kulak, and Van Brabant) but three other players have a chance to do that with two games remaining.
Drew Shore and Turner Elson have matched their career highs of 37 & 30 points respectively so a point would give them a new career high while Freddie Hamilton is 1 point away from matching his career high and two from surpassing it.
Hamilton's career high was established while playing with the Worcester Sharks in 2013-14 with 22-21-43 season. This year Hamilton has 18-24-42.
PLAYOFF PRIMER
As has been stated, the Stockton Heat can no longer mathematically reach the postseason, as the Charlotte Checkers have a minimum points-percentage that is higher than Stockton's maximum points-percentage.
For San Jose, it's a matter of earning a single point, which would ensure them the right to play the Ontario Reign in the first round of the playoffs. If Stockton can beat San Jose in regulation twice, the Heat would eliminate San Jose and instead it'd be Charlotte who'd play Ontario in the postseason.
INTERESTING FACT
Tonight is Stockton's final Saturday night game of the season. The Heat have gone 9-2-1-0 this season in Saturday night tilts.
Arena: Stockton Arena
Date: April 16, 2016
Time: 7:30 p.m. PST (Doors at 6:30 p.m.)
Broadcast: AHL Live, Spreaker & iHeartRadio beginning at 7:15 p.m. PST
Giveaway: First 500 fans age 18 & older receive a Heat mini zamboni
Leading Scorer: STOCKTON: F Kenny Agostino (63GP, 21-32-53)
SAN JOSE: F Ryan Carpenter (64GP, 18-36-54)
For the live, in-game tweets, follow @AHLHeatPR. Stay tuned at the end of the game for the Chase Chevrolet Big Moment of the Game with your chance to win an autographed Nick Schneider puck.
• Discuss this story on the American Hockey League message board...


American Hockey League Stories from April 16, 2016
The opinions expressed in this release are those of the organization issuing it, and do not necessarily reflect the thoughts or opinions of OurSports Central or its staff.