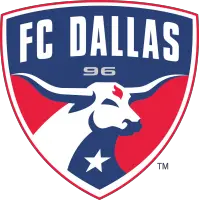 FC Dallas Falls 3-2 to Minnesota United FC at Allianz Field
September 9, 2020 - Major League Soccer (MLS) - FC Dallas News Release



St Paul, Minnesota - FC Dallas (2-2-5) fell 3-2 to Minnesota United FC (5-3-2) Wednesday night at Allianz Field despite a late comeback attempt.
Game Summary
First Half:
11' - Mason Toye scores a left-footed shot and gives Minnesota United an early lead after Robin Lod intercepts a pass from Ryan Hollingshead.
28' - Kevin Molino doubles the lead for Minnesota after he taps in a cross from Romain Métanire near the top of the box.
42' - Ricardo Pepi cuts Minnesota's lead in half after he slides Bryan Reynolds' cross past St. Clair from close range.
Second Half:
52' - Kyle Zobeck pushes Kevin Molino's shot just wide to deny him his second goal of the night.
70' - Kevin Molino scores a penalty after Romain Métanire is fouled inside the box.
77' - Santiago Mosquera scores his first goal of the season from close range following a corner.
90' - Mosquera has another chance in the box but his goal-bound shot was blocked by a Minnesota defender.
Lineups:
FC Dallas - Kyle Zobeck, Reto Ziegler, Ryan Hollingshead (Dante Sealy - 87'), Bressan; Johnny Nelson (Andrés Ricaurte - 46'), Brandon Servania (Tanner Tessmann - 62'), Thiago Santos (Jesús Ferreira - 87'), Bryan Reynolds; Ricardo Pepi (Santiago Mosquera - 68'), Franco Jara, Michael Barrios.
Substitutes not used - Charlie Lyon, Nkosi Burgess, Edwin Cerrillo, Thomas Roberts.
Minnesota United FC - Dayne St. Clair; Chase Gasper, Michael Boxall, José Aja, Romain Métanire; Hassani Dotson, Jan Gregus; Kevin Molino (Bakaye Dibassy - 87'), Emanuel Reynoso (Jacori Hayes - 73'), Robin Lod; Mason Toye (Raheem Edwards - 81').
Substitutes not used - Greg Ranjitsingh, James Musa, Marlon Hairston, Thomás Chacón.
Scoring Summary:
MIN: Mason Toye (Robin Lod) - 11'
MIN: Kevin Molino (Romain Métanire, Emanuel Reynoso) - 28'
FCD: Ricardo Pepi (Bryan Reynolds, Michael Barrios) - 42'
MIN: Kevin Molino (PK) - 70'
FCD: Santiago Mosquera (Bressan, Andrés Ricaurte) - 77'
Misconduct Summary:
MIN: Chase Gasper (caution) - 47'
MIN: Michael Boxall (caution) - 56'
MIN: José Aja (caution) - 80'
MIN: Romain Métanire (ejection) - 82'
Weather: Cloudy, 46
Referee: Alex Chilowicz
Assistant Referees: Kathryn Nesbitt, Eric Weisbrod
4th Official: Lukasz Szpala
VAR Official: Chris Penso
POSTGAME QUOTES
FC Dallas head coach Luchi Gonzalez
General thoughts...
There's no excuses here, whether we have our full roster or not. You can see at the end of the game, how we pushed. We're disappointed not to get at least a point but we look in the mirror first. We started flat, we had a tactic to defend the last line in transitions and counters and take the game over with time. But conceding early hurts that initial tactic but we did have a response, could've tied it early but we didn't and they got two.
I'd say two of their three goals felt like goals we could certainly prevent. They're good in transition, they recover the ball and attack you quickly. As the game went on, we changed the tactic a bit. We got an extra midfielder, and got a little more balls in behind with combinations wide and crosses. We started to create more shots but we weren't putting them on frame. At the end of the day, scoring two goals away, you should at least get a result with that but we conceded three. We have to make more plays in the attacking third and defending our box. We don't have time to train, we have to reflect quickly and show a response against Houston next.
On Andrés Ricaurte's and Dante Sealy's debuts...
Andrés is a special player. We would've liked him in the last game but we had three injuries and that changed our tactics a bit. You saw Andrés' quality coming in the second half, he gave us possession, he gave us creativity, diagonal balls, balls between lines and service. So he's absolutely going to help this team and this family.
Dante is a young player that has gone from the Academy, second team and first team, and he continues to take steps. I'm really proud of him because he's evolved and grown, not sure physically, but matured. What a talent. But he's adding tools to that talent, work rate, tactical understanding, and being a great teammate. I'm so proud of him. Whatever role he has on the field, he's got energy, excitement and no fear. He can absolutely help this roster.
FC Dallas defender and captain Reto Ziegler
Takeaways from the game...
We are obviously very disappointed because we conceded three goals and they are goals that we defend better. I think I would call them almost a gift. We have to avoid these kind of goals. Before that game, we said Columbus has the best defense and we were second, but I don't know how it looks now. Our goal is to have the best defense but today that was not to our standard, we did not defend like we do usually, but we're not here to find any excuses. We must show a better discipline on Saturday against Houston.
On transitioning from a three-man to four-man backline...
No, it's not difficult. We have the quality to play both systems. Of course, when you watch the game, it was better with a back four but it's always easier after the game. I think we did change at halftime and it was better. We're not here for any excuses, we thought it was the best option, we were convinced. I'm disappointed but we have to react, we have to run behind the score and that's not our team. Of course, we showed better in the second half, but we cannot be happy with that. We want a home playoff game and we have to take points in games like this. We know what we're capable of but now we have to show it. Now we go away from Minnesota with our heads up because we showed a reaction. We want to show a better team on Saturday.
FC Dallas defender Ryan Hollingshead
On the defensive performance...
It's hard. I've been in this league for a really long time. We have one of the best defenses in the league. Up until this game I think we were fighting for one of the top three defenses in the league in terms of goals conceded. So you can't really throw the baby out with the bath water with a game like this. You know, we had some missing pieces. We started off with kind of a five in the back with me in the center which is not a normal role from myself.
Really if it wasn't for my giveaway in the first, kinda early stages of the game for their first goal, I think the game would have been completely different in terms of the way it opened up after that and the way we had to respond and push forward. With a mistake like that and then a cut back ball on the top of the 18, then the PK. I think you look at those goals and you think we're fine. You can't just take one game like that and get too upset about it. I think our response, from me, is what I'm most proud of because there's two times we were down two goals and we fought and were on top of them for a lot of that game so, yeah, I'm not too worried about it.
You can either focus on ways you could have maybe played a different ball there or you just respond and that's what we did. We responded really well... I felt like our defense was solid. I didn't feel like we were giving much up. Felt like we had the right gameplan. So we were looking a little bit too defensive at the beginning and then we started pressing higher and breaking lines and staying on top of them in the middle of that first half. The game really changed after that. I feel confident. It's no excuse for me. I'm not on the end of making mistakes like that too often, so when I do I need to just own it. I'm not blaming it on anything.
• Discuss this story on the Major League Soccer message board...


Major League Soccer Stories from September 9, 2020
The opinions expressed in this release are those of the organization issuing it, and do not necessarily reflect the thoughts or opinions of OurSports Central or its staff.