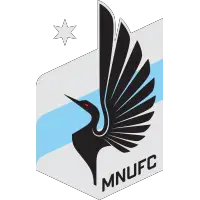 Molino Brace Propels Loons to 3-2 Victory over FC Dallas
September 9, 2020 - Major League Soccer (MLS) - Minnesota United FC News Release



SAINT PAUL, Minn. - Just 11 days after their last meeting, Minnesota United and FC Dallas came into tonight's tilt as much different teams, ravaged by injuries that saw five players on each side ruled out. In Texas, it was Dallas who were the aggressors, making MNUFC look flat and unprepared but tonight, it was Minnesota's chance to turn the screws, opening the scoring in the 11th minute on a goal by Mason Toye. After a beauty of a goal from Kevin Molino, FC Dallas would claw back within one on a goal by Ricardo Pepi shortly before the break. A penalty kick goal by the home side would once again put daylight between the sides but another Dallas goal off a corner followed by a red card for Romain Metanire force MNUFC to endure a sustained shelling by the visitors over the last 10 minutes of play. When the smoke cleared, though, it was the Loons who were left standing with all three points and a share of first place in the Western Conference alongside their next opponent, Sporting Kansas City.
Minnesota United began the game with an eye towards testing FC Dallas goalkeeper Kyle Zobeck, getting his first MLS start in place of the injured Jimmy Maurer. In the first 10 minutes, Minnesota threw a lot of weight into the attack with midfielder Jan Gregus having an early go in the third minute and midfielder Emanuel Reynoso working to get a free kick in a dangerous spot just outside the box in the seventh.
The Loons would not have to wait long for their hard work to pay off. In the 11th minute, FC Dallas defender Ryan Hollingshead sent square ball across the field that midfielder Robin Lod chopped down before controlling it and surveying his options. He sent it ahead to forward Mason Toye, who put on a burst of speed before finishing with his left between Zobeck's legs to open the scoring and put MNUFC on top 1-0.
Minnesota did not let up, with Reynoso and Lod both launching optimistic shots over the next several minutes. With Dallas chasing the game, the Loons seemed to settle in and get comfortable, finding plenty of space between the lines and time to make things happen. In the 28th minute, the home side put together as pretty a string of possession as they have this season. Starting from the right wing, Lod cut inside and found Reynoso loitering on the edge of the box. The Argentine tapped it back out wide to defender Romain Metanire on the overlap, who sent it in to a waiting Kevin Molino. Molino hammered the cross one-time into the back of the net to double Minnesota's advantage to 2-0.
Through the second goal, MNUFC could boast nearly 65% of the possession, a distinct departure from recent positive results where the team has struck mostly on the counter and played without the ball. But here at Allianz Field, the Loons showed both consistency and creativity in possession, due in no small part to the work of Molino, Reynoso and Lod in the attacking midfield.
As the first half wore on, however, FC Dallas found their footing and MNUFC began to loosen up a bit. As a result, more opportunities came the visitors' way and in the 42nd minute, defender Bryan Reynolds crossed it on the ground from the right wing, finding forward Ricardo Pepi in front of the face of goal. Pepi got tangled up with defender Jose Aja but as he went to ground, sent it past the outstretched hand of Dayne St. Clair to snatch one back for Dallas just before the teams headed for the locker rooms 2-1.
Things got a little chippy at the start of the second half as Dallas decided that their best shot to get back into the game was to get physical with MNUFC. Chase Gasper was awarded a yellow card in the 47th minute after Reynoso got bodied without a whistle, forcing him to put down the FC Dallas attack. Five minutes later, the Loons nearly pulled ahead twice in short succession as Molino did his best to finesse a left-footed shot past Zobeck that the keeper speared away and then Reynoso found Gregus on the near post on a corner kick. The Slovak header the ball onto the far post but Zobeck was there, once again.
After several shots went begging over the crossbar or into the woodwork, MNUFC finally got its third goal from the penalty spot after Lod played Metanire through into the box and the defender was taken down from behind. Molino stepped up and hit the ball straight down the middle as Zobeck guessed right, giving the Trinbagonian a brace on the evening.
The visitors were not prepared to go gentle into that good night, though. Off a corner kick in the 77th minute, sub Santiago Mosquera put in a shot that St. Clair tried to parry with one hand, but he couldn't keep the entire ball from going over the line tonight, and Dallas was awarded the goal, pulling them within a goal at 3-2.
For the next several minutes, Minnesota did their best to put the game away, continuing their effective movement and passing in and around the box, but they couldn't put the final ball together before Romain Metanire was shown a red card in the 82nd minute for challenging defender Bressan on the wing. Reduced to 10 men, Minnesota fell back into a low block defensively, replacing Kevin Molino with defender Bakaye Dibassy for his first MLS minutes. The Loons fell into a five-man backline and weather the storm of Dallas shots down the stretch and through five minutes of stoppage time to hold onto the lead and earn all three points with a final score of 3-2.
BELL BANK MAN OF THE MATCH: Midfielder Kevin Molino
GOAL BREAKDOWN
11' | Robin Lod knocks down the square pass from Dallas and controls it before sending it ahead to Mason Toye, who puts on a burst of speed and finishes with his left between Zobeck's legs. 1-0
28' | That goal was a thing of beauty forever. Lod -> Reynoso -> Metanire -> Molino. Lod cuts it inside from the right wing and finds Reynoso loitering on the edge of the box. He taps it back out wide to Metanire who is wide open and sends it in to Molino who drills it one-time into the back of the net. 2-0
42' | Dallas works it around the box and Bryan Reynolds crosses it on the ground into the six-yard box. Pepi is there and gets tangled up with Aja but as he goes to ground, sends it in past the outstretched mitt of St. Clair. 2-1
70' | Molino goes right down the middle with the penalty kick as Zobeck guesses right and doubles the lead to 3-1.
77' | Mosquera is awarded the goal after Dayne tried to keep it out but maybe let it go over the line this time for real. Assisted by Bressan and Andres Ricaurte. 3-2
LINEUPS:
Minnesota United: GK Dayne St. Clair; D Chase Gasper, Jose Aja, Michael Boxall, Romain Metanire; M Jan Gregus, Hassani Dotson, Robin Lod, Kevin Molino, Emanuel Reynoso; F Mason Toye
FC Dallas: GK Kyle Zobeck; D Ryan Hollingshead, Bressan, Reto Ziegler; M Bryan Reynolds, John Nelson, Brandon Servania, Thiago Santos; F Ricardo Pepi, Michael Barrios, Franco Jara
UP NEXT
Minnesota United vs. Sporting Kansas City
Children's Mercy Park | Kansas City, KS
09.13.20 | MLS Week No. 9 | MLS Game 11
7:30 p.m. CT (FOX Sports North, FOX Sports GO, MNUFC Radio on SKOR North)
MINNESOTA UNITED QUOTE SHEET
MINNESOTA UNITED HEAD COACH ADRIAN HEATH
On how he feels overall about tonight's performance ...
"Well, we spoke about if one or two games, if we could take four points, we'd be happy, probably. But, the way we've gone into the two games. So, to come out with six, although it'll only be briefly, we'll sit on top of the conference tonight. That's a nice little feeling. Really pleased with some aspects. Realized there's one or two areas we've got to get a little bit better at. But, you know, the signs are promising and the interplay with the front three, I've got to say."
On if the Loons survived or thrived tonight ...
"Well, I think, depending on what time of the game it was. I thought for the first half, I thought we were excellent. I thought our interplay and composure on the ball, our ability to pick the right pass, was terrific. The last 10 minutes I thought we did our best to lose the ball in dangerous areas to give them an opportunity. And then they get a goal, and then, obviously, it's a game on. With one goal, it's never enough. But, then when I look back at the opportunities that we've had in the second half, two or three really clear cut, open chances, I feel that we should have done better with. So, we've all gone in the end after the red card, I suppose. But, I thought we just about deserved it if you look at the 90 minutes play and the opportunities that both teams had."
On his take on Romain Metanire's red card ...
"I thought it was harsh. I spoke to the referee. I just thought it was a harsh decision. Maybe it was a yellow. Maybe. I always look at the people on the receiving end and it didn't seem an awful lot wrong with him once the red card had come out. So, I didn't think anybody would come in to treat him and it didn't look as though he was struggling to run straight after. Maybe when he's had a look at it, he can maybe think that it was a little bit harsh and maybe we can get a little bit of a reprieve on that."
On Dayne St. Clair facing more action tonight and his performance overall ...
"He's been excellent. He's been calm, assured. He's done everything that's been asked of him. I've been really pleased with Dayne [St. Clair]. It doesn't surprise me. You know, as I've always said, we think he's got the ability. We think he's got the potential. He keeps his head on the right way and listens to people. We think he's got a bright future."
On Mason Toye back on the scoresheet tonight and what that does for his confidence and role in this team ...
"Hopefully, it will help his confidence. I think he's overthinking things a little bit at times. But, obviously, for front men, goals mean an awful lot. So, he's got a good opportunity, because, you know, Luis [Amarilla] has had his injection and we still think he's going to be two or three weeks. And, [Aaron] Schoenfeld is showing a lot more signs of being fit, but we still think he's maybe a week, two weeks away. So, Mason [Toye] has got an opportunity to show everybody what he can do. I'm sure that scoring a goal this evening will do his confidence no harm."
On how he thought Emanuel Reynoso performed tonight, his second start and second win ...
"I'm super pleased with his performance. With his attitude. With his quality. The way he is with his teammates in the locker room. He's a great kid, so, you know, I think he can be really, really pleased and proud of his two performances. When you think that his last game was in March, I think he's been excellent. You know, there's nothing like playing games to get you that little sharpness. And, once he gets to the stage where he feels as though he's at 100 percent, I feel he's going to be a huge piece for us. You know already see that the combination play with Robin [Lod] and Kevin Molino was exceptional at times. He'll be dissapointed, I thought he might have scored when he hit one over. But, he's had a great start."
On how Jan Gregus' responsibilities when playing with Hassani Dotson versus Osvaldo Alonso...
"It's a little bit different because obviously Ozzie [Alonso] generally plays the deeper one with whoever he plays with. He's normally the 6 if you'd like, the deepest green. And, obviously, with Hassani [Dotson], all of Hassani's strengths is going and foraging for the ball and, so, you know, they have to bounce off each other, they have to give a little bit of balance off each other. And, Hassani, as we've always said, he looks to break on and drive forward with the ball. And that's where Jan [Gregus] has got to be sensible and not get too ahead of the ball himself because we need that little bit of defensive base there. But, so far, they've done okay. I've been pleased with them."
On if he's going to seek an appeal on Romain Metanire's red card ...
"I think everything gets reviewed. We will ask the question. I thought it was harsh. And, we'll see. If it's no, there's nothing we can do. If it is, I think common sense has prevailed."
On the status of Luis Amarilla Ethan Finlay and Aaron Schoenfeld ...
"Aaron [Schoenfeld] has had a problem at the bottom of his calf. He feels a lot better today. He's running on the Alter G machine. He feels a lot happier with the injury. Luis [Amarilla] has had an injection in his ankle. He's had a little problem there since, probably, for five, six weeks. As I said the other night, we hoped he would respond to treatment and a little bit of rest, and it hasn't. So, we're hoping that the injection will help it settle down. We'll wait and see. With Ethan [Finlay], he had his scope yesterday, and it wasn't as bad as feared, and we're hoping for three to four weeks, maybe, with a better look. It's not helpful for us to have them players out. You put that with Ozzie [Alonso] and you put that with Tyler [Miller], etcetera. So, it's testing times. To come away with two results and six points that we have, with half of the team that started the season, out injured, it's a testament to the rest of the group who have come in and stepped up."
On if he sees any more additions to the squad during this transfer window considering current injuries...
"We are looking. We're looking. And, if there's something that we think, you know, not just for the next two or three weeks, there's something that can maybe help us, then, we'll try and do it. We've got room on the roster. We've got money available. So, yeah, we're looking. But, it won't be a case of bringing a player in just for the sake of it. I don't want to bring anybody in for the next two weeks and then realize that maybe he's not as good or he's not going to contribute as much as the people we've got here. Anybody who will be brought in will be brought in for the long-term."
On how much more Minnesota United and Sporting KC have to learn about each other ...
"Not a lot. Obviously, there's probably a few faces that will change. But, you know, Peter [Vermes] has got a great system there. He buys players and his players know the system. So, we know it's going to be tough. Never easy for us there in Kansas. And, I don't expect anything different at the weekend. It'll be interesting. We'll see how we are tomorrow and the next day. To see if we need to change things, if we need to freshen it up. But, I would think there might be one or two areas that we might have to freshen one or two things up."
MINNESOTA UNITED FORWARD MASON TOYE
On scoring and how it helps build confidence moving forward...
"Obviously it's been a big opportunity for me, being our only healthy number nine at the moment. I'm just trying to continue to score goals and help the team any way I can and prove when everyone gets healthy that I can be our starter."
On the potential of overthinking during games...
"I'm still trying to figure a couple things out and get my feet under me and starting games consistently. I've been coming off the bench so much [lately] and that's really what it is, I'm trying to figure stuff out. This goal has done me a lot of good and I'm going to continue to try and play simple and let the game come to me."
On what Emanuel Reynoso brings to the team...
"We haven't been able to train that much together because of how quick and fast the games have been coming. But in the games you can just tell, his weight of his passes, the disguises on his passes and his creativity and his soccer brain is really good. I'm excited to continue to play with him and hopefully I can help him with some assists."
On the work rate of Emanuel Reynoso...
"It's great. He comes in and he works his tail off from day one and that's all you can ask for in a big money guy. You saw it from Luis [Amarilla] and now you're seeing it with him [Reynoso], we are bringing in guys that really want to work and want to run. That's the identity of our team. We work for each other, we work hard and we want to run. It's really awesome to see a guy like that - so talented - want to work hard on both ends of the goal."
On the work of the front line after Robin Lod switched sides from the left to the right...
"It's really awesome because he loves to cut in on his left and now he is able to do that so it's great for him and I definitely think he is more comfortable on the right. It allows him to come inside and allows Kevin [Molino] to come inside and they can play the slip through balls and get their shots off. It definitely helps me, when you have a guy cutting in and now he's drawing a defender out and so I can make a darting run inside and it helps me and I'm really happy for Robin, he's doing really well and hopefully his nice stretch of form."
On how the team continues its form heading into the game this weekend...
"In the beginning we only had one game at home, and you play against Dallas and Houston away, those are tough games. We knew it wasn't going to be easy, but we knew the last game [Real Salt Lake] was going to be really difficult for us and we really needed to get a win and we did and we needed to get another one tonight. We are just trying to continue to keep it rolling and not overthink the next game in Kansas City at all and we are trying to continue to just win the games and it's that plain and simple. That's what Adrian Heath has been talking about, you can talk about tactics, but at the end of the day you just need to go out and win games and that's what we need to continue to do."
On how the weather elements impact your game...
"I like the chillier weather. In college, at Indiana they called it 'run all day weather' and that holds true for me. It's a lot easier to play in 40-50 degree weather than it is in 60-70 degree weather. It changes the way we prepare for the game, but not too much."
MINNESOTA UNITED MIDFIELDER JAN GREGUS
On playing with Hassani Dotson vs. Ozzie Alonso...
"I don't think it's a huge difference, he has his quality. Obviously, Ozzie is a great player and we are missing him, but we have enough quality to play and I think we proved it today as well."
On what the team needed to do after the red card...
"Just stay compact and have really good defense, because obviously with the counter goal to make it 3-2, which was dangerous, and they had other chances. But yes, just to stay compact and don't do stupid mistakes. That was the most important. Like you said, we needed to separate Jose because we didn't want another red card."
On being on the receiving end of corner kicks instead of serving them...
"It depends, yes. Of course I can go there, to finish the corner, but this was kind of tactical. So, to shoot it to [Reynoso] from the right side, and for me from the left - so it worked out pretty well, maybe had a little chance with the head also."
On the weather difference when playing FC Dallas (how climate changed the game tonight)...
"We like this better, for sure (laughs). We saw this game as a revenge from the start and we knew how we wanted to play and that we wanted to play aggressively from the beginning and that's what we did. I think it was a great game and, like you said, the weather was fantastic today."
On what wasn't working in the last 10 minutes of the first half...
"Well, you saw, you tell me (laughs). I don't know, I think it was just a little bit chaos and we didn't keep the ball properly with the easy mistakes and it was kind of up and down. I think when we were winning 2-0, and then 3-1, we should've taken care of the game much better - maybe more movement with the ball and 'don't let them into the game again,' and I think this was probably the biggest problem today for us. Apart from that, we played a really good game...a lot of chances, a lot of shots...maybe next time just keep everybody relaxed and keep it at 2 goals still."
On prepping to play Sporting KC (again)...
"First of all, we need to do proper regeneration because the games are coming very fast. That's the most important right now and then, like you said, we've played them already - many times - and we know that they have huge quality in the team. To beat them we need to be not one hundred percent, but OVER one hundred percent and not just a few of the players, but the whole team. And, constantly on like I said, huge quality, and they play at home, so we need to be ready and switch them."
• Discuss this story on the Major League Soccer message board...


Major League Soccer Stories from September 9, 2020
The opinions expressed in this release are those of the organization issuing it, and do not necessarily reflect the thoughts or opinions of OurSports Central or its staff.