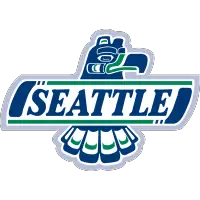 Winterhawks Skate Past T-Birds
March 17, 2018 - Western Hockey League (WHL) - Seattle Thunderbirds News Release



PORTLAND - The Portland Winterhawks defeated the Seattle Thunderbirds 8-3 Friday night at the Moda Center.
The T-Birds have a 33-27-8-2 record which locks them into the second wild card playoff spot in the Western Conference, seven points behind the Tri-City Americans (37-24-8-1), after the Americans defeated the Spokane Chiefs Friday night. Both the T-Birds and Americans have two games remaining this season.
The second wild card playoff team will play the champion of the US Division in the first round of the playoffs. The Everett Silvertips lead the Winterhawks by four points for the division championship. The Silvertips have one game remaining this season and the Winterhawks have two games remaining.
The T-Birds will play Game 1 of a first round best-of-seven series on Friday, March 23, on the road against either Everett or Portland. Game 2 of this first round series will be Saturday, March 24.
The T-Birds first home playoff game against either Everett or Portland is Tuesday, March 27, at 7:05pm at accesso ShoWare Center. This game will be a Directors Mortgage 2-for-Tuesday game that will feature two-for-one tickets and beers and $2 popcorn, $2 hot dogs, and $2 soda.
Single game tickets for Game 3 of the Seattle Thunderbirds first round playoff series on March 27 are currently on sale. Single game playoff tickets can be purchased on the T-Birds website and at the accesso ShoWare Center box office. The accesso ShoWare Center Box Office is open Monday through Friday 10am to 5pm and Saturday game days at noon. A full first round schedule will be released once the T-Birds know their opponent.
The T-Birds and Winterhawks meet at the accesso ShoWare Center on Saturday at 7:05pm. The T-Birds finish out the regular season in Kennewick against the Tri-City Americans on Sunday at 5:05pm at the Toyota Center.
Seattle took a 1-0 lead at 17:44 of the first period. Reece Harsch took a wrist shot with Nolan Volcan standing in front of Portland goalie Cole Kehler. Harsch's shot hit Volcan and dropped to the ice. Volcan put the loose puck on goal and Kehler made a right pad save. Volcan knocked the rebound past Kehler's outstretched right leg for his 32nd goal of the season.
The Winterhawks outshot the T-Birds 11-8 in the first period.
Portland (44-21-1-4) tied the game 1-1 at 4:46 on a slap shot goal from Henri Jokiharju. Cody Glass and Skyler McKenzie had the assists.
The Winterhawks got a power-play goal from Glass at 10:01, Kieffer Bellows at 13:21 and Glass again at 16:14 of the second to take a 4-1 lead after two periods.
Portland had a 31-18 lead in shots after two periods by outshooting the T-Birds 20-10 in the second period.
Portland went in front 5-1 on a goal from Skyler McKenzie at 3:47 of the third period.
Seattle cut the Winterhawks lead to 5-2 at 9:18 of the third. Zack Andrusiak took a shot just as a power play was ending that Kehler stopped. Sami Moilanen popped the puck past the goalie for his 22nd goal of the season. Dillon Hamaliuk had the second assist.
Portland made it an 8-2 game on goals by Reece Newkirk at 10:23, Brendan De Jong at 13:06 and Glass at 14:02 of the third.
Samuel Huo scored the T-Birds third goal at 14:36 of the third off assists from Noah Philp and Jake Lee. Huo has goals in back-to-back games.
Portland outshot Seattle 43-27 in the game.
Seattle goalie Liam Hughes had 27 saves on 34 shots in 53 minutes of action. Dorrin Luding had three saves on four shots in seven minutes of play to end the game.
Kehler had 24 saves on 27 shots.
SCORING SUMMARY
First period - 1, Seattle, Volcan 32 (Harsch), 17:44. Penalties - Gricius, Por (holding), 8:41.
Second period - 2, Portland, Jokiharju 11 (Glass, McKenzie) 4:46. 3, Portland, Glass 35 (Cholowski), 10:01 (pp). 4, Portland, Bellows 40 (Hanus), 13:21. 5, Portland, Glass 36 (Gilliss, Hanus), 16:14. Penalties - Harsch, Por (cross checking), 8:31. De Jong, Por (interference), 10:28. Bellows, Por (slashing), 19:44.
Third period - 6, Portland, McKenzie 46 (Glass), 3:47. 7, Seattle, Moilanen 22 (Andrusiak, Hamaliuk), 9:18. 8, Portland, Newkirk 8 (Bellows, Jokiharju), 10:23. 9, Portland, De Jong 6 (Hughes, Blichfeld), 13:06. 10, Portland, Glass 37 (Bellows), 14:02. 11, Seattle, Huo 3 (Philp, Lee), 14:36. Penalties - Gricius, Por (slashing), 6:14. Newkirk, Por (roughing), 18:18.
Shots on goal - Seattle 8-10-8 27, Portland 11-20-12 43. Goalies - Seattle, Hughes 34 shots-27 saves (15-12-5-1), Luding 4-3; Portland, Kehler 27-24 (30-15-1-4). Power plays - Seattle 0-5; Portland 1-2. Referees - Chris Crich, Derek Zalaski. Linesmen - Nick Bilko, Brett Mackey.
• Discuss this story on the Western Hockey League message board...


Western Hockey League Stories from March 17, 2018
The opinions expressed in this release are those of the organization issuing it, and do not necessarily reflect the thoughts or opinions of OurSports Central or its staff.