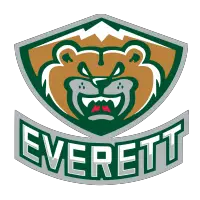 Sellout Crowd Sees Tips Win in OT
March 17, 2018 - Western Hockey League (WHL) - Everett Silvertips News Release



EVERETT, Wash - Everett native Luke Ormsby's second goal of the season and third game winner of his career broke a tie game at 4:50 of the third period, lifting the Everett Silvertips to a 3-2 victory over the Victoria Royals before a sellout crowd of 8,377 in downtown Everett on Fan Appreciation Night, Friday in WHL action.
Patrick Bajkov, who along with Matt Fonteyne and Kevin Davis were playing in their final regular season game in downtown Everett, earned an assist to move into a tie for first all-time with Zach Hamill on the Silvertips career assists list. The Silvertips clinched a tie for the U.S. Division title and share of the top seed in the Western Conference, needing just one more point for an outright clinch.
UP NEXT: The Tips face Victoria in a rematch on Saturday, 7:05 p.m. (1380 AM / 95.3 FM / WHL Live / Tips App) at Save-On-Foods Memorial Centre.
The Silvertips took a blow to their line-up at 1:39 of the first as Martin Fasko-Rudas was boarded by Lane Zablocki and needed assistance off the ice. Fasko-Rudas did not return to the game. Zablocki received a 5 minute boarding major and a game misconduct. Everett did not capitalize on the power play and the teams went 4-on-4 for 1:16 as Richards took a roughing penalty.
Wyatte Wylie got the scoring going for Everett with a bullet from the point to make it 1-0 Tips at 9:34; Dewar and Vala were credited for setting up the play. Hannoun tied up the game at 18:33 to make it 1-1. Carter Hart and counterpart Griffen Outhouse were outstanding in the first as Hart had 15 saves and Outhouse had 21 saves.
There were a lot less chances in the second as the teams were unable to get many clean entries into the offensive zones. Things got interesting when Kade Jansen took a hooking penalty at 13:45 and the Tips went back on the power play. Outhouse gave up a bad rebound to Garrett Pilon who was able to roof it over his head and into the net to make it 2-1 Tips at 14:36 on the power play. Bajkov had the original shot on goal that rebounded off Outhouse and Fonteyne had the initial pass. With that assist, Bajkov tied Zach Hamill for most assists in Silvertips' history. There were very few shots on goal in the second compared to the first as Victoria had three versus Everett's seven.
The third period did not get off to an ideal start as Victoria got the equalizer at 2:48 to make it a 2-2 game on Noah Gregor's deflection at the net from Chaz Redekopp's feed from the right circle.
Just 2:02 later, Luke Ormsby got the eventual winner, flushing a rebound as Outhouse left the net fairly wide open after Ondrej Vala got a shot off from the blueline. Spencer Gerth was credited with the second assist. Momentum for the Victoria to tie up the game was lost as Tyler Soy took a late roughing penalty with less than 3 minutes remaining. Outhouse was pulled with 30 seconds remaining but they were unable to tie the game late.
Outhouse made 34 saves.
SILVERTIPS LINE COMBOS
15 / RICHARDS 17 / FONTEYNE 8 / BAJKOV
43 / DEWAR 14 / SUTTER 19 / KINDOPP
7 / FASKO-RUDAS 26 / VITELLI 41 / PILON
44 / GERTH 10 / O'ROURKE 16 / ORMSBY
DEFENSIVE PAIRINGS
23 / CHRISTIANSEN 38 / DAVIS
42 / VALA 29 / WYLIE
24 / FAIRBROTHER 4 / I. WALKER
GOALTENDERS
70 / HART
32 / WOLF
Notes: Silvertips scratches included Akash Bains, Dawson Butt, Blake Lyda, Jameson Murray, Kyle Walker and Bronson Sharp ... the Silvertips can clinch the division by gaining one more point on Saturday, or if Portland loses on Saturday or Sunday ... Dennis Williams tied Craig Hartsburg for most wins (46) by a first year Tips head coach.
POSTGAME TEAM AWARDS
JIM LEO DISTINGUISHED SERVICE: Pete Rasmussen, David Rose
F.I.E.R.C.E. PREDATOR: Matt Fonteyne
SILVERTIPS IRON MAN: Wyatte Wylie, Jake Christiansen, Bryce Kindopp, Matt Fonteyne, Patrick Bajkov
SCHOLASTIC PLAYER OF THE YEAR: Dustin Wolf
COMMUNITY RELATIONS: Matt Fonteyne, Carter Hart
MOST IMPROVED PLAYER: Wyatte Wylie
MOST DEDICATED PLAYER: Connor Dewar
UNSUNG HERO: Matt Fonteyne
ROOKIE OF THE YEAR: Dustin Wolf
LEADING SCORER: Patrick Bajkov
MOST VALUABLE PLAYER: Carter Hart
Silvertips season ticket or mini-plan packages are available at www.everettsilvertips.com/season or by calling (425) 252-5100.
• Discuss this story on the Western Hockey League message board...


Western Hockey League Stories from March 17, 2018
The opinions expressed in this release are those of the organization issuing it, and do not necessarily reflect the thoughts or opinions of OurSports Central or its staff.