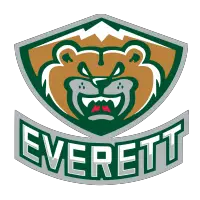 Silvertips Announce Full 2019-20 Regular Season Schedule
June 26, 2019 - Western Hockey League (WHL) - Everett Silvertips News Release



EVERETT, Wash. - The Everett Silvertips (@WHLSilvertips), two-time Western Conference champions and seven time U.S. Division champions of the Western Hockey League, announced today their 17th season in the WHL and U.S. Division title defense will open Friday, Sept. 20 at home against the Tri-City Americans, 7:35pm at Angel of the Winds Arena to launch a 68-game regular season schedule.
Priority seating and guaranteed home opener tickets are available now by placing a $50 deposit for Silvertips Season Ticket or Mini-Plan Packages (available in full season, 22-game, of 14-game plans) at www.everettsilvertips.com/tickets or by calling (425) 252-5100. The Tips home opener will offer a magnetic schedule giveaway to fans in attendance, presented by Lamoureux Real Estate and Sound Transit.
All Silvertips home games will be held at A.O.T.W. Arena in downtown Everett, scheduled for the following times:
7:05 p.m. -Wednesday, Saturday
7:35 p.m. - Friday
4:05 p.m. - Sunday
Raising their seventh division title (third straight) to the rafters on Sept. 20 vs. Tri-City, the event marks the second time in Tips history that a home opener will host Tri-City, also a rematch of the first round of last season's WHL Playoffs when the Tips defeated Tri-City, 4-1 in a best-of-seven series. The Tips are 7-7-1-1 lifetime in home openers. The initial homestand will conclude the following evening in a 7:05 p.m. Saturday matchup against the Victoria Royals.
Among the highlights for the 2019-20 season include:
30 Silvertips home games in downtown Everett will be played on a Friday, Saturday, or Sunday
Home opener on Sept. 20 vs. Tri-City (7:35 pm)
First matchup and road game of the season against 2020 Memorial Cup host Kelowna, at Prospera Place, on Sept. 28 (7:05pm)
First rematch against the Spokane Chiefs (second round of 2019 WHL Playoffs) on Oct. 6 at Spokane Arena (5:05pm)
PINK THE RINK: Oct. 12 vs. Seattle (7:05pm) ... first matchup of the season against the U.S. Division rival Thunderbirds, 7:05 p.m. the Silvertips flagship event designed to generate fundraising for breast cancer research and treatment.
MITCH LOVE NIGHT: Oct. 22 vs. Saskatoon (7:35pm) ... return of Silvertips alumnus, former defenseman, captain, and assistant coach Mitch Love ... Mitch Love bobblehead giveaway to the first 1,000 fans in attendance
First matchup against the U.S. Division rival Portland Winterhawks on Nov. 1 at A.O.T.W. Arena at 7:35pm.
"CENTRAL SWING" (1 of 2): Four consecutive road games against Central Division opponents, and only matchups of the regular season against Lethbridge, Swift Current, Medicine Hat, and Calgary, Dec. 4-8 TEDDY BEAR TOSS: Dec. 14 vs. Vancouver (7:05pm) ... first home matchup of the season against the defending Western Conference champion Giants ... traditional event asking for fans in attendance to throw stuffed animals onto the ice immediately after the first Silvertips goal, designed to benefit local community charitable efforts.
"CENTRAL SWING" (2 of 2): Part of a season-long six-game road trip, the Tips will visit Red Deer (Dec. 30) and Edmonton (Jan. 1) in the only match-ups of the regular season.
LOCAL HEROES NIGHT: Jan. 18 vs. Seattle (7:05pm) ... tribute night to generate awareness, support of, and fundraising for local law enforcement, fire protection, and additional service individuals.
SKATE WITH THE TIPS: Jan. 26 vs. Spokane (4:05pm) ... postgame event invite for all full Silvertips season ticket holders to skate on the ice with the entire team for photos and autograph opportunities.
NAVY NIGHT: Mar. 7 vs. Seattle (7:05pm) ... tribute night to generate awareness, support, and fundraising for local enlisted sailors of Snohomish County ... event has included swear-in ceremony of newly enlisted sailors of the U.S. Navy.
FAN APPRECIATION NIGHT: Mar. 20 vs. Victoria (7:35pm) ... team poster giveaway for fans in attendance ... post-game team awards ceremony on the ice immediately after the game's conclusion.
KEY PROMOTIONAL DATES
Date Opponent Time Promotional Event Night
Friday, September 20, 2019 Tri City 7:35 PM Home Opener / Magnet Schedule
Saturday, October 12, 2019 Seattle 7:05 PM Pink the Rink
Friday, November 22, 2019 Saskatoon 7:35 PM Mitch Love Night (mini bobbleheads)
Saturday, December 14, 2019 Vancouver 7:05 PM Teddy Bear Toss
Sunday, January 12, 2020 Regina 4:05 PM Scout Night
Saturday, January 18, 2020 Seattle 7:05 PM Local Heroes Night
Sunday, January 26, 2020 Spokane 4:05 PM Skate With the Tips
Friday, February 14, 2020 Seattle 7:35 PM Union Solidarity Night
Saturday, February 22, 2020 Vancouver 7:05 PM Star Wars Night
Sunday, March 1, 2020 Portland 4:05 PM Mascot Night
Saturday, March 7, 2020 Seattle 7:05 PM Navy Night
Friday, March 20, 2020 Victoria 7:35 PM Fan Appreciation / Team Poster
Ticket specials expected to return are the popular Friday Hockey Happy Hour - presented by Broad Stroke Associates, exclusive BMW & Mini Service, and Smile Generation Family Fun Sundays for 4:05 p.m. Sunday games. Further promotional details (details listed above are subject to change) on the Silvertips home opener, additional Tips giveaway nights, and single game ticket purchasing information will be announced soon.
2019-20 SCHEDULE, TICKET INFORMATION
The Tips full regular season schedule offers full 34-game season tickets, 22-game, and 14-game plans for as little as $215 total per seat. Deposits for $50 will secure a seat for the 2019-20 season, available at www.everettsilvertips.com/season or by calling (425) 252-5100 during normal business hours (Monday through Thursday during the offseason, 9am to 4pm). Seven game packs will be on sale starting July 9.
The Silvertips open the pre-season on Friday, Aug. 30 during the Delta Hotels Preseason Classic in downtown Everett, at 7:00 p.m. against the Tri-City Americans. Preseason Packs, offering all nine games of the tournament, are on sale for $75. "Everett Only" packs (offering all three Silvertips pre-season games in the tournament) are available for only $35 per seat. Tips pre-season single game home tickets are expected to go on sale beginning Aug. 1.
• Discuss this story on the Western Hockey League message board...


Western Hockey League Stories from June 26, 2019
The opinions expressed in this release are those of the organization issuing it, and do not necessarily reflect the thoughts or opinions of OurSports Central or its staff.