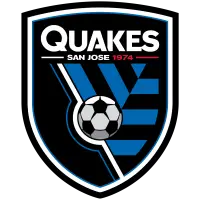 Quakes hold Western Conference leaders to scoreless draw
October 19, 2020 - Major League Soccer (MLS) - San Jose Earthquakes News Release



San Jose Earthquakes midfielder Cristian Espinoza (right) vs. Seattle Sounders FC
(San Jose Earthquakes)
SAN JOSE, Calif. - The San Jose Earthquakes earned a point in a scoreless draw against first-place Seattle Sounders FC on Sunday night at Earthquakes Stadium. The Quakes are now unbeaten in five of their last six matches, holding a 4-1-1 record in that span.
The Quakes' defense recorded its third shutout in the last four matches and held the league's second highest scoring offense to just four shots, a season low.
The Earthquakes will now prepare to travel north to face Vancouver Whitecaps FC in Portland, Ore. on Saturday, Oct. 24, presented by Valley Health Plan. Kickoff from Providence Park is set for 7:00 p.m. PT and the match will be broadcast live on NBC Sports California, KNBR 1050 and 1370 KZSF.
GAME NOTES
San Jose now holds a 6-7-6 record in the 2020 regular season and sit above the playoff line in seventh place, just one point out of fourth place.
The Earthquakes now hold a 4-1-1 record in their last six matches and an undefeated 2-0-2 home record in their last four matches at Earthquakes Stadium.
Homegrown goalkeeper JT Marcinkowski secured his third shutout of the season and fourth of his MLS career. He has now recorded a shutout in three of the last four matches and holds a 4-1-2 record in seven starts this season.
Forward Chris Wondolowski made his 300th start for the Quakes, becoming the third player in MLS history to reach the milestone for a single club (Nick Rimando - RSL, Kyle Beckerman - RSL). He is the only player to accomplish the feat with his original MLS club.
The Quakes held Sounders FC forward Jordan Morris without a single shot for just the second time in his 14 starts this season.
MLS Regular Season
San Jose Earthquakes 0 - 0 Seattle Sounders FC
Oct. 18, 2020 - Earthquakes Stadium in San Jose, Calif.
Man of the Match: Judson
Scoring Summary: None.
Misconduct Summary: SJ - Judson (caution) 53; SEA - Yeimar Gomez (caution) 76.
SAN JOSE EARTHQUAKES: JT Marcinkowski, Nick Lima, Oswaldo Alanis, Florian Jungwirth, Tommy Thompson; Carlos Fierro, Judson, Jackson Yueill, Cristian Espinoza (Shea Salinas 86); Andy Rios, Chris Wondolowski.
Substitutes not used: Eric Calvillo, Cade Cowell, Luis Felipe, Siad Haji, Paul Marie, Jack Skahan, Daniel Vega.
SHOTS: 11, SHOTS ON GOAL: 1; SAVES: 1; FOULS: 17; CORNER KICKS: 6, OFFSIDES: 0.
SEATTLE SOUNDERS FC: Stefan Frei; Nouhou (Kelvin Leerdam 90+2), Shane O'Neill, Yeimar Gomez, Joao Paulo; Cristian Roldan, Jordy Delem, Nicolas Lodeiro, Alex Roldan; Jordan Morris, Will Bruin (Miguel Ibarra 82).
Substitutes not used: Josh Atencio, Stefan Cleveland, Justin Dhillon, Ethan Dobbelaere, Shandon Hopeau, Roman Torres.
SHOTS: 4; SHOTS ON GOAL: 1; SAVES: 1; FOULS: 11; CORNER KICKS: 2, OFFSIDES: 1.
SAN JOSE EARTHQUAKES HEAD COACH MATIAS ALMEYDA
On tonight's performance:
"There are many positive things. For my way of seeing football, we played against the best team in the league. We played against a team that beat us 7-1 not too long ago. A team where I respect their coach greatly, and I think they have the best player in the league, [Nicolas] Lodeiro. Realistically we had a really intelligent game and the players had a magnificent delivery. You couldn't tell that we played four days ago. I think that with this concentration, this attitude and this mobility, this is the team that we like and want to see."
On whether he looks at other scores around the Western Conference:
"Truly, I don't think about playoffs. I only wish that this team finishes playing this season with a self-identity; A season that for a moment for us was completely negative. So, I'm taking it game by game, while only focusing on ourselves."
On the team's overall mindset:
"I think that the players have regained their confidence and we have worked hard to be able to compete again. It wasn't easy to get back up after so many losses and conceding so many goals. We insisted, based on our path, to recognize that when the team is doing bad, they suffer, but when they are united and play as a team, they compete. I think we now see a team that works hard, where everyone runs and everyone plays. The players now play with a confidence that they didn't have a month ago. I hope they can keep this momentum, stay calm, and strive for more."
SAN JOSE EARTHQUAKES GOALKEEPER JT MARCINKOWSKI
On the team's confidence about making the playoffs:
"I think we're just trying to take it day-by-day, game-by-game. I think, obviously, the end goal is to get into the playoffs and have a chance at competing for the cup because we feel that we really can win it. That's pretty far away, and there's a lot of things that have to happen before that. All of our attention is on Vancouver for next week. I think it's nice that we have a few days off, more than normal. We're going to have a really good week in training, get back to the basics on a lot of things, and make sure that we're ready for Vancouver. That's the most important thing, and the rest will fall into place the way it should."
On the importance of having enough days to train before the match:
"I think a lot goes into it. Like you said, when we're playing all the time, it's a lot more recovery rather than working on things that need to be improved. That's not just for me but the entire team. I think, goalkeeping-specific, with a full week, each day will be a focus and try to hone in on things that need to be improved. Not only with just goalkeeping, but with the longer week, that means the session can be a bit longer. We can be more with the team and get a full training rather than it mostly be recovery."
On the adjustments made for playing with Oswaldo Alanís and Florian Jungwirth for the first time:
"Yeah, I'm not sure if much changes to be honest. Obviously, Oswaldo [Alanís] has played at the highest level and like you were saying, he's a veteran, but I think Tanner [Beason] has done a fantastic job when he's been in. Not much really changes for me. I try to communicate as much as I can with them and make sure everything is organized in the back. Obviously, Flo [Florian Jungwirth] and Oswaldo do a great job communicating to Judson and Jackson [Yueill] in front of them and so does Tanner. We're really fortunate that we have three guys who can play really well. I mean, like you saw against Portland a few weeks ago with Jacob [Akanyirige] coming in as well, he did a great job when he started and played 70 minutes. We have a surplus of center backs at the moment. No matter who plays, they're 100% confident, and everybody in the team knows that they're going to do really well."
SAN JOSE EARTHQUAKES MIDFIELDER CARLOS FIERRO
On being in good form:
"I am very happy to be playing as much as I am. It's something that I worked hard to do in every training. I am really happy and motivated. My objective is to contribute to the team as much as I can. The important thing here is that the team keeps improving and working in order to make it to playoffs."
On overcoming adversity:
"We had difficult games in the past. We knew we were at our lowest point and in last place. But in each training, Matias helped us shift our mindset with the idea that we once competed and were once at the top. I think every player applied themselves and began to fight together. I am happy now because of where we are and ultimately because we are united."
On the team's capability to compete:
"The team is here to fight. We have to carry this team as high as we can. We are obviously aiming for playoffs; we are either in or out. The team, day after day, game after game, we know what we want and are getting closer to that. We are aiming for a trophy, but first our focus is playoffs. Tonight, we competed against a first-place team; a team that once defeated us by a lot of goals, but I believe they played against a different team tonight. We are a team that will fight, and it won't be easy to knock us out."
Images from this story
• Discuss this story on the Major League Soccer message board...


Major League Soccer Stories from October 19, 2020
The opinions expressed in this release are those of the organization issuing it, and do not necessarily reflect the thoughts or opinions of OurSports Central or its staff.
Other Recent San Jose Earthquakes Stories