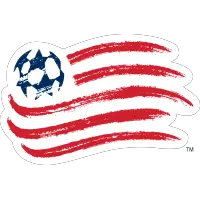 Revolution Fall to Philadelphia Union, 2-1
October 19, 2020 - Major League Soccer (MLS) - New England Revolution News Release



FOXBOROUGH, Mass. - The New England Revolution (7-5-7, 28 pts.) fell to the Philadelphia Union, 2-1, at Gillette Stadium on Monday night in the teams' third regular season meeting of 2020. Philadelphia scored the game's opening two goals, first taking the lead through an own goal by Andrew Farrell in the 34th minute, before Anthony Fontana doubled the visitors' lead with a chipped shot in the 69th minute. New England's Tajon Buchanan pulled one back with a right-footed strike from distance in the 80th minute, and had a potential equalizer ruled offside minutes later.
The Revolution retain fifth place on the Eastern Conference table with four games remaining in the regular season. The team will look to remain above sixth place in order to advance directly to Round 1 of the MLS Cup Playoffs and avoid a single-elimination play-in round. The top-four teams in the conference will host a Round 1 match.
Both of Buchanan's two goals this season have come against Philadelphia. The second-year winger has started seven of New England's last eight games, and is one of three Revolution players - along with Teal Bunbury and Adam Buksa - to appear in every match this season. He paced the team with three shots on target in tonight's contest. Buchanan's goal was assisted by Matt Polster, who now has assists in back-to-back games for the third time in his MLS career.
In net, Matt Turner made three saves in his 65th league appearance with the Revolution. That moves him past Jeff Causey for third-most games played in goal in club history.
New England returns to action on Friday, Oct. 23, when the club visits Nashville SC at Nissan Stadium, marking the team's away match against the MLS expansion side. The match kicks off at 8:30 p.m. ET on NBC Sports Boston, 98.5 The Sports Hub, and in Portuguese on WBIX 1260 AM Nossa Radio USA.
POSTGAME NOTES
New England Revolution 1, Philadelphia Union 2
October 19, 2020 - Gillette Stadium (Foxborough, Mass.)
Revolution Fall at Home to Philadelphia, 2-1
The Revolution (7-5-7, 28 pts.) lost, 2-1, at Gillette Stadium on Monday night to the Philadelphia Union.
New England's 2020 record against the Union falls to 0-3-1 in league play and 0-4-1 including the MLS is Back Tournament Round of 16. The two sides will meet for a sixth time in 2020 on Decision Day, Sunday, Nov. 8 at Subaru Park.
Head Coach and Sporting Director Bruce Arena's all-time record shifts to 217-129-104, and 15-8-15 with the Revolution. He owns a 6-3-4 career mark against Philadelphia.
Tajon Buchanan Tallies Second Goal of the Season
Revolution forward Tajon Buchanan scored in the 80th minute - his second goal of the season. His first tally also came against the Union in the teams' last meeting on Sept. 12.
Buchanan finished the night with four shots, a team-high three on target, and won six duels.
Matt Polster Registers Second Revolution Assist
Midfielder Matt Polster provided the service on Buchanan's goal on Monday, his second assist in a Revolution uniform. In 31 minutes off the bench, Polster completed 26 of his 29 passes and won two duels.
Polster recorded his first assist of the season in the 3-2 win at Montreal on Oct. 14, giving him assists in back-to-back games for the third time in his MLS career.
Bunbury, Fagundez, and Nguyen Approach Milestones
Forward Teal Bunbury and midfielder Lee Nguyen each made their 199th Revolution appearances in tonight's match, tied for 10th in club history. With one more appearance, they would become the 10th and 11th players to appear in 200 regular season games in a Revolution shirt.
Tonight's game was also Bunbury's 199th career MLS start, moving him within one of the 200 mark. Bunbury's 288 games played are 12th among all active MLS players.
Midfielder Diego Fagundez notched his 259th regular season appearance, moving him within two games of matching Shalrie Joseph's club record of 261 league appearances in a Revolution shirt.
Revolution Make Six Changes to Starting Lineup
The New England Revolution made six changes to the starting lineup from Wednesday's victory against Montreal, with Andrew Farrell, Henry Kessler, Scott Caldwell, Tommy McNamara, Tajon Buchanan, and Lee Nguyen replacing Michael Mancienne, Antonio Delamea, Matt Polster, Kelyn Rowe, Diego Fagundez, and Kekuta Manneh.
Monday's game marked the first time this four-man defensive combination has started a match together. Alexander Büttner and DeJuan Jones started at left back and right back, respectively, while Andrew Farrell and Henry Kessler return in central defense after getting a rest on Wednesday against Montreal.
Scott Caldwell returned to the starting lineup for his 11th start in central midfield of the season. The Braintree, Mass. native played 60 minutes, leaving him 81 shy of eclipsing 15,000 minutes played for his regular season career.
GAME CAPSULE
Referee: Rubiel Vazquez
Assistant Referee: Nick Uranga (AR1), Matthew Nelson (AR2)
Fourth Official: Adam Kilpatrick
Video Assistant Referee: Jose Carlos Rivero
Weather: 54 degrees and mostly cloudy
Attendance: N/A
Scoring Summary:
PHI - Andrew Farrell (Own Goal) 34'
PHI - Anthony Fontana (Jamiro Monteiro) 70'
NE - Tajon Buchanan (Matt Polster) 80'
Misconduct Summary:
PHI - Sergio Santos (Yellow Card - Persistent Infringement) 57'
PHI - Jamiro Monteiro (Yellow Card - Time Wasting) 87'
NE - Matt Polster (Yellow Card - Bad Foul) 90'+2
New England Revolution: Matt Turner; DeJuan Jones, Andrew Farrell, Henry Kessler, Alexander Büttner; Scott Caldwell © (Matt Polster 59'), Tommy McNamara (Diego Fagundez 59'); Tajon Buchanan, Lee Nguyen, Teal Bunbury; Adam Buksa.
Substitutes Not Used: Brad Knighton, Brandon Bye, Michael Mancienne, Antonio Delamea, Seth Sinovic, Kelyn Rowe, Kekuta Manneh.
Philadelphia Union: Andre Blake ©; Raymon Gaddis, Mark McKenzie, Jakob Glesnes, Kai Wagner (Matt Real 89'); Jack Elliott, Jamiro Monteiro, Brenden Aaronson, Anthony Fontana (Andrew Wooten 78'); Sergio Santos (Ilsinho 60'), Kacper Przybylko (Cory Burke 78').
Substitutes Not Used: Joe Bendik, Olivier Mbaizo, Cole Turner, Aurélien Collin, Michee Ngalina.
New England Revolution Team Statistics Philadelphia Union
22 (8) Shots (on Target) 7 (3)
7 Blocked Shots 0
2 Saves 7
7 Corner Kicks 2
2 Offsides 0
13 Fouls 16
490 (82.2%) Passes Attempted (% Completed) 391 (79.4%)
56.7% Possession 43.3%
POSTGAME QUOTES
New England Revolution Sporting Director & Head Coach Bruce Arena
On his thoughts on the game:
Arena: "I thought at the start of the game they had control of the game. They put us under pressure, I thought, for the first 10 or 15 minutes and then we got ourselves in the game. The own goal was obviously a big play in the game. It makes us chase the game. I thought in the second half we played well. On the whole, we should walk off the field with more than one goal tonight. And give their goalkeeper a lot of credit. He made a couple of outstanding saves."
On the team's struggles against Philadelphia this season:
Arena: "I think they defend well. I think defensively they're good, and they have an outstanding goalkeeper. I think that's what has made them successful is really, I think, their defending. Other people would say it's their attacking play because I think they've probably been pretty good in the attacking end of the field as well. But I think the difference maker for them is their defending."
On Tajon Buchanan's performance:
Arena: "He played very well today and he continues to develop. He's becoming a very good player."
On generating more scoring opportunities in the second half:
Arena: "Fatigue set in for Philadelphia. At times, they were content with dropping off into their defensive half of the field, but we obviously played a little bit better as well. Not unusual that that happens in games like this."
On Buchanan's potential game-tying goal being ruled offside:
Arena: "You don't need me to analyze the referee. I think anybody who watched the game could make an assessment on that. I think the difference in the game was [Andre] Blake. Blake made a couple outstanding saves. The [Teal] Bunbury header and Lee Nguyen's free kick - those are two outstanding saves. That would've got us a point in the game. Again, I said the own goal was big and we could've done better on their second goal, for sure."
On the turnaround to Friday's away match at Nashville:
Arena: "It's like we do every week. It's not any different than anything we've done since we've come back to play. Every team in the league does this exact same thing. You move onto the next game, win, lose, or draw."
On if he has an update on Gustavo Bou's status:
Arena: "Not really. He's getting better. He'll be back soon."
Revolution Forward Tajon Buchanan
On scoring a goal and having another disallowed:
Buchanan: "That first one, the ball just came out to me and I kind of just drove to the net. I saw DeJuan [Jones] coming on the overlap, he created that space for me, and at that point the defender was dropping off and I just wanted to hit it with confidence and was glad it went in. The second one I haven't seen yet, I thought I wasn't offside obviously but at the end of the day, the ref called it. Like I said I haven't seen it yet so not much to say about that."
On the frustration of not being able to find the breakthrough earlier:
Buchanan: "I think they kind of hit a wall at the end. We were pressing, pushing, and playing well for a lot of the game and it was just a matter of time before they started breaking down. Once they started dropping off a little bit when they had the lead, the ball was going to be in our favor a lot more. We just were a little unlucky on our chances."
On what makes Philadelphia such a tough opponent:
Buchanan: "They're one of the best teams in the East right now, if not one of the best teams in MLS. Their record shows it and every time we've played them it's been a tough game. They're a great team, there's not much you can say really. We had our chances and tonight we actually played very well, we just came up short. Hopefully next time we play them we can get three points."
On if his goal is one of the best he's ever scored:
Buchanan: "I would say so, definitely. It was nice."
On positive takeaways from the loss:
Buchanan: "Definitely. Like I said they're one of the better teams in MLS and we're right there. We should've at least came out with a point today, if not a win, so it just shows that we're progressing every day and every game we play we're getting better as a team. Hopefully we can just keep moving in the right direction and pretty soon we can start getting the results we want."
Revolution Midfielder Lee Nguyen
On Andre Blake's performance:
Nguyen: "He's a top goalie. I think one of the best in the league. He can make outstanding saves as you say tonight. I think we were unfortunate not to get the equalizer, but we created a lot of chances and felt unfortunate we didn't get at least a point tonight."
On the team's home form this season:
Nguyen: "I feel like this season, it's just been a tough streak. It's been a lot of demand physically on the body with a lot of games. Unfortunately, I feel like it's not where we want to be at home. With the results, a result away is better than at home right now. We want to right that wrong before the postseason. I felt like it's a good Philly team tonight. We did well in the second half there, but we just weren't able to get the goals tonight."
On why the team couldn't convert chances into goals tonight:
Nguyen: "I don't know how many shots we had on goal, but [Andre] Blake had to come up big a couple of times and he did. This is one of the top teams in the league. I thought we did pretty well against them for most of the stretch of the game. The first goal they scored is an own goal - that's unlucky for us. Second goal, we got to do a little bit better not to let [Anthony Fontana] get so open. But he did a great finish to get the ball over Matt [Turner] there. Other than that, I feel like we controlled most of the game. It comes down to making the play there at the end. Credit to Blake for coming up big tonight."
On if going toe to toe with Philadelphia gives the team confidence heading toward the playoffs:
Nguyen: "Absolutely. I think we've shown that we can go toe to toe with some of the best teams in the league so far. This was a taste of what the postseason is going to be. I think this is good for us to see what we need to work on to improve and how close we are. It was a good test, for sure."
On using the remainder of the regular season to build confidence:
Nguyen: "It's important, I think, to put ourselves in a position to hopefully - if we can get home field advantage, this is big time. But we've shown we can play away from home as well, so we shouldn't be too worried about that. These last couple of games is key to getting our form for the postseason. Again, we're going to be tested with some big matches coming up. All these games, the teams, we're all still close. We're all still trying to clinch that playoff spot. It's going to be crucial for us, these next four games."
• Discuss this story on the Major League Soccer message board...


Major League Soccer Stories from October 19, 2020
The opinions expressed in this release are those of the organization issuing it, and do not necessarily reflect the thoughts or opinions of OurSports Central or its staff.