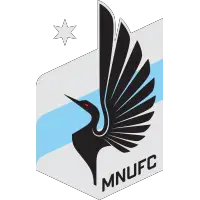 Loons Draw at Home
October 19, 2020 - Major League Soccer (MLS) - Minnesota United FC News Release



SAINT PAUL, Minn. - After their games against first FC Dallas and then Chicago Fire FC were postponed for positive and inconclusive COVID-19 tests, respectively, the Loons found themselves at Allianz Field after nearly two weeks without a game, but also idle for much of that time. Short on game fitness, they faced a Houston Dynamo squad short on rest but desperate to climb the standings. While MNUFC pulled ahead early on the strength of a brace from Ethan Finlay, the squad couldn't hold off an aggressive Dynamo side that found its own pair of goals in the second half to snatch a draw from the jaws of defeat.
Before the 10th minute, Minnesota United had to cope with an injury. Midfielder Hassani Dotson was taken down by Adam Lundkvist neat midfield, earning a yellow card. Dotson walked it off and was game to continue, but clearly looked hobbled.
Minutes later, the home side opened the scoring after forward Kei Kamara flicked the ball on beautifully to midfielder Robin Lod, jetting ahead of the pack down the left wing. He spied midfielder Ethan Finlay on the right side and sent it across, allowing Finlay to square up and deliver an on-point strike into the upper left corner to give the Loons a 1-0 lead.
In the 15th minute, midfielder Osvaldo Alonso - returning from injury and active for the first time since September - checked in for the struggling Dotson. For their part, the Dynamo wasted no time getting back on the attack, doing their best to get everything going downhill towards the Minnesota goal.
Thirty minutes into the game, Finlay found the back of the net once again to complete his brace. Midfielder Jacori Hayes made a deft turn away from a defender, opening up the field and slotting it ahead to Finlay cutting diagonally through the backline. Finlay struck it left-footed and over goalkeeper Marko Maric to make it 2-0.
Again, the visitors were not about to lie down and let Minnesota dominate them, though, lining up opportunities and winning the possession battle overall in the first half. In the 34th minute, they nearly snatched one back as forward Mauro Manotas struck the woodwork after ripping a shot over goalkeeper Dayne St. Clair's fingertips. As the teams headed into the locker rooms, Minnesota was in the driver's seat on the scoreboard, even if their hold on the game was tenuous.
To start the second half, Houston brought on Niko Hansen for winger Ariel Lassiter - a fortuitous substitution, as it would turn out. In the 59th minute, the visitors gave Minnesota a taste of their own medicine on the counterattack after a breakdown at midfield. Hayes turned the ball over and the Dynamo got on their horses. The ball found its way to Memo Rodriguez on the right side and he drilled a shot past St. Clair to cut the deficit in half.
The goal gave Houston a shot of energy and also seemed to take whatever wind Minnesota had out of their sails. From there, the Loons got stuck in their own end with Houston passing crisply and then pressing aggressively whenever they lost possession. In hopes of stanching the bleeding, Head Coach Adrian Heath put in midfielder Marlon Hairston for Finlay, giving the team a more defensive 4-3-3 formation, and also brought in forward Aaron Schoenfeld for Kamara.
But the Dynamo would not be denied and in the 83rd minute, Niko Hansen karate kicked home an equalizer at close range after Houston once again found room to run on the break. With Houston running low on gas after a compressed schedule and Minnesota looking worn out after missing a lot of regular training over the last week and a half due to coronavirus issues, neither team seemed to have it in them to go find the winner and Minnesota would have to content themselves with a point at home and hopes for a regular week of training to prep for a trip to Cincinnati next weekend.
BELL BANK MAN OF THE MATCH: Midfielder Ethan Finlay
GOAL BREAKDOWN
11' | Kei Kamara gets a nice little touch on a ball through to Robin Lod who jets ahead of the pack on the left wing, finding Finlay on the right side. Finlay squares up and hits it into the top left corner. 1-0
30' | Terrific pass by Jacori Hayes after turning to avoid pressure. He slots it ahead to Finlay, who is cutting diagonally through the defense. Finlay strikes it left-footed and over the keeper for his second goal of the game. 2-0
59' | Houston giving Minnesota a taste of their own medicine after a breakdown at midfield that leads to a turnover by Hayes. Houston gets on their horses and Rodriguez ends up with it on the right side of the box, drilling a shot past St. Clair. 2-1
83' | Niko Hansen karate kicks the shot in from close range after St. Clair knocked the cross away. 2-2
LINEUPS:
Minnesota United: GK Dayne St. Clair; D Chase Gasper, Bakaye Dibassy, Michael Boxall, Romain Metanire; M Hassani Dotson, Jacori Hayes, Kevin Molino, Robin Lod, Ethan Finlay; F Kei Kamara
Houston Dynamo: GK Marko Maric; D Zarek Valentin, Víctor Cabrera, Maynor Figueroa, Adam Lundkvist; M Darwin Cerén, Matías Vera, Memo Rodríguez; F Ariel Lassiter, Mauro Manotas, Darwin Quintero
UP NEXT
Minnesota United @ FC Cincinnati
Nippert Stadium | Cincinnati, Ohio
10.24.20 | MLS Week No. 20 | MLS Game 18
6:30 p.m. CT (FOX Sports North, FOX Sports GO, MNUFC Radio on SKOR North)
MINNESOTA UNITED QUOTE SHEET
MINNESOTA UNITED HEAD COACH ADRIAN HEATH
On tonight's performance ...
"I thought we were going to get away with it. We had a couple of moments of quality in the first half. Great run from Ethan [Finlay]. Great finish. A couple of quality balls. But, even in the first half, we looked, what we were. A team who hadn't done an awful lot in two weeks. Didn't look sharp. Didn't look focused. And, you know, with the start that we had, I thought we were going to get away with it. But, as the game wore on, our decision making got worse and worse as we got tired. And, in the end, I was quite thankful that we got a point to be honest."
On not giving up a goal in 350 minutes until tonight's second half, and if the fatigue played a factor there ...
"Yeah, but we made poor decisions in critical areas most of the evening. I said before the game to the players, if you give Darwin [Quintero] time and space, that's when he can cause you problems. And, we gave him too much time and space at times. Very naïve in terms of leaving him when we weren't in really good possession of the ball, and, you know, he made us pay with some of his play. They kept going. They looked like a team that are in a rhythm because they've been playing. They played all their games. They looked sharper than us, I'd have to say."
On Ethan Finlay and his performance since getting back on the field ...
"You know what you're going to get from Ethan [Finlay]. He's a terrific professional. He takes care of his body, so, we weren't surprised that he came back after the layoff in the condition that he did. And, obviously, goals. He had the opportunity in Nashville with a similar run, diagonal run inside people. And, tonight, he got quality balls and he had two quality finishes. So, you know, it's been a good evening for Ethan and he'll be better for another sort of 70 minutes under his belt."
On the tackle on Hassani Dotson and his status ...
"Well, it looks really, really swollen. We'll have a better idea tomorrow. I thought it was a really poor challenge. Yellow card, bordering on a red, maybe. But, it doesn't look good for Hassani [Dotson] at the moment."
On what the Loons missed in the second half ...
"Second half, well, a little bit like the first, I thought our decision making was poor all evening. You know, we ran with it when we should have passed it, we passed it when we should have ran with it. We made poor choices all evening. As I said, I thought with the start that we had, I thought we were going to get away with it the way that we were playing. But, in the end, it proved too much. We gave them too much space. We gave the opposition too much time on the ball and we turned the ball over in dangerous areas. And, when you do that. Invariably, it comes back to haunt you, which it did tonight."
On the same result against Houston twice in a row with a 2-0 lead in the first half and ending in a 2-2 draw ...
"Well, I'm obviously not pleased with it. And, it's one of them things that you don't think about again. But, it has happened again. We actually mentioned it at halftime. You know, that we've been in this position before, but, that circumstances were a little bit different. We were playing regular and I felt more disappointed in Houston, to be honest, because there was not an excuse. I'm not giving them an excuse with the way that the game has changed tonight, but there are mitigating circumstances when you consider what the team has been through in the last couple of weeks."
On Emanuel Reynoso's status and why he didn't play tonight ...
"Medical. Medical condition. Hopefully he'll be okay, maybe, for next week."
On how much the team missed Emanuel Reynoso tonight ...
"We missed his decision making at times, and his ability to keep the ball. I think in the first half, we had two or three occasions where, if we had had a good final ball, we'd maybe get somebody else in. But, no, we're missing a quality player. And, it seems to have been the case nearly all year that we've been without big pieces. They're important pieces for us. As I said a couple of weeks ago, I hear people talking about injuries and suspensions for other teams. I don't think, when I look at the year that we've had, I think the players can take a great deal of credit for where we actually are. And, obviously, it doesn't feel like that this evening because you get really disappointed having been 2-nil up. But, you know, this group has had to cope with an awful lot this year and I think we've done it admirably at times. Tonight, has been a disappointment. I can't lie. But, we've got a week to prepare for the next game and hopefully we'll be better. I think we will."
On if the cold night effected either side ...
"No. I don't think the cold makes a problem for people making poor choices."
On the rescheduled date for the Chicago Fire game - October 21 or November 4 ...
"We're still looking at it. We're still talking with the league. There is opportunities to fit it in. I would think it's looking more likely than maybe on the [November] 4th, but we'll wait and see for the confirmation."
On how the players have responded and dealt with the circumstances over this past week ...
"Well, it's not been easy. And, I think it has sort of accumulated into the performance this evening. You know, as I said, I think we've trained together in the last two weeks, twice. Even the day, the prep of the game, you're training with five players. We had four sessions of five players. So, it's not ideal. It's bordering on ridiculous, really, but they are the rules. And that's where we find ourselves."
On Osvaldo Alonso's return to the field tonight and what he saw from his performance ...
"What you see is what you get. We knew what we'd get. But, you know, the idea was maybe give him 10 minutes if we were lucky. We certainly weren't expecting him to play, what was it, 70 minutes or maybe more. So, hopefully he'll come through okay, because we can ill afford him to have any reoccurrence of his issue, but, he feels okay at the minute, but, obviously, that might benefit us, him getting through it, because we're certainly going to need him in the next few weeks."
On the positives he'll take from tonight's game ...
"Two good goals for Ethan [Finlay]. I thought Jacori Hayes, he'll obviously be disappointed for his mistake for the goal tonight, but, I thought he had a really good first half. Him and Hassani [Dotson] started the game really strongly. But, obviously, there's not an awful lot. Hopefully, the only positive might be that we get through unscathed apart from Hassani. And, if we do, that will help us in the buildup for next week."
On Minnesota United having approval to resume full team training this week ...
"Yes. We're hoping that everybody is available to train. Yeah."
MINNESOTA UNITED MIDFIELDER JACORI HAYES
On giving up the two goal lead...
"We're all disappointed. We feel like it was a couple points lost and we could've been in a good spot in the standings with a game in-hand. You know, when you sit back and take it in as a whole, the lack of training we've had this week, and a couple games, kind of the off-up and-down mentality that we've had to go through...a little roller coaster here. A tie isn't the end of the world, but definitely we're a team with high aspirations, so 2-nil up at home going into the second half, you want to leave out of here with three points."
On if he saw the tackle of Hassani Dotson...
"No, I didn't get a good angle on it. I was honestly looking to where the pass was going. When you see something like that, a player gets sent off that early, asks to come off that early, you question if it should've been a harder sentence for the player. I have to watch it back again, so I'm speaking without any knowledge."
On what he thinks is his biggest strength...
"My job is trying to win bad balls and keep possession and, you know, if I have some passes that lead to assists that's just like icing on the top. At the basic level I just want to work on keeping-winning the ball and keep the ball moving. Definitely a game to look back and there's definitely things to improve on. You know, the first goal was my fault with the turnover...I'll look back at that and figure out ways that that won't happen again. It's always a learning process for me and like I said, at the basic level it's just winning back balls and keeping possession."
On the sting of the turnover...
"You try to move on from it quickly during the game, but it's hard not to think of it afterwards. I'll probably sit on it the rest of the night and then tomorrow's a new day. This week's a new opportunity for me to get better and prepare for the next game this weekend."
On the lack of performance during the second half...
"It's hard to say. We haven't had much training and it's a balance, you know teams are coming in and they've had games, they've had rhythm, but in theory you would think we would be fresher without games, but sometimes it's better to just keep playing every day and we have that rhythm. Even yesterday, we only trained in groups of five, so it's been pretty tough on the team as a whole for the past couple of days. We will go back to the drawing board and fix that going forward. Basically, I think it starts with the mentality that we're up 2-nil we're not giving up this lead, no matter how ugly it gets, we just got to get the job done."
On the assist to Ethan Finlay...
"I think it was a pass from [Bakay] Dibassy or from Chase [Gasper] coming from the left, I want to say it was Dibassy. I kind of wanted to play it first time around the corner to Robin [Lod], but I think the defender started cutting that of so I was like, oh, I'll probably just turn with this...then once I got around him I was kind of seeing what was going. I saw Ethan kind of flash across and honestly in those moments you're not even really thinking, you're kind of going into autopilot and just kind of muscle memory and, I don't know what people coin it, 'in the zone', just sort-of things take over, you're not really sure what's going on. Just saw Ethan going across and slipped it through and he did all the rest. There was still a lot more to do and it was a fantastic finish. He makes me look better there."
On when they found out they were going to play tonight...
"Probably last night. We got a text that it was one hundred percent going through. Yeah, Chicago was an interesting one...I already took my shower to get ready and get dressed to go to the game and we get a text that it's called-off. Just kind of speaks to the week that we've had. It's been tough on the group, but we move forward. There are no excuses, we just have to keep playing and push for the playoffs."
On how Osvaldo Alonso played in his return...
"It was good to have Capi [Osvaldo Alonso] back. It's tough coming back from a muscle injury and I think he did well. He'll have that leadership presence for us moving forward. I don't know what Hassani's deal is, hopefully he's back for the next game, but it seems we'll need all hands-on deck and we're just going to keep pushing for those playoffs."
MINNESOTA UNITED MIDFIELDER ETHAN FINLAY
On how you are feeling after two games and scoring twice...
"Good timing on some runs, the first goal was just a breakout play that we thought we would have the most of the night. Robin [Lod] makes a heads up play, a timely pass across. Ironically enough I had been working on that shot the last couple of days when I was able to train and I took maybe ten of those, very similarly yesterday. I was struggling and wasn't hitting quite as consistently as I'd like to. So it was nice to hammer that one home, especially with the left foot. It's something I've been working towards trying to get a little bit better at when I am in those moments.
The second goal was a heads up play by 'Debo; [Jacori Hayes]. It was a heads up pass, obviously I am making a nicely timed run but if he doesn't pick his head up and see that pass, that goal doesn't happen. Great assist by him there and great to come in at halftime up 2-0 but disappointed with the result."
On any positives from tonight's match...
"Every player personally can look at their game and I think for me I was disappointed I didn't finish some great opportunities in the Nashville game. So it's nice to get on the score sheet and get in those positions again. The reason we are disappointed is we expect to win these games. Any time you are up 2-0 at home the expectation is to win. This group has a mentality that we hold ourselves accountable, we hold ourselves to a higher standard and that's why we are extremely disappointed. Tonight felt self-inflicted. Very unbecoming of what this group is and hwat we have worked towards in a very difficult year. We aren't going to use it as an excuse that we had limited training but I think that you saw it as you looked around the field. People would think heavy legs shouldn't be a thing if you've only had three days of training out of ten, but theres this sense of you need great power in your legs and you need to build into that throughout the week. Tonight there were some of those moments where we didn't have the ability to keep the ball and to shift and move into space. It was due to us just not quite having the legs and the capacity in those moments to be calm and that's why the game ended 2-2."
On turning it around after one win in seven games...
"You look for the next game, you look at Cincinatti on Saturday and you say this is a team, when they came here a few weeks ago, that we played well against and dominated for most of the game. But also we are going to be traveling and going on the road, which for every team has been a difficult thing this season flying in day of. You have to look at the next opportunity. We expect to go there and really have a real chance at getting three points. You look at the standings and you don't know if they are going to go to points per game - the league hasn't come out and said anything - but we want to get points home and away and we think this group is capable of doing that. Tonight is disappointing because it was a chance for us to move up in the standings and we didn't do so."
On the absence of Reynoso...
"You know we were missing a really talented player, but it wasn't the reason we lost tonight. This was self-inflicted. I'm not saying Reynoso wouldn't have had a positive impact tonight, but we could have won this game without Reynoso. His ability was missed on the field offensively and defensively but I thought we had a strong enough lineup and we performed plenty well enough to win that game. I don't point towards personnel not being available as a reason we lost this game by any means."
On maintain focus and fitness with up and down schedule...
"I feel good. I am building into it and I was even impressed with myself in the Nashville game, I'm not sure Adrian [Heath] planned on playing me ninety minutes, but he saw that I was able to do it and I came out of that game feeling good. Disappointing with the layoff, not just myself in coming back from injury, but there was plenty of other guys who need to build that power in your legs and especially at this point in the season, there has been so much variation in how the season has gone you are really still building that. It's something you normally see guys hit late in the summer and we are kind of just hitting that stride right now. The last ten days has been difficult on this group. I'm not going to use it as an excuse because tonight was self-inflicted and we were more than capable of winning this game, but we need to improve. We know there are going to be variables that are put in front of us but we need to be tough and we've got the leadership to be able to do that."
On Hassani Dotson's tackle early in the match and Osvaldo Alonoso's performance as a sub tonight...
"I expect the league to look at it. I haven't seen every angle but I've seen Hassani's leg, I saw how late the challenge was, and it was enough for me that I question why hasn't VAR stepped in. [Adam Lundkvist] is so far over the ball, so far late, these are the types of challenges that, in my mind, have to be taken out of the game. It's just not acceptable and that's what VAR is there for. I don't know if they didn't have the angle or if they feel it deemed enough but anytime a player comes off injured, and I know [Hassani] stayed on another minute or two, but anytime a player comes off injured, there's a level of severity that needs to be looked at. I do question why they didn't look at it. Maybe they did, I haven't seen any reports that they did, and they felt like it was only a yellow [card]. But I think for a player to go off injured, in a late challenge like that, over the ball, not catching him on the ankle but catching him above that ankle and he actually turned his ankle, I thought it was a pretty forceful challenge.
And on Ozzie [Alonso], yea. Ozzie, I talked to him after the game, he was faced with a challenge a little bit how I was, playing significant minutes in his first game back and I thought he did good. For a guy, 34 years old, coming back from an injury almost since weeks, I think, he's been out, to come back in a tough game, cold, coming off a hamstring thing, not an easy thing to do. A strong performance from him to come back and we look to continue to have him build into this group."
On the playoffs possible being decided by points per game...
"I just read what you guys write. I've seen what some reports have been out there, ever since the Colorado [Rapids] situation but nothing has been confirmed. I know nothing, no inside knowledge or details but I think players are aware of that, that points are going to be extremely important, whether they go points per game or however they decide to fix this thing. This year, it's a crazy year, it's been crazy for everybody so we have to worry about what we can control. We drew tonight and that's a massively disappointing result here at home."
On Jacori Hayes...
"I think he's been great, really since Orlando. Jacori is a player that I early on identified as a guy who, I thought, was really going to play minutes on this team. He probably at the start of the year was thought of as the fourth center-midfielder in this group, behind probably Jan [Gregus], Ozzie [Alonso] and maybe Hassani [Dotson], but he's got a great mentality. He works extremely hard and he's taken every moment that's come to him. You look back at the Orlando tournament and he's getting goals there. [He's] a guy who really drives forward with the ball, not just a six. I thought when he came in, he was going to be more of a six. He's a guy who can play six, he can play eight, drive forward with the ball, great composure. I know he'll be the first to tell you, he's disappointed of losing that ball in the midfield that did lead to the goal but he's also a guy that holds himself to such a high standard and takes personal accountability. That's the kind of player that we want on this team. We all support him. Mistakes happen in this game. There was multiple errors, probably, on that play. I thought he played great. You see his ability offensively as well with the ball that he played to me. That's not the first time he's played a perfectly weighted pass. Underrated? Maybe, around the league, but obviously an asset that we looked at and we got him in the offseason. I think he's definitely punching above his weight right now."
On missing Jan Gregus and his possible return...
"I don't know that. I know that Jan is back in Minneapolis and following whatever the quarantine rules for his travel so I don't know those exact details but obviously we want to have every player available for this game. I'll reiterate, it was not the reason we lost the game tonight, the group that we had available tonight was plenty good enough to win."
• Discuss this story on the Major League Soccer message board...


Major League Soccer Stories from October 19, 2020
The opinions expressed in this release are those of the organization issuing it, and do not necessarily reflect the thoughts or opinions of OurSports Central or its staff.