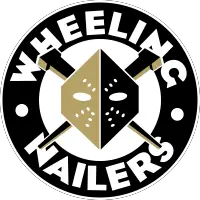 Nailers at Railers Game Day Snap Shot, March 16
March 16, 2018 - ECHL (ECHL) - Wheeling Nailers News Release



One Shy of the Sweep
The Wheeling Nailers came one victory away from sweeping their three-game homestand last week, as they won the first two contests against the Worcester Railers and Reading Royals, before Reading came away with the finale in front of a sellout crowd of 5,249 fans on Saturday night. Cody Wydo scored the opening goal of the night, as he buried the rebound of Reid Gardiner's shot, which was set up by Nick Sorkin. The Royals took the lead into the first intermission, as Matt Wilkins tallied on a rebound, and Matt Willows ripped in a shot off of the rush 1:50 later. Reading increased its advantage during the middle frame, tacking on three more goals for a 5-1 score. The Nailers received power play goals from Troy Josephs and Garrett Meurs, as they attempted to claw back, but the Royals skated away with a 6-3 win. Branden Komm stopped 24 of 27 shots in the victory, while Danny Tirone made 17 saves in his professional debut. Adam Morrison was 12-of-13 in relief.
The Tie That Wouldn't Break
The Worcester Railers and Adirondack Thunder both earned one point in their game on Sunday afternoon, but it took a long time to decide who was going to grab the bonus point. Adirondack netted the lone goal of the first period, thanks to recent trade acquisition, and former Nailer Kenton Miller. Jeff Kubiak drew the Railers even at the 1:27 mark of the middle frame, before the two sides exchanged goals later in the stanza, with Brian Ward striking for the Thunder and Matt Lane connecting for Worcester. After a scoreless overtime period, the divisional opponents went to a shootout, where the goaltenders were brilliant. Mitch Gillam and Olivier Mantha both stopped ten of the first 11 shooters they faced, with the lone goals coming in round four. Mike Cornell finally broke the deadlock in the 12th round for the Railers, before Gillam came up with one final save on Mike Bergin, giving Worcester the 3-2 triumph. 20 of the 24 shots were taken by forwards, including 19 of the first 20.
Count the Games on Two Hands
There are ten games remaining in the 2017-18 regular season for the Nailers, who are looking to solidify their 15th playoff appearance in team history. Wheeling will play road contests 32 and 33 this weekend, when it travels to Worcester and Adirondack, continuing a string of games against North Division opponents that has started with a 3-2-2 record. The Nailers won twice last week, while the Railers won once, increasing Wheeling's lead for fourth place in the division to eight points. Worcester has three games in hand, which will be played on March 18th (vs. Utah), April 1st (at Adirondack), and April 4th (at Reading). The top three spots in the North Division are occupied by Manchester (77), Adirondack (75), and Reading (74), who the Nailers have just two games remaining against. Wheeling is tied with Brampton for the fewest divisional games left, as both squads will play six against the North and four against the Central.
Rewrite the Record Book
The 2017-18 Nailers have set a new team record. Goaltender Danny Tirone made his professional debut on Saturday night, becoming the 54th different player to appear in a game with Wheeling this season. The previous mark of 53 was set during the 2007-08 campaign. This year's 54 players have been broken down to 28 forwards, 20 defensemen, and six goaltenders. 17 of the 54 have reached the American Hockey League at some point during the season, edging last year's total by one, while trailing the 2015-16 squad by two, as that group had 19 players earn a call to the next level. The Nailers have traditionally been known as a team that develops young players, and that has once again been the case this season, as exactly half (27 of 54) of the players have been rookies. The 2015-16 Brampton Beast own the ECHL record for the most players used in a season, as 70 different individuals appeared in at least one game.
A Chance to Take the Series
Friday night marks the eighth of nine head-to-head meetings between the Nailers and Railers this season, as well as the fifth and final battle at DCU Center. Wheeling grabbed a 4-3 lead in the set last Wednesday, when it scored three goals in the final seven minutes to defeat Worcester, 5-2, in a morning contest at WesBanco Arena. Both sides have swept a two-game weekend series in Massachusetts, as the Nailers won 5-2 and 4-2 in January, while the Railers came out on top 5-0 and 3-2 earlier this month. With one game left after Friday, Wheeling has a chance to secure the first ever season series triumph, needing one more win against a team who will end up being its divisional opponent for only one year. The top producers in the first seven games have been Cody Wydo of the Nailers and Nick Saracino of the Railers, who both have eight points. Saracino and Reid Gardiner each have four goals. March 21st is the final clash in West Virginia.
Wheeling Nailers (31-24-6-1, 69 Pts.) at Worcester Railers (27-25-4-3, 61 Pts.)
WHEELING NAILERS
(31-24-6-1, 69 PTS, 4th North, 6th East)
219 GF, 212 GA
PP: 20.2% (50-for-247), 3rd
PK: 79.7% (192-for-241), 22nd
11-F-Cody Wydo (25 goals, 30 assists, 55 points in 48 games)
8-F-Nick Sorkin (7 goals, 43 assists, 50 points in 59 games)
24-F-Reid Gardiner (26 goals, 22 assists, 48 points in 48 games)
23-F-Garrett Meurs (21 goals, 27 assists, 48 points in 51 games)
14-F-Riley Bourbonnais (21 goals, 19 assists, 40 points in 57 games)
28-D-Dylan Zink (4 goals, 18 assists, 22 points in 45 games)
29-G-Adam Morrison (14-11-1 record, 3.14 GAA, .906 Sv% in 28 games)
WORCESTER RAILERS
(27-25-4-3, 61 PTS, 5th North, T-8th East)
159 GF, 174 GA
PP: 12.7% (26-for-205), 26th
PK: 82.3% (163-for-198), 19th
19-F-Barry Almeida (18 goals, 32 assists, 50 points in 57 games)
21-F-Chris Langkow (17 goals, 26 assists, 43 points in 48 games)
18-F-Nick Saracino (9 goals, 17 assists, 26 points in 48 games)
23-F-Woody Hudson (17 goals, 7 assists, 24 points in 54 games)
16-F-Jeff Kubiak (11 goals, 13 assists, 24 points in 55 games)
6-D-Mike Cornell (2 goals, 15 assists, 17 points in 32 games)
35-G-Mitch Gillam (14-13-1 record, 2.49 GAA, .913 Sv% in 30 games)
Head to Head
Season/All-Time Series: Nailers 4, Railers 3
Season/All-Time Series at DCU Center: Nailers 2, Railers 2
• Discuss this story on the ECHL message board...


ECHL Stories from March 16, 2018
The opinions expressed in this release are those of the organization issuing it, and do not necessarily reflect the thoughts or opinions of OurSports Central or its staff.