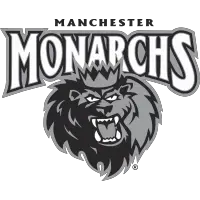 Monarchs Weekly
April 4, 2011 - American Hockey League (AHL) - Manchester Monarchs News Release



LAST WEEK'S HIGHLIGHTS
@ Worcester (4/1): Left wing John McCarthy potted both of the game's two goals as the Manchester Monarchs fell to the Worcester Sharks by a 2-0 margin on Friday evening at the DCU Center. The Monarchs were held scoreless on the evening, with McCarthy scoring both goals for Worcester. Monarchs netminder Martin Jones (22-12-1) dropped his 12th decision of the season, halting 21-of-23 shots on goal. Worcester goaltender Carter Hutton (11-5-2) collected his 11th victory, stopping all 27 shots on net and recorded his second shutout of the season. Manchester went 0-for-4 on the power play. Worcester was also 0-for-4 with the man advantage.
vs. Portland (4/2): Five different players found the back of the net for the Manchester Monarchs as they defeated the Portland Pirates by a 5-2 score at the Verizon Wireless Arena on Saturday evening. Center Justin Azevedo, right wing Bud Holloway, defenseman David Kolomatis, right wing Justin Johnson and left wing David Meckler recorded goals for Manchester in the victory. Center Luke Adam and left wing Derek Whitmore scored for the Pirates. Monarchs goaltender Jeff Zatkoff (20-15-5) earned his 20th win of the season, stopping 24-of-26 shots on goal. Portland netminder David Leggio (22-9-0) dropped his ninth loss of the season with 20 saves on 24 shots. Portland goaltender Jeff Jakaitis (6-3-3) came up with no decision as he halted all 15 shots on goal in relief of Leggio.
MONARCHS NEWS & NOTES
The Portland Pirates (44-23-6-2, 96 points) are in first place in the Atlantic Division with 96 points. The Manchester Monarchs (43-25-3-6, 95 points) trail Portland by a single point. The Connecticut Whale (39-30-2-6, 86 points) and the Worcester Sharks (36-29-4-8, 84 points) are battling for third place in the division, as they fight for what perhaps might be the final playoff spot coming out of the Atlantic Division. If the regular season ended today, the Binghamton Senators (40-29-3-5, 88 points) of the East Division would displace the fourth place team in the Atlantic Division on account of total points. The Providence Bruins (35-36-3-3, 76 points) sit in fifth place in the seven team Atlantic Division with 76 points. The Springfield Falcons (33-38-2-3, 71 points) and the Bridgeport Sound Tigers (27-38-4-7, 65 points) are in sixth and seventh place, respectively.
MONARCHS NEWS AND NOTES (CONTINUED)
Atlantic Division Team GP W L OTL SOL PTS PCT
1 x Portland Pirates 75 44 23 6 2 96 0.640
2 x Manchester Monarchs 77 43 25 3 6 95 0.617
3 Connecticut Whale 77 39 30 2 6 86 0.558
4 Worcester Sharks 77 36 29 4 8 84 0.545
5 Providence Bruins 77 35 36 3 3 76 0.494
6 Springfield Falcons 76 33 38 2 3 71 0.467
7 Bridgeport Sound Tigers 76 27 38 4 7 65 0.428
x - clinched playoff berth in 2011 Calder Cup Playoffs
Manchester's power play is ranked 15th in the AHL as they have scored 68 goals on 371 opportunities for an 18.3% conversion rate. On the penalty kill, the Monarchs are tied for second place in the league as they have given up 47 goals when they have been down a man. They have been shorthanded 332 times this season and have an 85.8% penalty kill rating.
Manchester's home power play unit ranks sixth overall out of 30 AHL teams, scoring 41 goals with the man advantage on 195 opportunities for a 21% conversion rate.
Manchester is tied for sixth overall in the AHL in shorthanded goals, with 10 goals coming on the penalty kill this season.
Manchester has recorded six shorthanded goals on home ice, placing them in a tie for third in the AHL in that category.
Right wing Bud Holloway (27-31=58) leads the Monarchs in points with 58 to his credit.
Holloway leads the Monarchs squad in goals with 27 and power play goals with 13.
Right wing Oscar Moller (23-27=50) is tied for second on the Monarchs alongside left wing Dwight King (24-26=50) with 50 points.
Moller, recalled from the Ontario Reign (ECHL) by the Los Angeles Kings on Wednesday, March 23, has appeared in nine games over the course of this season at the NHL level, scoring a goal and three assists for four points (1-3=4) and a plus-2 rating.
At the AHL level, Moller has six game-winning goals on the season, placing him tied for fifth overall in the league in that category.
Moller has eclipsed his previous career-high of 15 goals, as he has accumulated 23 markers during the 2010-11 campaign.
King recorded a hat trick on Friday, March 25 against the Norfolk Admirals, moving him into a tie for second place on the Monarchs in scoring with 50 points.
The hat trick, King's first as a professional, was the team's second hat trick of the season, as Holloway also recorded three goals on December 17 against Portland.
Center Justin Azevedo (18-31=49) recorded the game-winning goal against Portland on Saturday, giving him 49 points on the season and placing him fourth on the team in scoring.
Azevedo's eight game-winning goals place him in a tie for first in the league in that category.
Defenseman Viatcheslav Voynov (13-35=48) ranks fifth on the Monarchs with 48 points.
Voynov's 48 points rank him seventh overall in the AHL among blueliners in points.
Voynov also leads the Monarchs squad with a plus-18 rating.
Right wing Brandon Kozun (21-25=46) is ranked sixth on the Monarchs in points with 46 points.
Kozun's 10 power play goals place him second among AHL rookies.
Kozun's game-winning goal against Springfield on Wednesday, March 16 marked his sixth such goal of the season, tying him for second place among the AHL's rookies.
Kozun garnered Reebok/AHL Rookie of the Month honors for February, as he recorded eight goals and seven assists for 15 points (8-7=15) in 13 games for the Monarchs during the month.
Center Corey Elkins (18-25=43) is seventh on the Monarchs in points with 43.
Center Marc-Andre Cliche (14-21=35) ranks eighth on the Monarchs in points with 35.
Cliche, with 14 goals, has already eclipsed his previous career-highs of 11 goals, set in both the 2007-08 and the 2009-10 Monarchs seasons.
Left wing David Meckler (16-15=31) recorded an empty net goal in the Monarchs' 5-2 victory over the Pirates on Sunday, giving him 16 goals on the season, tying him for ninth place on the Monarchs roster in points.
Center Andrei Loktionov (8-23=31) is tied with Meckler for ninth on the Monarchs in scoring with 31 points.
Loktionov, recalled by the Kings on January 20, returned to the Monarchs line-up on Sunday, February 20. Skating in his first game at the Verizon Wireless Arena since his recent call up to the Kings, Loktionov suffered a shoulder injury on Friday, February 25 against the Sound Tigers. The second-year center had shoulder surgery in Los Angeles on Thursday, March 3 and is expected to be sidelined until training camp.
Loktionov recorded seven points (4-3=7) and two penalty minutes in 19 games with the Kings this season.
Left wing Richard Clune (8-14=22) ranks eighth in the AHL with 222 penalty minutes.
Netminder Jeff Zatkoff has a record of 20-15-5 with a 2.59 goals-against-average and a .913 save percentage in 43 games this season.
Zatkoff recorded his third shutout of the year on Friday, March 25 against the Admirals. He recorded two shutouts during the month of March.
Zatkoff was named the Reebok/AHL Goaltender of the Month for his stellar performance in the month of March. In nine games during the month of March, Zatkoff went 5-3-1 with a 1.55 goals-against-average, a .949 save percentage and two shutouts.
Goaltender Martin Jones has played in 38 games with the Monarchs and has collected a record of 22-12-1 with a 2.28 goals-against average and a .922 save percentage.
MONARCHS PROMOTIONS
Wings Your Way Viewing Party - Join the party at Wings Your Way on Wednesday, April 6 and watch as the Monarchs face-off against the Pirates at 6:30 p.m.
Fan Appreciation Night - Join the Monarchs on Friday, April 8 when they host the Adirondack and celebrate the best fans in the AHL with giveaways all night long! The first 3,000 fans will receive aluminum water bottles, courtesy of Pepsi. Enter to win a Monarchs game-worn jersey right off the back of your favorite players!
Ticket Package Holder Bus Trip - Over 400 Ticket Package Holders will be loading up on buses on Sunday, April 10 to head down to Providence to cheer on the Monarchs as they battle the Bruins in their final regular season game.
MONARCHS TRANSACTIONS
3/25/11: The Manchester Monarchs (AHL) signed center Jordan Weal to an amateur tryout agreement and right wing Chaz Johnson to a professional tryout agreement.
3/22/11: The Los Angeles Kings (NHL) assigned right wing Oscar Moller to the Ontario Reign (ECHL).
3/11/11: The Manchester Monarchs (AHL) signed defenseman Jordan Hill to a professional tryout agreement.
2/28/11: The Los Angeles Kings (NHL) acquired forward Dustin Penner from the Edmonton Oilers (NHL) in exchange for defenseman Colten Teubert, a first-round draft pick in 2011 and a conditional third-round draft pick in 2012.
• Discuss this story on the American Hockey League message board...


American Hockey League Stories from April 4, 2011
The opinions expressed in this release are those of the organization issuing it, and do not necessarily reflect the thoughts or opinions of OurSports Central or its staff.