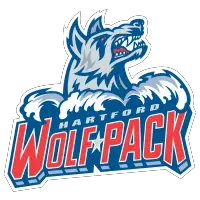 Gettinger's Late Goal Lifts Wolf Pack over Marlies
February 13, 2019 - American Hockey League (AHL) - Hartford Wolf Pack News Release



Hartford, CT - Brandon Halverson made a team season-high 43 saves, and Tim Gettinger scored the late third-period game-winning goal, for the Hartford Wolf Pack Wednesday night at the XL Center, in a 3-2 victory over the Toronto Marlies.
Twice the Wolf Pack quickly answered Toronto goals with tallies of their own, and Hartford went in front for the first time with 3:38 left in the third. Ryan Gropp fed the puck to Ryan Lindgren at the left point, and his shot hit a skate in front of Marlie goaltender Michael Hutchinson (23 saves). The puck caromed to Gettinger at the left side of the slot, and he snapped it through Hutchinson.
"Tim is really good net front," Wolf Pack head coach Keith McCambridge said of Gettinger. "He has such a good range, where he can get those rebounds, and his goal tonight was a great example of it."
"They're (the Marlies) a skilled team," Gettinger added. "We did really well, and there was a momentum shift where they had a bit more control than us, and we were able to battle through that."
Halverson held the fort after Gettinger's go-ahead goal, chalking up his second AHL win of the season in his third straight start for the Wolf Pack.
"I think Keith has been emphasizing that we need to play our game and make the simple plays," Halverson said. "And tonight everyone came to play, and we worked together as a team."
"Brandon plays the puck really well," McCambridge said of Halverson. "The way he comes out and helps the defensemen, it's like he's a third D. He made some key saves during key moments in the game for us."
Toronto outshot the Wolf Pack 18-6 in the first period, but the two teams came out of the frame tied 1-1.
Calle Rosen put the Marlies on top on the game's first power play, at 4:50, with Gropp off for slashing. Sam Gagner worked the puck to Dmytro Timashov in the left circle, and he dropped it back to Rosen high in the slot. His hard one-timer got by Halverson on the glove side.
The Wolf Pack replied only 16 seconds later, though, at 5:06, on a goal by Vinni Lettieri, just back from a recall stint with the parent New York Rangers. John Gilmour and Chris Bigras combined to send Lettieri down the right side in the Marlie end, and was almost to the corner before snapping a shot over Hutchinson's short-side shoulder.
After more than 30 scoreless minutes, the teams then traded goals in quick succession again late in the second.
Pierre Engvall gave Toronto a brief 2-1 lead at 16:37, taking a lead pass and moving around Sean Day on the right side and putting a forehand shot past Halverson, who missed on a poke-check attempt.
Just 1:44 after that, however, at 18:21, Steven Fogarty knotted the game back up with a shorthanded goal. With Zach Tolkinen off for hooking, Gettinger broke up a Marlie pass in center ice and broke 2-on-0 with Fogarty. Gettinger passed from the right-wing boards to Fogarty, and he beat Hutchinson with a move to the backhand and a shot through the legs.
"Every time Steven goes over the boards, he plays the game the right way," McCambridge said of Fogarty. "He has developed into a well-rounded offensive and defensive player over the years."
The Wolf Pack's next game is this Saturday night, February 16, when they head to Bridgeport to take on the Sound Tigers. Faceoff is 7:00 PM, and all of the action can be heard live on News Radio 1410 AM, and 100.9 FM, WPOP, and on-line at www.newsradio1410.com and iHeartRadio. Video streaming is available at theahl.com/AHLTV.
The Wolf Pack are next on home ice this Sunday, February 17, hosting the Wilkes-Barre/Scranton Penguins at 3:00 PM. That is another chance to take advantage of the Wolf Pack's "Click It or Ticket Family Value Pack", which includes two tickets, two hot dogs and two sodas, all for just $40.
Tickets for all 2018-19 Wolf Pack home games are on sale now at the Agera Energy Ticket Office at the XL Center, on-line at www.hartfordwolfpack.com and by phone at (877) 522-8499. Tickets purchased in advance for kids 12 or younger start at just $13 each, and all tickets will have a $3 day-of-game increase.
Season ticket information for the Wolf Pack's 2018-19 AHL season can be found on-line at www.hartfordwolfpack.com. To speak with a representative about all of the Wolf Pack's many attractive ticketing options, call (855) 762-6451.
Toronto Marlies 2 at Hartford Wolf Pack 3
Wednesday - XL Center
Toronto 1 1 0 - 2
Hartford 1 1 1 - 3
1st Period-1, Toronto, Rosen 6 (Timashov, Gagner), 4:50 (PP). 2, Hartford, Lettieri 13 (Gilmour, Bigras), 5:06. Penalties-Gropp Hfd (slashing), 3:31; Jooris Tor (hooking), 9:52.
2nd Period-3, Toronto, Engvall 13 (Carcone, Sandin), 16:37. 4, Hartford, Fogarty 12 (Gettinger), 18:21 (SH). Penalties-Tolkinen Hfd (hooking), 17:11.
3rd Period-5, Hartford, Gettinger 10 (Lindgren, Gropp), 16:22. Penalties-Rosen Tor (boarding), 3:21.
Shots on Goal-Toronto 18-14-13-45. Hartford 6-8-12-26.
Power Play Opportunities-Toronto 1 / 2; Hartford 0 / 2.
Goalies-Toronto, Hutchinson 7-4-4 (26 shots-23 saves). Hartford, Halverson 2-2-0 (45 shots-43 saves).
A-1,548
Referees-Carter Sandlak (6), Michael Sheehan (74).
Linesmen-Robert St. Lawrence (10), Nick Briganti (58).
• Discuss this story on the American Hockey League message board...


American Hockey League Stories from February 13, 2019
The opinions expressed in this release are those of the organization issuing it, and do not necessarily reflect the thoughts or opinions of OurSports Central or its staff.