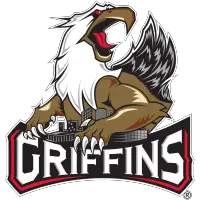 Division-Leading Griffins Continue Extended Stay at Home against Rampage
February 13, 2019 - American Hockey League (AHL) - Grand Rapids Griffins News Release



This Week's Games
San Antonio Rampage at GRIFFINS // Fri., Feb. 15 // 7 p.m. // Van Andel Arena
San Antonio Rampage at GRIFFINS // Sat., Feb. 16 // 7 p.m. // Van Andel Arena
Listen: WOOD 106.9 FM/1300 AM at 6:35 p.m. both nights
Watch: AHLTV
Season Series: 2-0-0-0 Home, 2-2-0-0 Overall. Fifth and sixth of eight meetings overall, third and fourth of four at Van Andel Arena
All-Time Series: 24-12-1-3-1 Home, 46-28-1-5-2 Overall
NHL Affiliation: St. Louis Blues
Noteworthy: The Griffins have claimed six consecutive matchups at Van Andel Arena against San Antonio and are a +17 in goal differential in that time.
Last Week's Results
Wed., Feb. 6 Manitoba Moose 1 at GRIFFINS 2 27-15-3-4 (61 points, 1st Central Division)
Sat., Feb. 9 Wilkes-Barre/Scranton Penguins 1 at GRIFFINS 4 28-15-3-4 (63 points, 1st Central)
Sun., Feb. 10 Chicago Wolves 4 at GRIFFINS 1 28-16-3-4 (63 points, 1st Central)
Status Update: The Grand Rapids Griffins earned four out of a possible six points last week and continue to lead the Central Division by two points with 63 to go along with a 28-16-3-4 overall mark. Grand Rapids has totaled points in 16 of its last 21 outings (13-5-1-2), including wins in seven of its last 10. The Griffins continue their season-high seven-game homestand this week when they host the San Antonio Rampage on Friday and Saturday. Last Sunday's game against Chicago kicked off a stretch of 20 consecutive contests Grand Rapids will play against Central Division foes.
Follow the Leader(s):
Points: Chris Terry (45)
Goals: Terry (24)
Assists: Carter Camper (25)
Plus-Minus: Jake Chelios, Terry (+15)
PIM: Dylan McIlrath (57)
Wins: Harri Sateri (17)
GAA: Patrik Rybar (2.32)
Save %: Rybar (0.914)
Last Week's Notes:
Wednesday vs. Manitoba - Wednesday marked the 100th all-time meeting between the former International Hockey League foes...The Griffins improved to 6-1-0-0 in the season series and have won the last five matchups...Grand Rapids has also claimed 11 of the last 12 against Manitoba...Filip Hronek scored two power play goals at 18:39 and 19:35 of the third period...Hronek's goal at 18:39 snapped the Griffins' scoreless streak at 119:26...Grand Rapids has not been shut out in consecutive games since Jan. 23, 2016 vs. RCH and Jan. 27, 2016 vs. TOR...Harri Sateri stopped 20 shots to earn his 17th win of the season...Grand Rapids finished 2-for-4 on the power play and 3-for-3 on the penalty kill.
Saturday vs. Wilkes-Barre/Scranton - Grand Rapids finished the two-game season series against Wilkes-Barre/Scranton 1-0-0-1...The Griffins scored three unanswered goals in the third period...Filip Zadina (PP), Colin Campbell, Libor Sulak and Matt Puempel (PP) all registered goals...Patrik Rybar matched a season high with 33 saves while making his first start since Jan. 25 vs. SJ...Grand Rapids concluded the night 2-for-5 on the power play and 4-for-4 on the penalty kill...The Griffins are 0-for-3 in penalty shot attempts this season after Chris Terry was unsuccessful at 7:36 of the first period...The capacity crowd of 10,834 marked the Griffins' fifth sellout of the season and their third in the last six home games.
Sunday vs. Chicago - The Griffins are 3-3 in the eight-game season series...Grand Rapids had its three-game home winning streak snapped...Filip Zadina has goals in back-to-back games...The Griffins lost in regulation at home for only the fifth time of the season...Grand Rapids finished 0-for-5 on the power play and 4-for-6 on the penalty kill.
This Week's Promotions: On Friday, the Griffins will be wearing USA-themed jerseys to honor the 1980 U.S. Men's Olympic Hockey Team that will then be auctioned off after the game. Fans can also enjoy $2 hot dogs and $2 domestic drafts from 6-8 p.m., while supplies last. Saturday is Star Wars Night presented by DTE Energy. Click here to see the full list of promos.
Friendly Confines: The Griffins have points in nine of their last 11 contests at Van Andel Arena (8-2-0-1), including wins in three of four. With an 18-5-1-3 overall mark inside friendly confines, the Griffins rank among the AHL's home leaders with 40 points (1st), 18 wins (T2nd) and a 0.741 points percentage (5th). Grand Rapids is a +16 in goal differential at home while averaging 3.15 goals and operating at 19.47% on the power play, compared to -11, 2.67 and 8.65% on enemy ice. Chris Terry (12-14-26) and Carter Camper (8-17-25) lead the team in scoring at home.
Staycation: Grand Rapids is 2-1 in its season-high seven-game homestand, which continues this weekend with a pair of tilts against San Antonio. Seven games is the team's longest since a seven-game stretch from Nov. 29-Dec. 14, 2013. Grand Rapids will play seven home games in a 17-day period this month, and then close out the campaign with seven home contests spread across the regular season's final 50 days. Take a look at the longest homestands in Grand Rapids history and how the club has fared:
Filip Hero-nek: Filip Hronek notched back-to-back two-point games last week. On Wednesday, he netted two power play goals at 18:39 and 19:35 of the third period to turn a 0-1 deficit into a 2-1 victory, and on Saturday he registered a pair of power play assists. Among league defensemen, the second-year pro ties for ninth with four power play goals and third with three game-winners. Despite playing only 27 games with the Griffins due to spending 23 with the Red Wings, Hronek leads all team blueliners in points (23), goals (7) and assists (16). His four points (2-2-4) in four February games are a club high.
You're a Wizard, Harri: Harri Sateri has won six of his last eight starts, showing a 1.87 GAA and a 0.936 save percentage (220 of 235) in that span. His 2.34 GAA in the new year ranks 11th among goalies with 400 or more minutes in that time frame. The Finnish netminder has points in 15 of his last 19 outings (13-4-2) and in 10 of his last 13 (9-3-1). Sateri's 17 wins on the season, which is one shy of matching his AHL career best (2013-14 with Worcester), tie for fifth in the league.
Puemped Up: Matt Puempel leads the team with 14 multi-point efforts in 47 games played. In comparison, he had 15 in 62 GP last season. The sixth-year pro also paces the club with five power play tallies. He ranks second on the Griffins in both goals (18) and points (39) and his team-leading 165 shots are third in the league.
Rybar Supports: Patrik Rybar has points in seven of his last nine games (5-2-2) and shows a 2.07 GAA and a 0.926 save percentage with one shutout in that span. Making his first start since Jan. 25 last Saturday, Rybar turned aside 33 of 34 shots in a 4-1 win against Wilkes-Barre/Scranton. He places third in the AHL with a 2.32 overall GAA.
(Don't) Put It In Reverse Terr: The AHL's leading scorer from a season ago, Chris Terry ties for third on the league's goal leaderboard with 24. The 10th-year pro has reached the 20-goal plateau for the sixth time in his AHL career. With 45 points overall, he ranks 12th on the circuit in scoring. Competing for the Central Division at the 2019 AHL All-Star Classic, Terry earned his third consecutive AHL All-Star bid and fourth overall (2012).
AHL's Active Goal Leaders:
1) Chris Bourque (BRI) - 245
2) Chris Mueller (TOR) - 213
3) Chris Terry - 207
Page Turner: Turner Elson places fourth on the team with 28 points (12-16-28) and is just two shy of leveling his career high of 30, which he has attained twice previously (2014-15 with Adirondack and 2015-16 with Stockton). Sixteen assists has already equaled his career best total from 2015-16. Elson has all three of the Griffins' shorthanded goals this season, which ties for second in the AHL.
Z-Score: Rookie Filip Zadina has picked up goals in back-to-back games (Saturday vs. WBS, Sunday vs. CHI) for the first time this season. He also has points in three straight to match a season high (Nov. 3-8, Nov. 28-Dec. 1). Among first-year AHL players, Zadina ties for 14th in goals (13) and 11th in power play markers (4).
Know Your Own Power: Following a 2-for-5 performance last Wednesday and a 2-for-4 finish on Saturday, the Griffins logged back-to-back games with multiple power play goals for the first time this season. Filip Hronek factored into each of the four goals, scoring twice on Wednesday and tallying two assists Saturday.
Griffins in General: The Griffins' 3-0 win against Milwaukee on Jan. 19 marked the franchise's 950th all-time regular season victory...Grand Rapids is 955-645-27-54-112 (0.586) in the regular season since 1996-97...Grand Rapids' 295 regular season wins and 637 points since the 2012-13 campaign are both the second-most in the AHL in that time, trailing only Toronto (303 / 654) and just ahead of Wilkes-Barre/Scranton (292 / 628).
Road Trippin': After a four-game winless stretch on the road (0-3-1-0) from Dec. 7-16, the Griffins have points in seven of their last 10 on foreign ice (5-3-1-1) and are a +3 in goal differential in that span.
Milestones Within Reach:
Joe Hicketts - needs five games played to reach 200 as a pro
Axel Holmstrom - needs one point to reach 50 as a Griffin
Turner Elson - needs one point to reach 50 as a Griffin
Carter Camper - needs two goals to reach 100 in the AHL, needs one goal to reach 100 as a pro
Wade Megan - needs three assists to reach 200 as a pro
Dominic Turgeon - needs four games played to reach 200 as a pro
Chris Terry - needs two games played to reach 700 as a pro
Derek Hulak - needs four points to reach 100 in the AHL
Matthew Ford - needs one point to reach 400 in the AHL
San Antonio Notes: Current record 24-21-4-0, 52 points, 7th Central Division...Fifth and sixth of eight meetings overall, third and fourth of four at Van Andel Arena...San Antonio is ranked seventh in the Central Division, 11 points behind the top-ranked Griffins...Grand Rapids has won 10 of the last 12 meetings overall, including an eight-game winning streak from Feb. 17, 2017-April 12, 2018...The Griffins are outscoring the Rampage 49-26 in the last 12...The Griffins have claimed six consecutive matchups at Van Andel Arena and are a +17 in goal differential in that time (30-13)...San Antonio's last victory at the Van came Oct. 17, 2015 (4-0 W)...In the last 10 meetings in West Michigan, Grand Rapids is 7-2-1-0...San Antonio has shut out the Griffins in both games in Texas this season, claiming a 4-0 victory on Oct. 6 and 2-0 on Feb. 1...Former Griffin Jared Coreau, making his first career start against his prior club, was responsible for the blanking in the most recent matchup on Feb. 1...This weekend is the fourth and fifth games of a 10-game rodeo road trip for San Antonio...With four points apiece, Filip Hronek (2-2-4 in 3 GP) and Turner Elson (1-3-4 in 4 GP) lead both teams in scoring in the series...Patrik Rybar is 2-0-0 against the Rampage with a 2.50 GAA and a 0.911 save percentage while Harri Sateri is 0-2-0 with a 3.09 GAA and a 0.893 save mark...Grand Rapids' power play is 4-for-15 (26.7%) against the Rampage this season...San Antonio leads the AHL with 19 home victories and ranks last with just five road wins.
Last meeting (Feb. 1): In their second game of the season at the AT&T Center, the Griffins were blanked 2-0 by San Antonio with a 29-save effort from former Grand Rapids goaltender Jared Coreau...Coreau tallied his second shutout in 11 games with the Rampage and put his record with the club at 6-4-1...The Griffins' loss at San Antonio marked the Rampage's league-leading 19th home win of the season...Harri Sateri notched 25 saves...The matchup was Grand Rapids' last road game before beginning its seven-game homestand.
Last meeting at Van Andel Arena (Dec. 5): The Griffins collected a 4-2 win over San Antonio to extend their winning streak to six games and point streak to eight...Patrik Rybar stopped 25 shots, while Filip Hronek (1-1-2) and Turner Elson (0-2-2) each recorded two points apiece...Grand Rapids' penalty killers finished 1-for-1 on the night, putting them at a perfect 25-for-25 in their previous eight games...Chris Terry scored his 15th of the season to tie for the AHL's goal-scoring lead...Axel Holmstrom tallied his sixth goal of the season...Colin Campbell closed out the scoring on the power play with his third goal in the last two games...The Rampage were missing three of their top five scorers as they were on recall to the St. Louis Blues.
San Antonio Connections: Second-year Griffin Turner Elson spent the 2016-17 season with San Antonio and scored three points (1-2-3) while being limited to 13 games due to injury...First-year Griffin Wade Megan appeared in 115 games with the Rampage from 2012-15 and totaled 31 points (20-11-31)...While making his AHL debut with the Rampage on March 28, 2013, against Grand Rapids, Megan scored his first pro goal against Petr Mrazek.
They Went to Jared: Acquired by the St. Louis Blues from the Anaheim Ducks on Jan. 3, former Griffin Jared Coreau is 7-4-3 with a 2.86 GAA, a 0.899 save percentage and two shutouts in 14 GP with the Rampage this season. Suiting up for Grand Rapids from 2013-18, Coreau ranks among the franchise's all-time goalie leaders in nearly every major statistical category with 148 GP (4th), 8614:11 minutes (4th), a 2.44 GAA (T8th), 85 wins (4th), 13 shutouts (3rd), 3930 saves (4th), a 0.918 save percentage (T7th) and seven shootout wins (T5th). Backstopping the team to its second Calder Cup in 2017, Coreau started all 19 games during the championship run and posted a 2.84 GAA and a 0.909 save mark to go along with a 15-4 record.
Win Some, Lose Some: Compare the statistics between the Griffins' 28 wins and 23 (including OT and SO) losses:
GF GA PP% PK% SF SA
W (28) 3.86 1.89 20.17% 88.12% 30.39 27.96
L (23) 1.78 3.96 7.14% 67.06% 31.35 28.39
Back to Backs: This weekend will mark the 18th of 26 times total this season the Griffins will play on consecutive nights. Grand Rapids has won six of its last nine on the second night.
W L (incl. OT, SO) GF GA PP% PK% SF SA
First Night 6 11 2.82 2.94 16.67% 77.42% 30.47 27.71
Second Night 11 6 2.88 2.82 13.33% 78.79% 30.00 27.41
Third Night 1 1 4.50 3.00 0.00% 50.00% 36.50 32.50
• Discuss this story on the American Hockey League message board...


American Hockey League Stories from February 13, 2019
The opinions expressed in this release are those of the organization issuing it, and do not necessarily reflect the thoughts or opinions of OurSports Central or its staff.