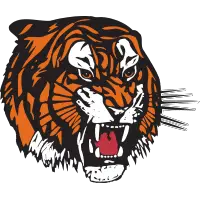 Gameday Preview - February 21 vs Prince Albert
February 21, 2022 - Western Hockey League (WHL) - Medicine Hat Tigers News Release



VS PRINCE ALBERT: This is the fourth of six meetings this season between the Raiders and the Tigers, with the most recent meeting being a 6-4 victory for the Tigers in Prince Albert on January 22nd. Prince Albert is coming a 4-2 loss at the hands of the Moose Jaw Warriors on Saturday night. The Raiders currently have a record of 17-26-2-1 which puts them in sixth place in the East Division and 11the place in the Eastern Conference Standings. Reece Vitelli (16G, 16A, 32PTS) and Ozzy Wiesblatt (9G, 23A, 32PTS) leads the team in scoring.
2021-21 WHL RANKINGS:
Record (9-32-3-1)
Home (6-15-1-0) Central Division - 6th
Away (3-17-2-1) Eastern Conference - 12th
VS CENTRAL DIVISION: The Tigers have a 6-18-1-0 record vs Central Division opponents.
VS EAST DIVISION: The Tigers have a 3-14-2-1 record vs East Division opponents.
LAST GAME: The Tigers played host to the Lethbridge Hurricanes on Saturday night at Co-op Place. It was a hard fought affair throughout, Brayden Boehm was able to get an early third period goal to bring the Tigers to within one of the Hurricanes, but a last second Logan Barlage faceoff win / shot attempt on Hurricanes netminder Jared Picklyk was shut down and the Hurricanes walk away with a 2-1 victory. Beckett Langkow stopped 23 of 25 shots sent his direction.
MILESTONES: Tigers Captain Daniel Baker played in his 200th career WHL game on January 21st in Saskatoon. Owen MacNeil appeared in his 100th career WHL game vs the Prince Albert Raiders the following night. Rhett Parsons, Oren Shtrom, Oasiz Wiesblatt, Tyler MacKenzie, Pavel Bocharov, Teague Patton and Brayden Boehm, Ashton Ferster and Reid Andresen have each recently played in their 50th career games.
PLAYER TO WATCH: OASIZ WIESBLATT is looking forward to taking on the Prince Albert Raiders. You can be sure the youngest Wiesblatt will be closely marked on Monday as the former 1st round Bantam Pick scored his first career hattrick against the Raiders back in January. Wiesblatt has eight goals and 13 assists this season this season to go along with 36 penalty minutes. Oasiz brings a huge amount of physicality and energy to each and every game plays. The 17-year-old forward is equally adept at gliding on his edges through the offensive zone as he is as sitting down much larger opponents with his physical play.
CLUB LEADERS LEADING SCORERS:
- Goals Logan Barlage (12) - Logan Barlage 12G, 12A, 24 PTS
- Assists Daniel Baker (19) - Daniel Baker 5G, 19A, 24 PTS
- Points Daniel Baker (24) - Noah Danielson 10G, 11A, 21 PTS
- PIMs Rhett Parsons (83) - Oasiz Wiesblatt 8G, 13A, 21 PTS
- Plus/Minus Oren Shtrom (-4) - Bogdans Hodass 4G, 16A, 20 PTS
- Wins Garin Bjorklund (6) - Tyler MacKenzie 2G, 18A, 20 PTS
ROOKIE LEADERS - Brendan Lee 8G, 11A, 19 PTS
- Goals Bogdans Hodass (4) - Owen MacNeil 6G, 13A, 19 PTS
- Assists Bogdans Hodass (16) - Teague Patton 10G, 6A, 16 PTS
- Points Bogdans Hodass (20) - Ashton Ferster 8G, 7A, 15 PTS
- PIMs Bogdans Hodass (29) - Oren Shtrom 7G, 8A, 15 PTS
- Plus/Minus Steven Arp (-5) - Brayden Boehm 6G, 9A, 15 PTS
SPECIAL TEAMS:
POWER PLAY: 29 / 155 - 18.7% - 16th
PENALTY KILL: 141 / 190- 74.2% - 19th
TIGERS ROSTER MAKEUP: The Tigers have 23 players on the roster - 2 Goaltenders, 7 Defencemen and 15 Forwards, including 7 rookies
AGE BREAKDOWN: 3 - 20-year-olds, 3 - 19-year-olds, 8 - 18-year-olds, 6 - 17-year-olds, 3 - 16-year-olds
NHL DRAFTED / SIGNED PLAYERS: Garin Bjorklund (Washington Capitals), Dru Krebs (Washington Capitals)
TIGERS SCHEDULE:
LAST FIVE: RESULTS: NEXT FIVE: TIME:
vs Lethbridge 2-1 Loss @ Regina, Wed, Feb 23 6:00 PM (MST)
@ Swift Current 7-2 Loss vs Winnipeg, Fri, Feb 25 7:00 PM (MST)
vs Brandon 4-1 Loss @ Lethbridge, Sat, Feb 26 7:00 PM (MST)
vs Edmonton 5-3 Loss vs Red Deer, Tue, Mar 1 7:00 PM (MST)
vs Moose Jaw 5-2 Loss @ Red Deer, Wed, Mar 2 7:00 PM (MST)
• Discuss this story on the Western Hockey League message board...


Western Hockey League Stories from February 21, 2022
The opinions expressed in this release are those of the organization issuing it, and do not necessarily reflect the thoughts or opinions of OurSports Central or its staff.
Other Recent Medicine Hat Tigers Stories