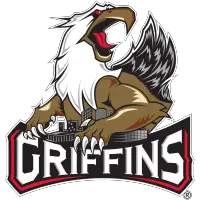 Four Road Games Ahead for Grand Rapids this Week
March 29, 2016 - American Hockey League (AHL) - Grand Rapids Griffins News Release



Opening Faceoff: After a 13-game winning streak, the Griffins have dropped their last three following Saturday's 5-2 home loss against Lake Erie...Grand Rapids has just three goals in its last three games...Despite three straight losses, the Griffins are holding on to second place in the Central Division...The top four teams in the division all boast winning percentages above 0.600 and are separated by just five points...Grand Rapids also places third in the conference and sixth overall with a 41-23-1-1 record (0.636)...The Griffins' 41 wins are tied for the second-most in the league...Grand Rapids has won at least 40 games for the fourth consecutive season and the 13th time in franchise history...With their magic number for a playoff berth down to seven, the Griffins are approaching their fourth consecutive postseason appearance...Ten games remain in the regular season for Grand Rapids - three at home and seven on the road...Tuesday's game at Milwaukee kicks off a four-game road trip as the Griffins will then travel to Rochester and Toronto for a weekend three-in-three.
So Long, Van Andel West: Tuesday's game at Milwaukee will be Grand Rapids' final regular-season appearance at the BMO Harris Bradley Center. The Admirals have played at the Bradley Center since 1988 and will be moving to the University of Wisconsin-Milwaukee Panther Arena beginning in the 2016-17 season. The Griffins have played 77 regular season games at the Bradley Center, the most out of any of the 58 road venues Grand Rapids has played in over the last 20 seasons, and own a 33-29-5-5-5 (0.526) record. The Griffins are 0-2 in playoff games there, as the two former IHL foes have met just once in the postseason (2005-06 Western Conference Finals, Milwaukee won series 4-0).
Season of Streaks: The franchise's 20th season has certainly provided plenty of highlights, one of those being a franchise-record 15-game winning streak, but the team has also shown streakiness at times. Consider the ebbs and flows as the season has progressed: 2-8-0-1 (Oct. 9-Nov. 14), 15-0-0-0 (Nov. 18-Dec. 26), 7-4-1-0 (Dec. 27-Jan. 20), 0-5-0-0 (Jan. 22-Jan. 30), 4-3-0-0 (Feb. 5-Feb. 19), 13-0-0-0 (Feb. 20-March 19), 0-3-0-0 (March 20-26).
Saarijarvi Reassigned to Toledo: The Detroit Red Wings on Monday reassigned defenseman Vili Saarijarvi to the ECHL's Toledo Walleye from the Griffins. Saarijarvi was reassigned to Grand Rapids from the OHL's Flint Firebirds last week and did not appear in any games. Detroit's second choice (73rd overall) in the 2015 NHL Entry Draft, Saarijarvi played in 59 games this season for the Firebirds. The 5-foot-10, 163-pound blueliner ranked third on the team in points (12-31 - 43), fifth in goals (12) and second in assists (31). Among OHL defensemen, Saarijarvi tied for ninth in points, tied for 16th in assists, tied for seventh in goals, tied for the lead with eight power play goals and ranked second in shots (219).
Affiliation Battle: The Detroit Red Wings and Toronto Maple Leafs will do battle in an Original Six matchup Saturday night at 7 p.m. at the Air Canada Centre while their affiliate clubs, the Griffins and the Marlies, will face off about 2.5 miles away up Lake Shore Boulevard at Ricoh Coliseum at 5 p.m. It is the first time the Griffins and Red Wings will both be playing in Toronto on the same night.
Current Playoff Picture:
Central Division
Place Team Points PCT Games Left Home Road Opp. Winning % GR Magic # Over Magic # Over GR
1 MIL 87 0.649 9 4 5 0.513 22 18
2 GR 84 0.636 10 3 7 0.554 --- ---
3 RFD 82 0.621 10 4 6 0.487 19 23
4 LE 84 0.618 8 3 5 0.561 17 21
5 CHA 75 0.551 8 6 2 0.620 7 30
6 CHI 68 0.500 8 5 3 0.565 N/A N/A
7 MTB 53 0.390 8 4 4 0.543 N/A N/A
8 IA 50 0.373 9 5 4 0.508 N/A N/A
Pacific Division
1 X ONT 83 0.692 8 1 7 0.543 28 11
2 SD 72 0.600 8 5 3 0.562 15 22
3 TEX 82 0.594 7 5 2 0.510 13 23
4 SJ 66 0.550 8 2 6 0.561 8 28
5 BAK 62 0.525 9 4 5 0.624 6 32
6 STK 60 0.508 9 6 3 0.601 4 34
7 SA 64 0.464 7 4 3 0.506 N/A N/A
Currently in playoff position
x Clinched playoff berth
y Clinched division title
Eliminated from playoff contention
Scoring Streaks: Defenseman Ryan Sproul has three multi-point efforts in the last five games (3-4 - 7)...Andy Miele is tied for 12th in the league with 52 points (14-38 - 52), while his 38 assists are tied for sixth...Eric Tangradi is tied for 19th with an even 50 points (25-25 - 50) and his 25 goals are tied for eighth...Martin Frk is tied for third in the league for power play goals (11) and tied for fifth in overall goals (26)... Among league defensemen, rookie Robbie Russo is tied for ninth in point production (5-32 - 37) and ranks fifth in assists (32)...Russo leads the league in plus/minus at +45.
Russo's Rare Rookie Numbers: With 37 points (5-32 - 37), Robbie Russo has tied the Griffins' scoring record for rookie defensemen (Clay Wilson in 2005-06 and Chad Billins in 2012-13). His 37 points also tie him for ninth on the team's all-time rookie scoring list. Russo's 32 assists are already the most ever by a rookie defenseman and he is just four shy of tying Gustav Nyquist's record for assists by a first-year Griffin (36 in 2011-12). He is currently third in that category, also trailing Glen Metropolit (35 in 1997-98).
Griffins Leaders: Andy Miele (14-38 - 52) and Eric Tangradi (25-25 - 50) continue to pace the offense, ahead of Martin Frk (26-14 - 40), Mark Zengerle (6-34 - 40), and Robbie Russo (5-32 - 37).
Road Warriors: The Griffins are set to play seven of their final 10 games on the road. In fact, Grand Rapids' loss on Saturday against Lake Erie marked the only home game for the Griffins over a 26-day stretch (March 13-April 7).
Home Ice Advantage: Averaging 8,356 fans per home game this season, the Griffins are on pace to secure an average attendance increase at Van Andel Arena for the sixth straight season and the ninth time in 10 years. Grand Rapids has taken full advantage of the raucous crowd support, leading the league with 24 home victories. Grand Rapids had their seven-game home winning streak snapped in Saturday's 5-2 loss to Lake Erie. As the Griffins jockey for home-ice advantage in the postseason, the team posts a 21-4-1-0 (0.827) record against Central Division foes at home. The club record for home wins in a season is 31, set back in 2000-01 when the league played an 82-game schedule.
On the Plus Side: Among the 18 Griffins skaters who have appeared in 20 or more games this season, 16 find themselves with a positive plus/minus rating and the other two are at 0. Rookie Robbie Russo paces the league at +45. Russo has been on the ice 28 times when the opponent scores and that includes three power play goals and two empty netters. As Russo climbs the AHL's all-time list for single season plus/minus rating, take a look at the top 10 (the league began keeping the stat in 1991-92):
Name Team Year Rating
Joby Messier BNG 1992-93 +59
Don Biggs BNG 1992-93 +54
Bobby Dollas ADK 1992-93 +53
Luc Gauthier FRE 1992-93 +51
Arturs Kulda CHI 2009-10 +47
Joel Quenneville STJ 1991-92 +47
Jeff Serowik STJ 1991-92 +47
P.K. Subban HAM 2009-10 +46
Robbie Russo GR 2015-16 +45
Darren Rumble PEI 1994-95 +45
Stone Wall: The Griffins are threatening the franchise record for highest team save percentage in a season. With Jared Coreau and Tom McCollum both recording save percentages of 0.929 and tying for third on the single-season top 10 list behind Joey MacDonald (0.936, 2003-04) and Martin Prusek (0.930, 2001-02), here's where the Griffins' overall mark of 0.925 currently stands (note this stat includes empty-net goals allowed by the team):
Save Percentage Year Primary Goalies
0.929 2003-04 Joey MacDonald, Marc Lamothe
0.925 2015-16 Jared Coreau, Tom McCollum
0.920 2002-03 MacDonald, Lamothe
0.918 2014-15 Coreau, McCollum
0.918 2013-14 Petr Mrazek, McCollum
0.917 2004-05 MacDonald, Drew MacIntyre
0.914 2000-01 Mike Fountain, Mathieu Chouinard
0.912 2001-02 Martin Prusek, Simon Lajeunesse, Chouinard
0.911 1999-00 Fountain, Jani Hurme
Terrific Tom: Grand Rapids' all-time leader in appearances (220) and saves (5,498), goaltender Tom McCollum earned his 100th win as a Griffin on March 19 at Texas, becoming just the second player in franchise history to reach the century mark (Joey MacDonald, 109). Over his last nine appearances, McCollum shows an impressive line of a 1.52 GAA and a 0.950 save percentage. The seventh-year Griffin is eighth in the league in GAA (2.30) and ties for third in save percentage (0.929). His seven career shutouts tie him with current Detroit Red Wing Petr Mrazek for sixth on the franchise's all-time list.
Consistent Coreau: Categorized as one of the AHL's elite goaltenders this season, Jared Coreau places in the top three for wins (29, tied for second), shutouts (six, tied for second), goals against average (2.23, third) and save percentage (0.929, tied for third). Coreau recorded his sixth shutout of the season at Chicago on March 13, equaling a club record for bagels in a season reached five times previously and most recently by Jimmy Howard in 2006-07. His shutout against the Wolves also marked Coreau's fourth road blanking of the season, setting a new club record. Coreau's 29 wins tie him for fifth with Jani Hurme (1999-00) on the team's single-season list.
Win Some and Lose Some: The Griffins own a 41-23-1-1 (0.636) record through 66 games. Take a look at how Grand Rapids' numbers stack up between its 41 wins and 25 (including overtime and shootout) losses:
GF GA PP Chances PP Goals PP % Opp. PP Chances Opp. PP Goals PK % SF SA
W (41) 4.27 1.66 4.02 0.85 21.21% 4.07 0.44 89.22% 33.66 31.90
L (25) 1.44 3.68 4.36 0.40 9.17% 3.68 0.92 75.00% 33.76 32.32
Back-to-Back-to-Backs: Compare the statistics for when the Griffins play on consecutive nights:
First Night Second Night Third Night
W 13 12 2
L 7 8 1
GF 4.20 2.85 3.33
GA 2.55 2.60 2.33
PP % 21.28% 12.33% 23.08%
PK % 84.21% 84.00% 73.33%
SF 35.00 32.25 32.33
SA 32.45 34.05 34.00
Free Hockey: In their 11 games that have gone to either overtime or a shootout, the Griffins post a 0.818 winning percentage - second-highest in the league (8-1 OT, 1-1 SO).
Goal Scoring: One of four teams to rank inside the top 10 in both goals for and goals against per game, the Griffins are the only ones to place in the top four in each category (goals for, 3.20, fourth; goals against, 2.42, third).
Magic Numbers: The Griffins are 37-3-1-0 when scoring three or more goals and 30-5-0-0 when allowing two or fewer...Grand Rapids is 23-4-0-0 when leading after one period and 27-2-0-0 when leading after two...The Griffins' 39 first goals are tied for second in the league while showing a 31-7-1-0 mark when striking first.
Against the Best: The Griffins own a 27-17-0-1 (0.611) record against teams with a winning record this season, including an 18-11-0-1 (0.617) mark against teams with a winning percentage greater than 0.600 as of March 29. Grand Rapids will face opponents with a combined winning percentage of 0.554 over its final 10 contests.
Walleye World: Sporting the second-best record in the ECHL, the Toledo Walleye (43-19-2-3, 91 points) have clinched the North Division title and will be heading to the postseason for the fourth time in team history. Toledo came just short of reaching the Kelly Cup Finals a season ago, losing in three overtimes in the deciding seventh game of the Eastern Conference Finals against South Carolina. The Walleye are led on offense by a pair of former Griffins, Shane Berschbach (23-41 - 64) and A.J. Jenks (22-23 - 45). Rookie netminder Jake Paterson, Detroit's second pick in the 2012 NHL Entry Draft, shows a 16-9-1-1 record with a 2.19 GAA and 0.924 save percentage as an understudy to former Michigan State Spartan Jeff Lerg (26-10-1-2, 2.11 GAA, 0.928%).
Scouting Report
Tuesday, March 29 at Milwaukee Admirals (41-21-3-2) - BMO Harris Bradley Center - 8 p.m.
Radio: WOOD 106.9 FM/1300 AM at 7:35 p.m. Web Casts: Video web cast at AHLLive.com. All-Time Series: 33-29-5-5-5 Road, 78-53-7-6-7 Overall. Season Series: 1-2-0-0 Road, 5-2-0-0 Overall. Eighth of eight meetings overall, fourth of four at BMO Harris Bradley Center. NHL Affiliation: Nashville Predators. Head Coach: Dean Evason (4th season). Notes: The Milwaukee Admirals rank first in the Central Division, second in the Western Conference and fifth in the AHL with a 41-21-3-2 (0.649) record...Milwaukee's 41 wins are tied with Grand Rapids for second-most in the league while the Admirals' 87 points are tied for third-most...The Admirals have points in their last six games (4-0-0-2)...Milwaukee is tied for the second-most home wins in the league, showing a 23-10-0-1 mark at the Bradley Center...The Admirals rank second in the power play (20.6%) and eighth in the penalty kill (84.7%)...Rookie goaltender Juuse Saros is tied for fourth in GAA (2.26) while crease mate Marek Mazanec is ninth (2.34)...The Griffins and Admirals are the only teams in the league to place two goaltenders in the top 10 for GAA...Milwaukee places fifth in goals against per game (2.52)...Kevin Fiala (16-27 - 43) and rookie Max Gortz (16-26 - 42) pace the team offensively...Milwaukee's 7-3 win over Grand Rapids on Jan. 30 marked the most goals the Griffins have surrendered in the regular season since giving up seven to Charlotte at Van Andel Arena on April 18, 2015...Grand Rapids is 5-2-0-0 against Milwaukee this season and Jared Coreau has shut out the Admirals twice.
Friday, April 1 at Rochester Americans (32-31-2-1) - Blue Cross Arena - 7:05 p.m.
Sunday, April 3 at Rochester Americans - Blue Cross Arena - 5:05 p.m.
Radio: WOOD 106.9 FM/1300 AM at 6:35 p.m. on Friday, 4:35 on Sunday. Web Casts: Video web cast at AHLLive.com. All-Time Series: 16-15-0-2-1 Road, 39-24-1-3-3 Overall. Season Series: 0-0-0-0 Road, 0-2-0-0 Overall. Third and fourth meetings of four overall, first and second of two at Blue Cross Arena. NHL Affiliation: Buffalo Sabres. Head Coach: Randy Cunneyworth (1st season). Notes: The Rochester Americans rank fifth in the North Division, 11th in the Eastern Conference and tied for 21st in the AHL with a 32-31-2-1 (0.508) record...The Griffins have earned points in the last four games at Blue Cross Arena (3-0-1-0) going back to the 2013-14 season...Rochester swept Grand Rapids in two games at Van Andel Arena in January and outscored the Griffins 7-3...The Americans are celebrating their 60th season of play while the Griffins are celebrating their 20th...After a four-game winning streak to open the month of March, the Americans have dropped five of seven...Cole Schneider is tied for 17th in the league with 51 points (19-32 - 51)...Rochester is 19-12-1-1 at home, but are even with visitors in scoring, 94-94...The Americans are being outscored 79-59 in the third period while the Griffins are outscoring opponents 71-50 in the final 20 minutes.
Saturday, April 2 at Toronto Marlies (47-15-5-0) - Ricoh Coliseum - 5:05 p.m.
Radio: WOOD 106.9 FM/1300 AM at 4:35 p.m. Web Casts: Video web cast at AHLLive.com. All-Time Series: 13-16-2-1 Road, 31-29-3-2 Overall. Season Series: 0-1-0-0 Road, 0-3-0-0 Overall. Fourth of four meetings overall, second of two at Ricoh Coliseum. NHL Affiliation: Toronto Maple Leafs. Head Coach: Sheldon Keefe. Notes: The Toronto Marlies rank first in the North Division, first in the Eastern Conference and first in the AHL with a 47-15-5-0 (0.739) record...The Marlies were the first team to clinch a playoff berth and will be headed to the postseason for the fifth consecutive season...Toronto has won its last two but are just 4-5-1-0 in its last 10 games...Ben Simon served as an assistant coach with the Marlies last season... In four seasons (2010-14) playing for Griffins head coach Todd Nelson as a member of the Oklahoma City Barons, Mark Arcobello tallied 161 points (60-101 - 161) in 188 games...The Marlies own a league-best goal differential of +89...In comparison, the Griffins are second in goal differential at +51...Toronto is outscoring Grand Rapids 14-3 in the three meetings between the teams this season...In two starts against Grand Rapids, goaltender Garret Sparks has stopped 77 of 78 shots while holding the Griffins scoreless over the last 79:42...Sparks is currently on recall with the Maple Leafs...T.J. Brennan is tied for second in the league with 67 points (24-43 - 67) and his 43 assists place third... Toronto leads the league in goals for (3.91) and is tied for third in shots for (32.84) per game...Grand Rapids defeated Toronto in a historic playoff series last season as the Griffins became the 11th team in AHL history to win a best-of-five series after trailing 0-2.
This Week's Games
Tues., March 29 GRIFFINS at Milwaukee Admirals 8 p.m. WOOD 106.9 FM/1300 AM / AHLLive.com
Fri., April 1 GRIFFINS at Rochester Americans 7:05 p.m. WOOD 106.9 FM/1300 AM / AHLLive.com
Sat., April 2 GRIFFINS at Toronto Marlies 5 p.m. WOOD 106.9 FM/1300 AM / AHLLive.com
Sun., April 3 GRIFFINS at Rochester Americans 5:05 p.m. WOOD 106.9 FM/1300 AM / AHLLive.com
Last Week's Results
Tues., March 22 GRIFFINS 1 at San Antonio Rampage 2 41-22-1-1 (84 points, T1st Central Division)
Sat., March 26 Lake Erie Monsters 5 at GRIFFINS 2 41-23-1-1 (84 points, 2nd)
• Discuss this story on the American Hockey League message board...


American Hockey League Stories from March 29, 2016
The opinions expressed in this release are those of the organization issuing it, and do not necessarily reflect the thoughts or opinions of OurSports Central or its staff.