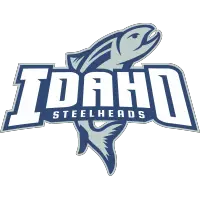 Steelheads Weekly - December 2, 2019
December 2, 2019 - ECHL (ECHL) - Idaho Steelheads News Release



BOISE, Idaho - The Idaho Steelheads (11-7-4) move into the back half of their four-week, 12-game home stand, hosting the Allen Americans for the first time this season on Teddy Bear Toss Week.
LAST WEEK...
Wednesday, November 27 vs. Rapid City Rush: W 4-3 (OT)
Shots: Rush 42, Steelheads 33
PP: Rush 1-for-5, Steelheads 1-for-5
The Steelheads edged out the Rush in a 4-3 overtime win from CenturyLink Arena. The Rush earned the first goal of the night early to snag a 1-0 lead, and the tying goal didn't come until the next frame on a tip by forward Max Coatta (3:28 2nd) for his first professional goal and a 1-1 game. The next four goals came within a three-minute span going back and forth between the Rush, forward A.J. White (PP, 12:28 3rd), the Rush again and forward Marc-Olivier Roy (13:41 3rd) to head to overtime, 3-3. Steelheads forward Anthony Nellis (0:38 OT) finished off the night and the 4-3 scoreline. Tomas Sholl (9-2-3) denied 39 of 42 shots in the win.
Friday, November 29 vs. Rapid City Rush: L 4-3
Shots: Rush 25, Steelheads 30
PP: Rush 1-for-3, Steelheads 1-for-2
The Steelheads were taken down in the final second during a 4-3 loss from CenturyLink Arena. Forward Spencer Naas (3:53 1st) netted the opening goal and the only early tally for a 1-0 lead followed by forward Marc-Olivier Roy (7:39 2nd) from an odd angle to double the lead, 2-0. The Rush answered later in the second period before forward Zack Andrusiak (PP, 18:08 2nd) set up the home side with a 3-1 lead. The Rush scored three goals in the final frame including the winning goal with less than one second left to take the 4-3 score. Colton Point (2-4-1) stopped 21 of 25 shots in the loss.
Saturday, November 30 vs. Rapid City Rush: L 4-2
Shots: Rush 13, Steelheads 51
PP: Rush 0-for-2, Steelheads 0-for-6
The Steelheads overpowered the Rush but fell 4-2 from CenturyLink Arena. The Rush scored three-unanswered goals through the middle of the second period before an answer came from forward Anthony Nellis (15:57 2nd) began the comeback bid and draw the Steelheads within two, 3-1. The Steelheads earned their first shorthanded goal of the year thanks to forward Max Coatta (SH, 10:34) to come within one, but an empty net goal sealed off the 4-2 result. Tomas Sholl (9-3-3) saved nine of 12 shots in the loss.
THIS WEEK...
Wednesday, December 4 vs. Allen Americans - 7:10 p.m. MT
Friday, December 6 vs. Allen Americans - 7:10 p.m. MT
Saturday, December 7 vs. Allen Americans - 7:10 p.m. MT
The Steelheads meet the Allen Americans for the first time in Boise this season while playing a three-game, four-day stretch. The Steelheads have dropped two of their three games against the Americans but have points in two of those three contests, owning a 1-1-1 record in two different trips to Texas. The Steelheads and Americans meet six times in December with five of those six contests at CenturyLink Arena. The Steelheads own a 15-8-4 record in the franchise series while going 8-3-2 at home.
UPCOMING PROMOTIONS...
Teddy Bear Toss: The annual Teddy Bear Toss returns on Saturday, Dec. 7 when the Steelheads host the Allen Americans. Bring a new or gently-used teddy bear and toss it onto the ice after the first goal for Toys For Tots. Call 208-383-0080 for details and tickets.
Keep Kids Warm: The second activation of the Keep Kids Warm Coat Drive, in conjunction with Intermountain Gas and Kissin 92.3FM is on Saturday, Dec. 7 for Teddy Bear Toss Night. Bring new or gently-used coats to the Steelheads Front Office and receive free tickets to Saturday's game.
Nickelodeon Night: Prepare to go "under the sea" on Saturday, Nov. 14 for Nickelodeon Night at the second jersey auction of the season. Proceeds from the auction benefit St. Luke's Children's with an autograph session following the game. For tickets, call 208-331-TIXS or go to idahosteelheads.com.
STEEL STATS...
Quick Bites:
- The Steelheads closed November with a 6-7-0-2 record through 15 games played, which equals the win total from the 2018-19 season in two more games played. The Steelheads will have eight of their 12 games in December come at CenturyLink Arena.
- Forward Max Coatta scored the first shorthanded goal of the season on Saturday night and now has goals in two of his last three games since scoring his first professional goal on Wednesday.
- Forward Marc-Olivier Roy led the Steelheads in scoring for November with 13 points (3-10-13) in 15 games and now sits second in the ECHL in assists (17) and in the top-20 for points (20). Forward Anthony Nellis led Steelheads rookies with nine points (4-5-9) and is tied for the top-20 in ECHL rookie scoring (6-7-13). Both skaters led with five points (2-3-5) last weekend.
Team Leaders:
GOALS: 9 - Will Merchant
ASSISTS: 17 - Marc-Olivier Roy
POINTS: 20 - Marc-Olivier Roy
PP GOALS: 4 - Will Merchant
SH GOALS: 1 - Max Coatta
GW GOALS: 2 - Will Merchant
PIMS: 46 - Colton Saucerman
PLUS/MINUS: +8 - Brady Norrish
SHOTS: 82 - Will Merchant
WINS: 9 - Tomas Sholl
GAA: 2.21 - Tomas Sholl
SAVE %: .920 - Tomas Sholl
Mountain Division Standings:
1. Rapid City 14-5-3-0, 31 pts
2. Allen 14-4-2-0, 30 pts
3. Steelheads 11-7-2-2, 26 pts
4. Wichita 9-7-5-0, 23 pts
5. Tulsa 9-12-2-0, 20 pts
6. Utah 8-8-2-1, 19 pts
7. Kansas City 8-9-2-0, 18 pts
BROADCAST INFORMATION...
All home games during the 2019-20 regular season are broadcast on local radio, local television and on an online pay-per-view service. Coverage begins at 6:50 p.m. on 1350-AM KTIK "The Ticket" as well as 7:00 p.m. on Sparklight Ch. 72 and ECHL.tv.
Tune in to the Deschutes Brewery Idaho Steelheads Hockey Show every Tuesday through Thursday on 1350 KTIK-AM "The Ticket", featuring Steelheads news, analysis and insight from around the ECHL. The show airs every Tuesday through Thursday during the 2019-20 season.
The Steelheads host the Allen Americans for a three-game weekend beginning on Wednesday, Dec. 4 at 7:10 p.m. from CenturyLink Arena. Call the Steelheads Front Office at 208-383-0080 to plan your seats for this season, including single-game, flex plans and season tickets. Stay connected to the Steelheads on idahosteelheads.com or by following the team on Facebook, Twitter and Instagram.
• Discuss this story on the ECHL message board...


ECHL Stories from December 2, 2019
The opinions expressed in this release are those of the organization issuing it, and do not necessarily reflect the thoughts or opinions of OurSports Central or its staff.