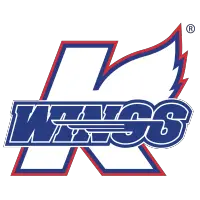 K-Wings Weekly: Week of December 2
December 2, 2019 - ECHL (ECHL) - Kalamazoo Wings News Release



Following brief pit stop back home for Sunday's Teddy Bear Toss game, Kalamazoo heads back to Wheeling Friday and Saturday.
OVERALL RECORD: 6-10-2
LAST WEEK: 1-2-0
RESULTS
Wednesday, Nov. 27 - Cincinnati 4, Kalamazoo 2 (Heritage Bank Center - Cincinnati, OH)
>> The Kalamazoo Wings battled back from a 2-0 third period deficit to tie the game with 4:05 to play Wednesday in Cincinnati, but the Cyclones scored a tiebreaking goal with 1:36 left in regulation and added an empty net goal to beat the Wings 4-2 on Thanksgiving Eve. Cincinnati held Kalamazoo to just 12 shots in the first two periods and carried a 2-0 lead into the final frame. But David Pope started the K-Wings comeback with a goal in his return to the lineup, and Matheson Iacopelli scored the equalizer after Kalamazoo killed a late penalty.
Saturday, Nov. 30 - Kalamazoo 4, Wheeling 1 (WesBanco Arena - Wheeling, WV)
>> The K-Wings picked up their first road win of the season Saturday in West Virginia, thanks in part to a 28-save performance from Jake Hildebrand in a 4-1 victory over the Wheeling Nailers. Yannick Veilleux gave Kalamazoo an early 1-0 lead, but the Nailers tied the game with 1:43 left in the opening period. 48 seconds later, Adam Dauda scored his second goal of the season, the eventual game-winner, to make it 2-1 after 20 minutes. Aaron Thow added a power play goal in the second period and Matheson Iacopelli scored on a breakaway late in the third, his second straight game with a goal.
Sunday, Dec. 1 - Fort Wayne 5, Kalamazoo 2 (Wings Event Center - Kalamazoo, MI)
>> Following a long trip home from Wheeling, Kalamazoo turned around and faced Fort Wayne Sunday afternoon at Wings Event Center for the annual Teddy Bear Toss game. The Komets jumped out to a 2-0 lead, but Kalamazoo native Zach Diamantoni scored with 5:13 left in the first period to send the teddy bears flying. Over 1,500 teddy bears were thrown onto the ice and will be donated to Bronson Children's Hospital. The Komets scored 30 seconds later to lead 3-1 after one and added a fourth goal in the second period. Kyle Blaney scored late in the stanza to bring the K-Wings within two after 40 minutes, but Fort Wayne closed the scoring with a short-handed empty net goal with 3:10 left in the third.
THE WEEK AHEAD
Friday, Dec. 6 - Kalamazoo AT Wheeling, 7:05 p.m. - WesBanco Arena (Wheeling, WV)
Saturday, Dec. 7 - Kalamazoo AT Wheeling, 7:05 p.m. - WesBanco Arena (Wheeling, WV)
FAST FACTS
- Matheson Iacopelli has a 3-game point streak (2 goals, 2 assists).
- Yannick Veilleux has a 3-game point streak and 5 points (1 goal, 4 assists) in his last 5 games.
- Zach Frye tallied two assists Saturday at Wheeling, his third multi-assist game of the season.
TEAM TRENDS
- Kalamazoo is 4-1-0 when its opponent is scoreless on the power play.
- The K-Wings allowed just one goal in Saturday's win over Wheeling, the fewest allowed this season.
- Kalamazoo begins its second five-game road trip this weekend during a stretch where ten of eleven games are away from Wings Event Center.
STATISTICAL LEADERS
POINTS: 21 - Dylan Sadowy
GOALS: 13 - Sadowy
ASSISTS: 10 - Yannick Veilleux
PLUS/MINUS: +4 - Ian Edmondson
PIMS: 67 - Luke Sandler
PP GOALS: 6 - Sadowy
SH GOALS: 1 - Brennan Sanford, Tanner Sorenson
GW GOALS: 2 - Sadowy
SHOTS: 58 - Matheson Iacopelli, Sadowy, Veilleux
WINS: 4 - Jake Hildebrand
GAA: 3.43 - Hildebrand
SAVE %: .891 - Hildebrand
SPECIAL TEAMS
POWER PLAY: Overall - 12/74 (16.2%) - 15th in ECHL
Last Week - 1/13 (7.7%)
PENALTY KILL: Overall - 64/85 (75.3%) - 25th in ECHL
Last Week - 8/10 (80.0%)
--
NEXT HOME GAME - SUNDAY, DEC. 15 - PUCKS AND PAWS
There's a 14/10 chance you (and your dogs) will have a great time at our annual "Pucks and Paws Game", as the Kalamazoo Wings welcome the Cincinnati Cyclones at 3:00 p.m. on Sunday, Dec. 15. Make sure to check out the dog race on the ice during the first intermission, and hang around after the game for a postgame skate with the players. Dog tickets are $5.
• Discuss this story on the ECHL message board...


ECHL Stories from December 2, 2019
The opinions expressed in this release are those of the organization issuing it, and do not necessarily reflect the thoughts or opinions of OurSports Central or its staff.